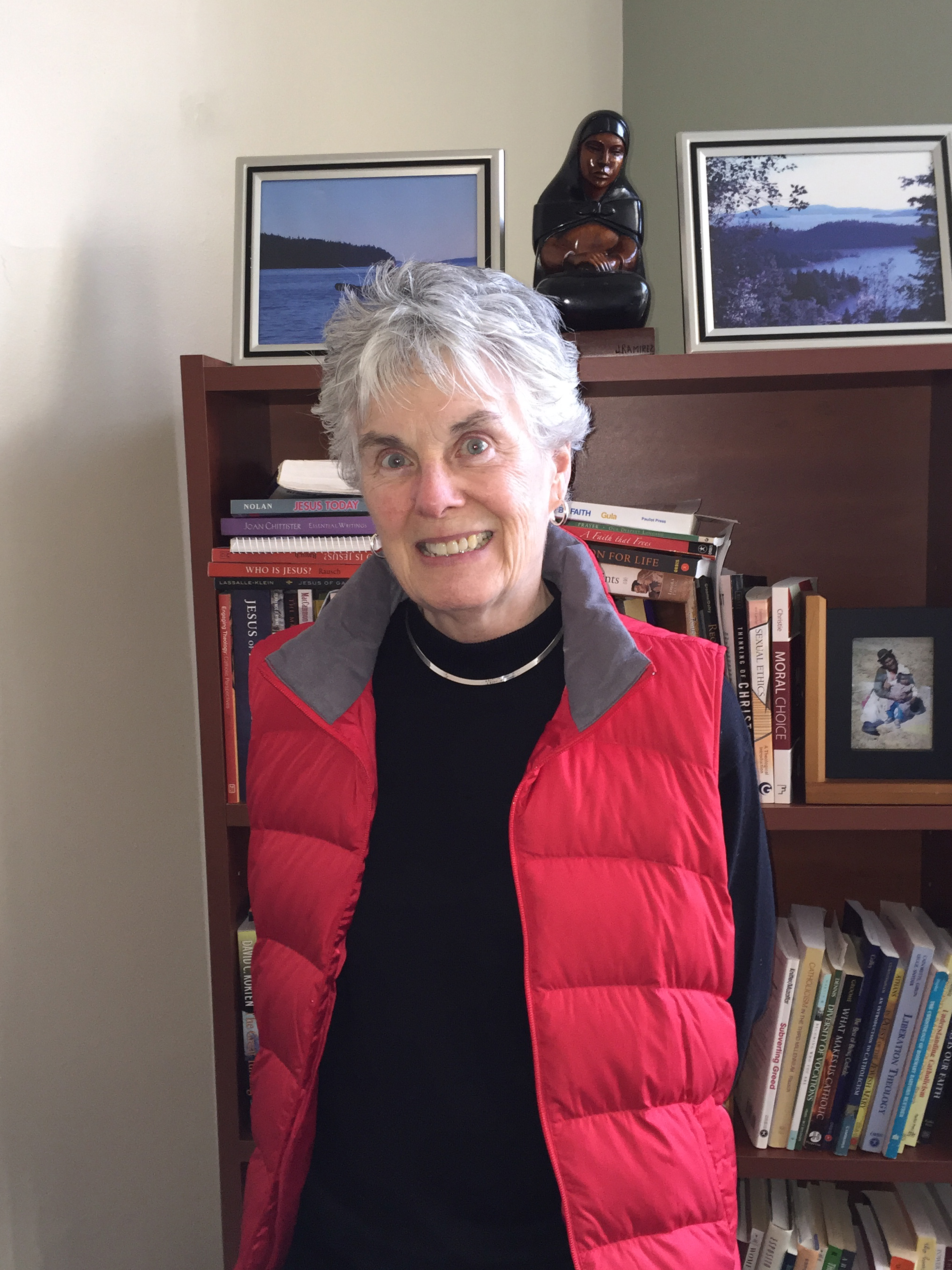 Mary Hembrow Snyder
Mary Hembrow Snyder, Ph.D.
Title: Professor of religious studies, director of the William C. Sennett Institute for Mercy & Catholic Studies at Mercyhurst University.
Age: 68
Lives in: Erie, Pa.
Sr. Camille: Mary, your passion for communicating to your students your concern for the works of mercy and justice quickly endeared you to me during my recent visit to Mercyhurst University. Can you identify a key person who inspired this interest?
Hembrow Snyder: The individual who inspired my interest in works of mercy and justice, first and foremost, was my mother, Dorothy Hembrow Snyder.
Where did you grow up?
I grew up in a working class neighborhood, primarily Irish, in the Old First Ward of Buffalo. There were three parishes: St. Brigid's where the Sisters of Mercy taught me; St. Valentine's where the Felician Sisters taught, and Our Lady of Perpetual Help, where Franciscan Sisters held sway. The Sisters of Mercy were always present; I really felt their love and care as a child in elementary school and was inspired by them as a result.
How else would you describe your childhood?
We lived in Buffalo's Old First Ward, a section of the city dominated by the Irish. The people were hard-working, hard-drinking and predominantly Catholic. My mother was a non-practicing Episcopalian who continued to raise me as Catholic after my father died when I was thirteen. He was nominally Catholic. My half-brother, Victor Cizanckas, left home to join the Marines and later became the Chief of Police of Stamford, Conn. He died at the age of 44, while chief, of a heart attack in 1980; my mother died in 1983 while I was working on my doctorate in Toronto. I have no immediate family left but am very close to the Kos family in Buffalo. I taught their youngest daughter, Jeanne, now 55, in elementary and high school while I was still a Sister of Mercy. We remain close and I visit them several times a year.
What schools did you attend?
Canisius College, in Buffalo, N.Y. I earned my M.A. at Marquette University, and I earned my Ph.D. at St. Michael's College, University of Toronto. My area of specialty is theologies of liberation.
Please name a concern that is paramount to you.
A concern that is paramount to me is economic injustice, both nationally and globally.
Have you been able to transmit that value to your students?
Currently, Mercyhurst students have to take six credits in religious studies; one of those can be Catholic studies. Many of our students are first generation to attend university. I always have found them to be a lot like I was as the first in my family to attend college. Most hunger for intellectual and spiritual nourishment; they are open to having their worldview challenged and have some anxiety about their futures given the current climate in our nation and world. Very few are pretentious or arrogant -- and they are really fun to be with (most of the time!) The following message, though written to praise me, also describes the values of the student:
Hello Dr. Hembrow Snyder,

I was a student at Mercyhurst College from 1988-1992 and I took two courses with you: Religious Person and Peace and Justice. You were the best teacher I ever had. I have been teaching in higher education for several years and I often think of you when I am stuck with a problem and am considering peaceful yet firm options. I've depended on what you taught me for over 20 years and I don't believe that I have ever thanked you for the gifts you gave me. I would like to take this moment today to thank you for exposing me to such kindness, thoughtfulness, perspective, and bravery. After I took your Peace and Justice course, I felt inspired and enrolled in the VISTA program to offer a year of volunteering to assist others. I eventually went on to graduate school and became a teacher. Above all else, I hope to offer to my students what you gave to me.
Are you close to the religious community that sponsors Mercyhurst?
Yes, I do feel close to the Sisters of Mercy in Erie. They have been a great support to me since I came to Mercyhurst in 1986. I have enjoyed getting to know them and being friends with many of them. I also admired them from the start because so many were well educated in universities all over North America. The Mercy charism has deep roots within me and teaching in a Mercy institution has been a great gift to me all these years.
Do you have role models?
Do I have role models? I don't think at this age that I do, but I am very much inspired by many fine women and men who have been or are, now, a part of my life. Elizabeth Johnson is a great inspiration to me; she was the outside reader for my dissertation defense at St. Michael's in Toronto in 1986. Her boldness in speaking the truth, facing the bishops with such integrity and grace, and her exceptional theological acumen give me courage, patience, etc.
Her writing, especially about the Holy Mystery, has touched me deeply and fed my own hunger "to know without knowing" what she calls "the Incomprehensible Holy Mystery who is love beyond imagining."
Also, women religious in general, continue to inspire me -- as do all three congregations here in Erie (Sisters of Mercy, Sisters of St. Joseph and the Order of St. Benedict). Moreover, at this point in my life, the Erie Benedictines nourish me in particular ways, with their capacious presence: with the poor, neglected and overlooked in Erie; with their rich and profound liturgies, with their ongoing efforts to grow theologically and spiritually; with their warm and gracious hospitality, and with their incredible displays of humanity as they share their pain and joy with each other and those of us who are Oblates/friends of the community.
Did you ever consider joining a religious community or getting married?
I was a Sister of Mercy with the Buffalo community from 1966 to 1981; they gave me so much and I will be ever grateful to them.
It took me a few decades to realize marriage was not for me; I am very grateful for that realization.
What drew you to theology?
I became a theologian because I wanted to know the answer to this question: "What does it mean to say I believe in Jesus Christ in a suffering world?" My doctoral studies empowered me to "live that question" through study, through my travels to Peru, Bolivia, Chile, Argentina and Honduras; my teaching & writing have helped me to "live that question" by spending my life trying to educate for justice.
Finally, now, I believe Pope Francis truly embodies this passion for justice and peace in such authentic, humble, courageous ways. I am so grateful to him for all he is trying to do to get Catholics and all people of good will to listen to both "the cry of the poor and the cry of the earth." Pope Francis has given me so much hope.
What do you count as your contributions to the academic and faith communities with which you're connected?
Well, I have spent most of my academic career trying, first, to be an excellent teacher; secondly, I do have some publications, two of which have resulted from my friendship with Benedictine Sr. Joan Chittister; mostly I believe I am a woman of faith and prayer whose study and teaching of theology and religious studies have helped students and adults come to a deeper appreciation for their own journeys, their own questions, their own hunger and thirst for meaning. Rahner writes that, "The devout Christian of the future will either be a mystic, that is, someone who has experienced something, or he [she] will cease to be anything at all."
I can honestly and humbly say this: I have experienced "something" and that, fundamentally, is what I try to share in every dimension of my "one wild and precious life" (Mary Oliver).
How have your students affected you?
My students nourish me by continuing to challenge me to change and grow; to have the privilege that I do as their teacher, a privilege I have had for most of my life. This allows me to engage them in meaningful questions about so many aspects of life, to accompany them as they "go deeper." This connection is an immeasurable gift. They also nourish me when we laugh together, do service projects together, and even when they stretch me, painfully, at times when I can't reach them -- some of them -- and just have to let them go.
Where do you find spiritual guidance?
I have a personal prayer life: morning and evening praise, centering prayer and I am trying to learn Lectio Divina now that I am a Benedictine Oblate. Liturgies and prayer vigils at Mount St. Benedict Monastery here in Erie fill me to overflowing at times: they are so meaningful; becoming an Oblate with this community after decades of knowing them, has been a special grace for me.
Why is that?
I feel I belong to a community again, one that calls me to holiness and a continued praxis of justice and peace. Also, I have several especially dear women religious friends, who enrich my own spiritual hunger and struggles by being in my life -- they are always there if and when I need some one of them to "hold" my questions, unravel my frustrations, shower me with their wisdom. … I am truly blessed to have them in my life.
You seem very conscious of your blessings.
Being alive gives me joy, most days; my wonderful friends, colleagues, students, give me joy; my Buffalo family members give me joy; my cats, the birds in my backyard, and nature in general gives me joy; sweating profusely after 30 or 45 minutes on a spinning bike gives me joy; and cooking or sharing a meal with friends gives me joy, as does a lovely glass of single malt scotch!
My immediate family members all died fairly young; every year I am alive I feel such profound gratitude for another chance to keep becoming a better lover every day of my life to all who cross my path as best and as appropriately as I am able.
What makes you sad?
Injustice disappoints me, sometimes enrages me. My failure to be patient at times with myself or others disappoints me; realizing I have not been "paying attention" to what is right in front of me disappoints me; failing to keep my ego in its appropriate "cage" at times disappoints me; yet, conversion is ongoing and that is also something that brings me joy!
Do you make time for reading?
I have some favorite theological authors such as Elizabeth Johnson and Ilia Delio; My favorite poet is Mary Oliver; I don't read as much fiction as I would like but am currently enjoying Brooklyn by Colm Toibin; last summer I read The Orphan Train and found it endearing: the young outrageous protagonist reminded me of some of my students, and the relationship which developed between her and the elderly Irish woman touched me so.
Have you enjoyed any recent movies?
"Spotlight" was the last film I saw but would love to see "The Big Short" and "Lady in a Van" with Maggie Smith.
Any television favorites?
"Downton Abbey" has been one of my favorite television shows; now I am catching up on the latest season of "House of Cards" (I so enjoy political intrigue!) I loved the new series "Code Black:" Marcia Gay Harden and other cast members are compelling.
Do you have personal goals?
I expend my energy and resources to do all I can in this life to deepen my relationship with the Holy One, so as to keep learning what it means to become a loving woman.
Any unfulfilled challenges?
I always wished I could really learn how to speak Spanish; a dream for me would be to live in a Latin American community and learn it from the people.
Another dream I have had was to learn to play the piano -- we were too poor to afford one and I just never had the opportunity to learn.
Is there anything else you'd like to share?
No, I think I have told you an awful lot as is!
[Mercy Sr. Camille D'Arienzo, broadcaster and author, narrates Stories of Forgiveness, a book about people whose experiences have caused them to consider the possibilities of extending or accepting forgiveness. The audiobook, renamed Forgiveness: Stories of Redemption, is available from Now You Know Media.]
Editor's note: We can send you an email alert every time Sr. Camille's column, Conversations with Sr. Camille, is posted. Go to this page and follow directions: Email alert signup.