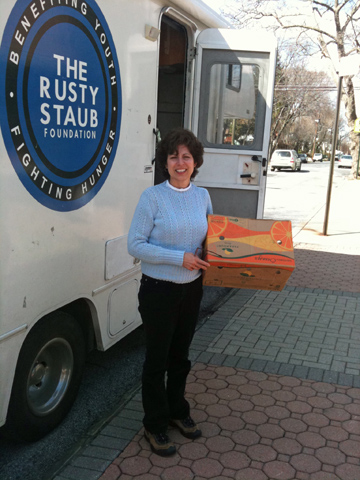 Linda Livornese Wilkie, 63, poses with the Rusty Staub Foundation's mobile food pantry.
Linda Livornese Wilkie
Age: 63
Who she is: Vice president of What About the Children Inc., Catholic Charities volunteer
Lives in: Manhattan, N.Y.
Sr. Camille: Linda, Sr. Pat Wolf alerted me to the contributions you make to many lives. Since your retirement as a managing director in investments at New York Life Investment Management, you devote a considerable amount of time to Catholic Charities. What do you do for that organization?
Wilkie: On a weekly basis, I am a volunteer with Catholic Charities in its Feeding Our Neighbors program. Each Tuesday, I'm part of a two-person team that brings food to hungry residents in Staten Island. Through the Rusty Staub Foundation's mobile food pantry, we deliver food to three locations -- Immaculate Conception Church, St. Peter's Church, and the CYO at Anderson Ave -- and feed more than 100 families. When needed, I also assist the Catholic Charities team at the food pantry in the Kennedy Center in Harlem.
You are also very much involved in the Brooklyn-based What About The Children Inc. What is this and how did it come about?
I have been involved in What About The Children Inc. for many years, an organization founded by Zora Hardamon. What About The Children Inc. has grown from Zora's vision to a 501(c)(3) organization dedicated to helping the youth in the Brownsville section of Brooklyn realize their potential and opportunities for a better life.
Who are your collaborators in this?
Zora and I met while working at New York Life Insurance Company close to 40 years ago and quickly became close friends. As a mother of four boys living in Brownsville, Zora was always concerned about the lack of educational and vocational opportunities available to underprivileged youth in the inner city. When Zora decided to launch What About The Children Inc., she asked me to join the board of directors and become its vice president.
Where and with whom did you grow up?
I was raised in the Bronx with my parents and older brother, Anthony, and younger sister, Donna. My parents were loving and hard-working and always stressed the importance of education for their children because they both had to quit high school to help support their parents. My siblings and I attended Catholic elementary and Catholic high schools. Education became so important to the three of us that after graduating college, we went on to receive graduate degrees.
I attended St. Jerome grammar school, St. Catharine Academy High School, Iona College and Baruch graduate school, part of CUNY.
Did any person or set of circumstances prepare you for your current work?
While there have been many people and many circumstances that have affected me and my volunteering efforts, I feel that Zora Hardamon, my co-worker and dear friend, has had the greatest impact. Hearing her struggles and dreams made me aware and appreciative of all that I had. More importantly, it made me realize that I could make a difference by lending a hand to those less fortunate.
What satisfactions does it give you?
Volunteering just makes me feel good. Knowing that I'm making a difference in someone's life is all the satisfaction that I could ask for. I feel that I have been very fortunate and believe that people should give back to the community whenever possible.
Any disappointments?
The only disappointment is that I wish I had unlimited monetary resources to help fund the many worthwhile charities that I come across.
The Sisters of Mercy have great respect for you. How did you meet them?
My first introduction to the Sisters of Mercy was at St. Catharine Academy High School. The nuns were dedicated educators and wonderful role models. The education I received prepared me well for college, work and life. My years at St. Catharine's were some of my fondest. Many of my lifelong friends are SCA alumni.
How and with whom do you pray best?
My prayers are my nightly discussions with God when I review my day.
How do you relax?
For relaxation, I enjoy traveling, going to movies, cooking, playing golf and being in the company of family and friends. Fortunately, I have the time and ability to do all of these things.
What issues are important to you?
The well-being of my family and friends, poverty and hunger in America, and the increasing disparity between rich and poor.
Does it ever occur to you that God must be pleased with your generous spirit and loving heart?
Sometimes, but I know there is so much more that I can do. Like all of us, I am a work in progress.
[Mercy Sr. Camille D'Arienzo, broadcaster and author, narrates Stories of Forgiveness, a book about people whose experiences have caused them to consider the possibilities of extending or accepting forgiveness. The audiobook, renamed Forgiveness: Stories of Redemption, is available from Now You Know Media.]
Editor's note: We can send you an email alert every time Sr. Camille's column, Conversations with Sr. Camille, is posted. Go to this page and follow directions: Email alert signup.