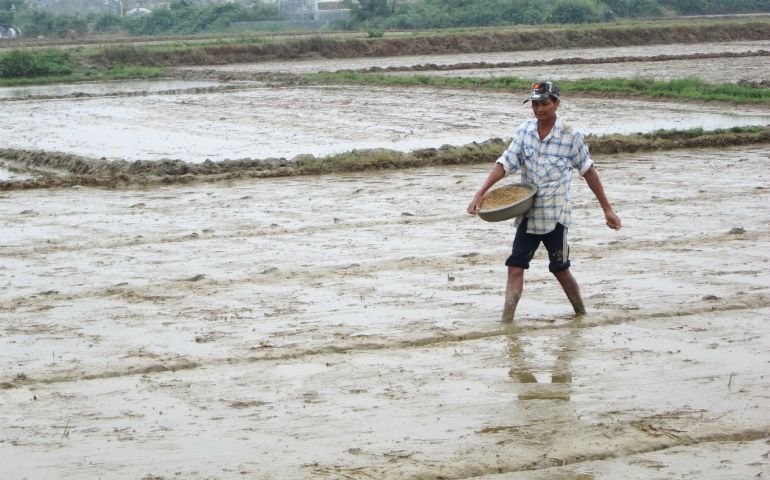 A farmer in Quang Dien District sows seeds again on his rice field on May 29 after heavy rain damaged his crops. (NCR photo/Joachim Pham)
Hue City, Vietnam — June 20, 2017
Unseasonable heavy rain poured down in late May causing serious damage to fields in Thua Thien Hue Province, central Vietnam. Dykes were breached and more than 3,000 hectares (about 7,400 acres) of rice were destroyed .
Tran Dai Hien, a farmer from Quang Dien District, said 2.5 acres of 20-day rice on his farm was waterlogged and died. Another quarter acre of rice almost ready for harvest was 2 feet underwater, he added.
Hien, 52, blamed the heavy rain on climate change, undercutting his production. "We harvest 10 tonnes [about 22,000 pounds] of rice a year but have to pay 6 tonnes for costs. We scrape out a meager living because we live only on the rest," the father of three said.
Growing rice is the main source of income for the area.
"Our future looks uncertain when the weather is unpredictable," Hien said.
Le Quoc Chu, another farmer from Phu Mau commune, said in the past the area got a few scattered afternoon showers in April and August. The weather was suitable for growing rice, vegetables and flowers.
"It is strange that heavy rain and chill wind lasted one week this period of the year," said Chu, who lost about a half-acre of young rice.
"We still owe the bank 30 million dong (US$1,322) but we do not know how to pay it back," he said.
Both Tran Dai Hien and Le Quoc Chu are among many farmers in the Thua Thien Hue province who have received support from the Daughters of Mary Immaculate.
Chu said since January the sisters have given his family cooking oil, instant noodles, 40 kilograms (about 88 pounds) of rice, some clothes and 200,000 dong ($9).
"Although their support is not much, it is a great consolation to us in a difficult time. We owe them a great debt of gratitude," the rice farmer said.
Chu is concerned about how he can continue to support his two daughters who are studying at local colleges because he is not sure about good crops in the future, he said in a low voice, wiping sweat from his face.
"We hope the sisters will have funds to offer scholarships to our children so that they can finish their studies," he said.
Chu said local farmers are deeply concerned that if they sow seeds again at this point, crops would not be ready for harvest until September, when the usual annual floods hit the area.
In late May, heavy rain also flooded many cities and provinces and damaged thousands of acres of crops across the country. Various insects, enhanced by the unusual weather, damaged crops, according to state-run newspapers.
However, a few days after the rain, scorching heat started to roast northern and central provinces, with readings from 98 to 104 degrees Fahrenheit, and a few places reaching 110.
Weather experts blamed the extreme weather on climate change.
Agriculture and Rural Development Minister Nguyen Xuan Cuong said at a meeting in April that the climate this year is unpredictable and will cause as much damage as in 2016.
Cuong said last year floods and storms led to 264 people dead or missing and destroyed 370,400 houses, 2 million acres of crops, and damaged many roads, dykes and other public facilities. The total loss is estimated at more than $1.7 billion.
Nguyen Thi Kim Ngan, chairwoman of the National Assembly, said at an international conference on May 11 that Vietnam is one of the Asian Pacific countries most affected by climate change. An estimated 54 percent of the country's flatland will be inundated, and 10-12 percent of the population will be affected directly, she said.
Sisters rush to offer food to victims of climate change
St. Paul de Chartres Sister Ephreme Nguyen Thi Luu and other sisters offered $9 per household to 50 families in Phu Mau Commune on May 29. "Most farmers here have had poor crops and lacked basic food for months," Luu said. Last January, the nuns also gave them cooking oil, cake, dried fruits and sugar to celebrate the Lunar New Year.
Luu said people have fallen into poverty due to climate change and many have fled to cities to look for jobs. "It is hard for them to live on their farmlands," she added.
She said the nuns will ask benefactors to provide scholarships so the children can continue pursuing their studies in the new school year in September.
Daughters of Mary Immaculate Sister Mary Truong Thi Thu said the nuns have been giving rice, instant noodles, blankets, second-hand clothes and money to farmers in the districts of Huong Thuy, Phu Loc, Phu Vang and Quang Dien since December when floods hit the province.
"We only give basic supplies to victims of climate change when we get donations from benefactors, so we could share with them only irregularly," Thu said.
Le Thi Sen from Phu Mau commune said local people who suffered crop loss have received nothing from the government since early this year.
"We do not know what to live on, without the nuns' supplies," the mother of two said.
During the meeting held May 25 by the government's Vietnam Fatherland Front in Ho Chi Minh City, representatives from 14 religions reviewed their activities to protect the environment and strengthen people's resilience to climate change.
Auxiliary Bishop Joseph Do Manh Hung of Ho Chi Minh City Archdiocese said the church educates Catholics in environmental protection by collecting and classifying garbage, saving water sources and energy, using environment-friendly materials and planting trees. Local Catholics make donations to funds for victims of climate change.
Followers of other religions grow organic vegetables, collect used pesticide containers and save water in cultivation.
Eidvin Archer, head of Nordic Assistance to Vietnam, a Norwegian NGO giving social and humanitarian assistance in Vietnam, appreciated religions' environment activities and promised to support initiatives to join local religions in environment protection.
[Joachim Pham is a correspondent for Global Sisters Report based in Vietnam.]