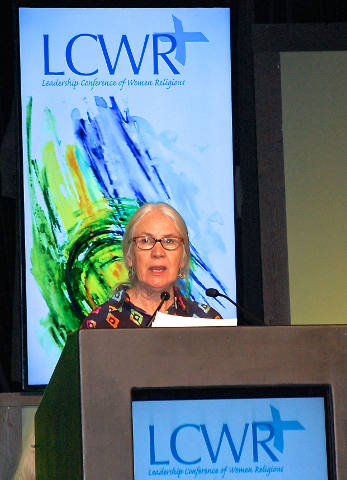 Activist Debra Pekny speaks to LCWR members Thursday in Nashville, Tenn., about her efforts to stop the proposed Bluegrass Pipeline, which was to carry natural gas and natural gas liquids such as propane, methane and butane, 600 miles from Ohio to Louisiana. (Dan Stockman)
Nashville, Tenn. — August 15, 2014
Joyce Rouse is an enthusiastic woman. Perhaps more well-known by her stage name, Earth Mama, Rouse is a singer/songwriter whose music combines what she calls her passion for the Earth with themes of spirituality.
Born a Lutheran and now a Quaker, Rouse first became acquainted with women religious and the eco-spirituality movement when she began the master's program in earth literacy at Saint-Mary-of-the-Woods College in Indiana. Since then, she says the Catholic sisters have taken her under their wing, sharing her music around the world and in their own contemplative practices.
[Related: "Earth Mama sings in the key of 'green'"]
And from her booth in the exhibitor hall at the Leadership Conference of Women Religious annual assembly, Rouse was not only sharing music, but also her enthusiasm for renewable sources of energy.
"My husband and I power 60 percent of our house with wind and solar power," she said, toying with a collapsible solar lamp she kept at her booth. She believes these lamps could not only play a part in a global shift away from fossil fuels, but could also improve education in areas where children aren't able to study at night because of unreliable power sources.
Rouse also believes she knows just the people to make that happen.
"The sisters are so wise and prudent and clever about getting important information into various places," she said. "They will have the capacity to take these all over the world."
Rouse's dream may come true sooner rather than later. On Thursday, LCWR members voted to pass a resolution in favor of member congregations transitioning to renewable energy sources.
"We feel that the congregations of Catholic sisters in the United States -- which are 55,000 people -- have a good deal of experience with education and social change on may fronts," said Claire McGowan, a Dominican Sister of Peace from Bardstown, Ky.
"If that group were to exercise its leadership to involve all of the sisters in educating the public about the crisis that we're in," she said, "that would be a significant contribution to the movement that's going on to awaken our country and the world to the absolute necessity of transitioning from fossil fuels to renewable energy."
McGowan is one of the women religious who famously protested the now-suspended plans for the Bluegrass Pipeline in Kentucky.
The three Kentucky congregations who came to be known for their musical protests against the project -- the Dominican Sisters of Peace, the Sisters of Charity of Nazareth and the Loretto Community -- were enlisted by the LCWR members hosting this year's annual assembly to help present their chosen social justice topic: the anti-extraction movement.
The resolution was based on the congregations' energy vision statement, which McGowan said has since been signed by 150 religious communities across denominations.
Prior to the vote, Susan Classen, a Loretto co-member, and McGowan staffed a booth in the exhibitor hall. Classen said sisters throughout the week had been supportive of their efforts.
"Many people have come by the display and have thanked us for our work," she said, adding that before she and McGowan came to Nashville, they had a list of 21 congregations they knew were already using renewable energy. This week, they learned of nine more.
That network, Classen believes, will be crucial in changing what congregations think they are capable of doing in terms of energy, noting that inter-congregational support will be key as communities begin to change.
But despite this nod to the necessity of gradual change, neither Classen nor McGowan wanted to belie the sense of urgency they see as needed for a change in the way the world gets its power.
"We have a very short window -- five to six years -- to change directions away from fossil fuels and toward renewable fuels," McGowan said. "If we go any longer than that, there are irreversible feedback loops in the climate that we will not be able to undo."
[Dawn Cherie Araujo is a staff writer for Global Sisters Report, a project of National Catholic Reporter. Her email address is daraujo@ncronline.org.]