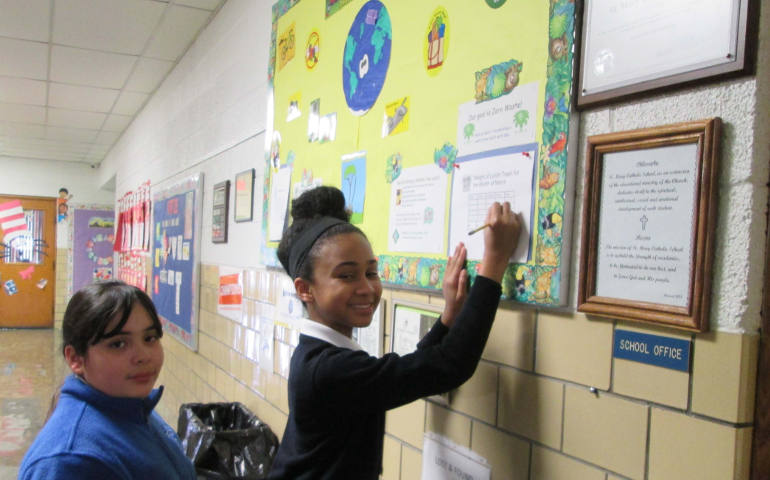 Students at St. Mary Catholic School, in Wayne, Mich., record the trash weight for waste-free lunch day. The bulletin is outside the school's main office where students can track progress. (Pat Wallace)
A Michigan Catholic school is using a statewide initiative to make its classrooms greener and less wasteful, but also to heed Pope Francis' call to protect the environment. ​
St. Mary Catholic School in Wayne, Mich., a school of 177 students from preschool to 8th grade, dedicates two days a week during its three lunch periods to scaling back on food waste as part of the Michigan Green Schools program.
"There were entire apples that hadn't even been touched tossed into trash cans, one bite of a sandwich," said Diane Johnson, a fourth grade teacher at St. Mary who oversees the program. "And we thought, 'We've got to stop that.'"
Students and parents are encouraged to pack only the amount of food they can finish during the 20-minute period -- and if they're unable to finish their food -- bring it home in reusable containers.
St. Mary joined the Green Schools program in spring 2012, and began weighing their lunch trash in December 2013. At that time, they were averaging 58 pounds of trash per day. Currently, they average 30 pounds a day, amounting in a 171-day academic year to a total of 4,788 pounds of trash eliminated -- or a 48-percent decrease – compared to 2013.
In addition to waste-free lunches, the school recycles glue bottles, ink and toner cartridges, paper, plastic and aluminum.
"It's important to help save the environment because if we don't have some of the resources in the environment, the earth would no longer be safe for people to live there and some animals may go extinct from all the garbage," said Temperance Gorman, a 9-year-old third grader at St. Mary, of the school's green program.
St. Mary is one of more than 500 Michigan schools, both public and private, enrolled in the Michigan Green Schools program. The non-profit organization, founded in 2006, aims to protect Michigan's air, land, water and animals through "good ecological practices and the teaching of educational stewardship of students pre-kindergarten through senior high school," according to its website.
Kristine Moffett, one of the organization's founders, said in 2005 that students and teachers at Hartland Consolidated School District in Howell, Mich., brainstormed the idea of a point-system to monitor environmental activities in Michigan schools.
Schools can earn three levels toward environmental stewardship: green, emerald and evergreen. Each level requires participation in activities from four categories, including recycling and energy. The more green activities they pursue, the higher a school's status.
---
More: "EPA recruits faith groups to help end food waste" (Jan. 26, 2016)
---
So far, St. Mary has reached the emerald level, which requires at least 15 activities from all four categories. In addition to its waste-free lunch program, students have developed projects around their alternative energy lessons, written to Gov. Rick Snyder about the Flint water crisis, and adopted a lemur at the Detroit Zoo.
To prepare students and parents for waste-free lunch days in 2012, administrators sent home flyers highlighting the Green Schools program and explaining how to pack lunches accordingly.
"I actually think it's harder on the parents because they are the ones who have to think about what to pack," Johnson said.
Jousy Rollan, a mother of two St. Mary students, says food prep takes more time, but with the right planning, it becomes second-nature.
"If you are a working mom it's going to take a little longer because you have to be more conscious," Rollan said of the process. To save time, she prepares most of the lunch items the night before, like washing fruit -- she sends fresh fruit instead of fruit cups -- and putting chips in plastic containers so they are ready the next morning.
Students and parents are also encouraged to buy in bulk, like big bags of chips instead of single-serving size packs that lead to more waste. They are also encouraged to bring reusable containers instead of plastic bags. Drinks should also be in reusable thermoses.
"I don't think we can start too young getting students to understand conservation and being resourceful," said St. Mary School principal Kathy Sparks. "Starting all those behaviors early on is what makes a difference in our world."
To measure how much trash they are eliminating, St. Mary fifth graders weigh it daily after each lunch period. First, they weigh a student, then weigh the student with the trash bag in hand and record the difference. Those numbers are then recorded on a bulletin outside of the school's main office where students can track the progress.
"When you see how much waste kids can throw away, it's shocking," said Brooke Wess, a mother of two St. Mary students.
Moffett, a retired school teacher, said Michigan Green Schools works strictly from word-of-mouth. The program has grown from 10 schools in 2006 to more than 500 in 2016. She said there's been a noted jump in Catholic school enrollment this year, citing the pope's global concerns about the environment in his encyclical, "Laudato Si', on Care for Our Common Home."
Schools accepted into the program receive a green and white flag with the organization's logo, a prized possession among students. "During Earth Week, if they don't have this flag, it is a serious issue for some," Moffett said.
Moffett says other states, including Ohio and Maryland, have contacted her for information on starting their own programs. To apply, schools must fill out an online application by the annual March 1 deadline.
"Participating in waste-free lunch days, not just for a day designated by the school, but for as often as we can, is not only cheaper and healthier, but it's also helping Mother Earth, one small lunch at a time," Wess said.
[Traci Badalucco is an NCR Bertelsen intern. Her email address is tbadalucco@ncronline.org. Follow her on Twitter: @tracibadalucco]
Editor's Note: Want more stories from Eco Catholic? We can send you an email alert once a week with the latest. Just go to this page and follow directions: : Email alert sign-up.