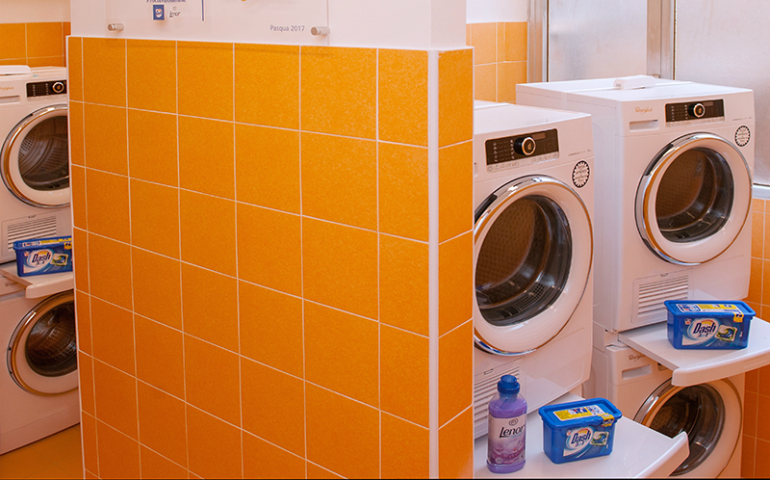 Laundromat for homeless in Rome. (Vatican Elemosineria Apostolica)
First came the showers and the haircuts. Now the washing machines.
In his latest bid to help the poor with practical actions, Pope Francis has opened a free laundromat for the homeless in the heart of Rome.
Since he became pope four years ago, Francis has made it a personal priority to provide them with showers, housing, medical care and other services to help restore their dignity.
Six washing machines and six dryers have been donated by Whirlpool for the pope's laundromat, which opened April 10 in the city's Trastevere quarter.
Another U.S. company, Procter and Gamble, has donated detergent for the laundromat, which will be run by the Community of Sant'Egidio, a Catholic charity.
"This is a free service offered to the poorest people, in particular to the homeless who can wash, dry and iron their own clothes and blankets," said the pope's chief almsgiver, Archbishop Konrad Krajewski, in a statement.
The statement from the almsgiver's office said the pope had wanted to do something following the Jubilee Year of Mercy last year and the initiative "gives concrete form to charity and works of mercy aimed at restoring dignity to so many people who are our brothers and sisters."
In the coming months showers, barbers and medical services will also be added to the new laundromat, which will be run by volunteers.
The laundromat follows the pope's controversial move to open showers for the homeless under the sweeping white colonnade of St. Peter's Basilica in 2015 and also offer them free haircuts, meals and medical assistance on the streets of the Italian capital.
To mark his 78th birthday the pope gave hundreds of sleeping bags to the homeless in Rome in 2014.