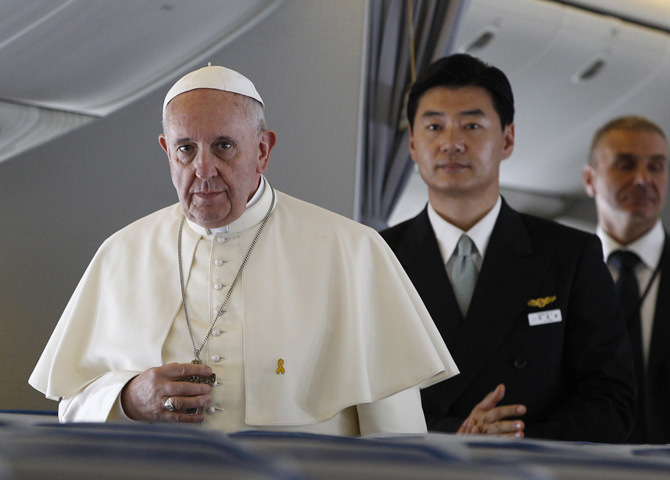 Pope Francis, still wearing a yellow pin commemorating the victims of the April 2014 ferry disaster, walks down the aisle to answer questions from journalists aboard the papal flight from Seoul, South Korea, to Rome, Aug. 18, 2014. (CNS photo/Paul Haring)
A quote from Pope Francis:
"Whenever you find yourself facing human suffering, you have to do what your heart tells you to. Then people will say: 'He did it for this or that political reason;' let them say what they want. But when you think of these men and women, these fathers and mothers who have lost their children, their brothers and sisters, of the immense pain of such a disaster, I don't know, my heart. .. I am a priest and I feel the need to draw near! That's how I feel; that is the first thing.
I know that the comfort that any word of mine might give is no cure, it doesn't bring the dead back to life, but human closeness at these times gives us strength, there is solidarity. … I took this (yellow ribbon for victims of the Sewol ferry disaster). After I carried it for half a day — I took it out of solidarity with them — somebody came up to me and said: 'It's better to take that off. You should be neutral.' But listen, where human suffering is involved, you can't be neutral."
— Answer to journalist's question on Sewol ferry disaster, in-flight press conference from Korea to Rome, Aug. 18, 2014
Editor's note: We can send you a biweekly email alert with content from The Francis Chronicles. Follow the directions on our email alert signup page.