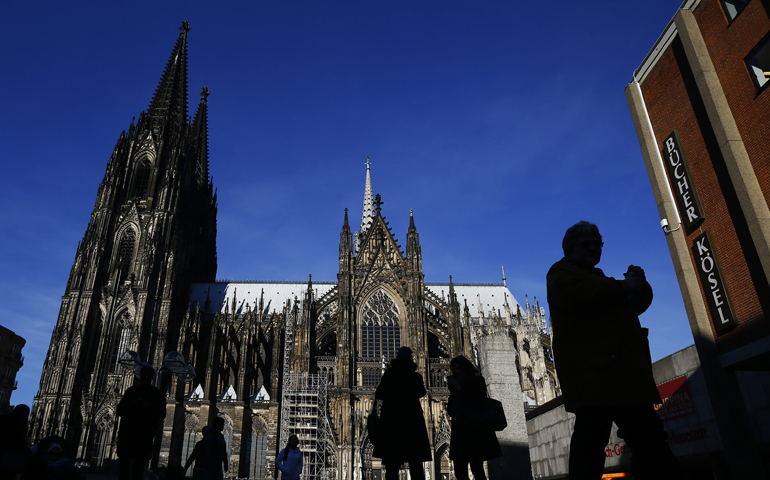 People are silhouetted against the Cologne Cathedral in Germany Jan. 25, 2016. (CNS Photo/Wolfgang Rattay, Reuters)
In an open letter on the state of the church and priestly ministry in Germany, a group of 11 German priests from the Cologne archdiocese have urged the church to open the priesthood to both men and women and to make priestly celibacy voluntary.
They underline seven essential points for the future of the church, including the following:
"We urgently need to forge ahead with courageous initiatives on the question of admission to the priesthood. It makes no sense continuously to ask the Holy Spirit for vocations while at the same time excluding women from the priestly ministry."
"Celibacy often leads either to fruitless loneliness and social isolation or helpless work agitation. It rarely releases a spiritual source for pastoral work. We accepted celibacy but did not choose it. 1 Timothy 3:2 provides us with food for thought: 'A church leader must be without fault; he must have only one wife.' "
The priests also criticized the clustering of parishes. They said that parish clusters are an "imposition" as they further the anonymization and isolation that is already taking place in society. Parish priests and their helpers must be available locally and not in some "distant center," the priests said. They should be "where the church spire is and the bells ring."
"For us — and for many others — these questions are burning issues and we know that that they are also a great source of worry for Pope Francis and [Cologne] Cardinal [Rainer] Woelki," Msgr. Wolfgang Bretschneider, one of the 11 priests, told domradio.de, the Cologne archdiocese's internet portal.
The 11 priests, who were all ordained in 1967 shortly after the Second Vatican Council, have met once a month since then, have gone on retreats and undertaken trips at home and abroad together, Bretschneider said. On the 50th anniversary of their ordination, they looked back on all they had experienced in the church and decided to publicize their views in the form of an open letter about the burning issues in today's church.
Asked what he and his fellow priests hope for as far as women's ordination, Bretschneider replied, "We hope that the issue will not be shelved. There was a time when one could not even discuss women's ordination openly. A great deal has become possible under Pope Francis, however. We are fully conscious of the fact that this issue cannot be decided overnight. There is the world church to consider and the danger of a schism. ... But increasing awareness and continually putting a finger on a problem can lead to a change of opinion over the years and to a possible solution."