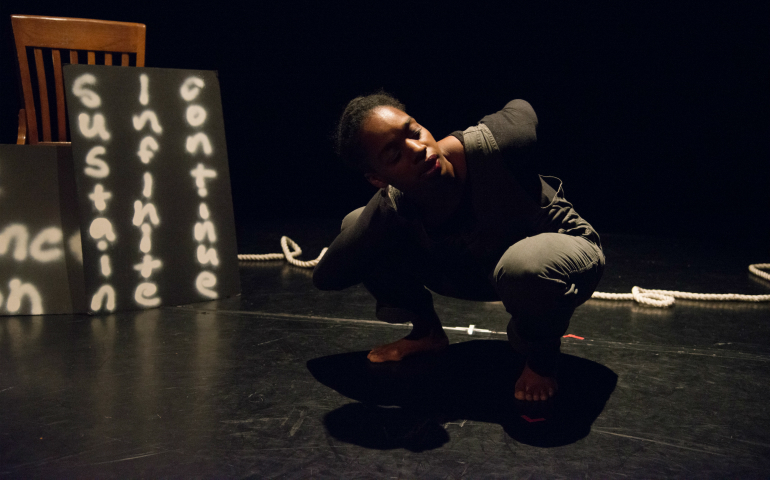 Lela Aisha Jones (Johanna Austin, www.austinart.org)
Black movement artists and choreographers Lela Aisha Jones and Vershawn Sanders-Ward dance what I try to articulate in words: reflections on the various intersections of race, womanhood, history and trauma. I rarely specify trauma in the subjects I explore because I don't speak about personal trauma. Instead, I consider trauma to be woven into the history of black womanhood in this country.
Despite that slight difference in work descriptions, I was no less touched by the thematic continuum across artistic disciplines and the questions each artist's work brought to mind about black womanhood today.
Sanders-Ward performed "#SAYHERNAME," described as a solo work in which she "examines the criminalization of female black activists Angela Davis and Assata Shakur, drawing parallels to the ... arrest and subsequent death of Sandra Bland."
Throughout the performance, I kept wishing Sanders-Ward would move more. I saw "#SAYHERNAME" on a Saturday and had taken a contemporary African dance workshop with Sanders-Ward and Jones two days prior, so I knew how much and how well she could move.
But the dancer's costume was an orange jumpsuit, the setting a jail cell. Her movements were constricted by the space, restricted to the little bit that can happen between narrow walls, bars and a locked door.
I noticed there was no before the prison. Sanders-Ward entered the stage in an orange jumpsuit, and as audio and video footage of Davis and Shakur played in the background, Sanders-Ward rolled effortlessly into the cell. And I thought, maybe that was the point, too — that black girls are born black girls, and to be born black and female is its own kind of sentence.
I didn't realize it at the time, but that message from "#SAYHERNAME" is one reason I fought back tears as I watched the beginning of Jones' ensemble piece, "Native Portals: Continuum of Action & Release."
Part 1 was from a previous work in which the dancers respond to their first exposure to the country's history of lynching of African-Americans.
A noose attached to a stage hook extended down from the ceiling, its long train of rope coiled snake-like on the floor. The first dancer wrapped the noose around her neck and the cord of rope almost lovingly around her body. I knew, again from a previous workshop, that the first dancer was about seven months pregnant. With rope wrapped around her neck and belly — and therefore around her unborn baby's body, too — there the message was again: To be born black and female is its own kind of sentence.
Carceral symbolism throughout this essay notwithstanding, I don't view black womanhood as a punishment inherently, and I never have. Humanity has lived long enough with myths of the curses of Eve and Ham and the mark of Cain. We are not women and black because a punitive God wanted racial and gender hierarchies or because a sadistic God makes sport of us.
The sentence is inflicted by white supremacy and its brother patriarchy, the same forces trapping so many people in prisons of identity and behavior they don't want to be in but fear escaping from. The cell is as socially constructed as race and gender are; it is not the inherent nature of black womanhood.
But within those sentences and cells, is there room to imagine freedom? And if so, what does that look like?
The entire series of workshops and performances I attended was called "The Body Wails, the Body Restores," and the title provides a clue. As I write this column and think about my own writing on religious matters, I think of the ways black women and girls historically have sought and experienced freedom in religion, in the shouts and praise dances at churches and revivals. I think of the spirit of dance, the breathing required to sustain the energy, the power of the exhale, of release, before more oxygen can be taken in.
By the end of "Native Portals," the ropes had been cleared, I could hear the dancers breathing, and their hands, feet and backs were quick and flexible again. Freedom looks like the ability to breathe so freely, we have energy for spontaneous bursts of unrestricted joy.
I'm not sure where we find this freedom. Far too often, church — no matter the denomination — is too patriarchal and friendly to the demonization of blackness for black womanhood to thrive. But freedom is necessary.
[Mariam Williams is a Kentucky writer living in Philadelphia and pursuing an MFA in creative writing at Rutgers University-Camden. She is a contributor to the anthology Faithfully Feminist and blogs at RedboneAfropuff.com. Follow her on Twitter: @missmariamw.]
Editor's note: We can send you an email alert every time Mariam Williams' column, At the Intersection, is posted to NCRonline.org. Go to this page and follow directions: Email alert sign-up.
A version of this story appeared in the May 5-18, 2017 print issue under the headline: Dancing to heal.