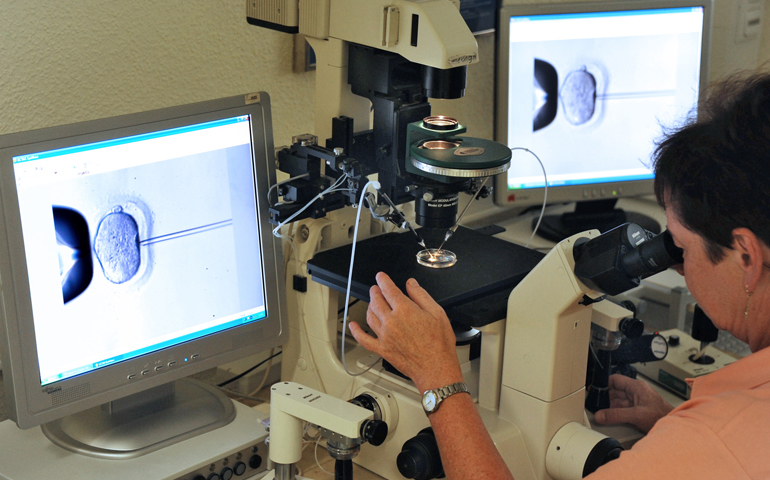 A laboratory director inspects the microinjection of sperm into an egg cell using a microscope in 2011 at a vitro fertilization clinic in Leipzig, Germany. (CNS/Waltraud Grubitzsch, EPA)
They say that in 1978, on seeing newspaper photos of Louise Brown, New York's Cardinal Terence Cooke said "a baby!" The complication: Brown was the first "test-tube baby," born to an English couple with the aid of a physician who later won the Nobel Prize in Medicine.
Cardinal Albino Luciani, then patriarch of Venice and soon to be Pope John Paul I, explained his similar response in detail. He said he only partly shared the excitement and enthusiasm about the baby's birth, because to really make a judgement he would need access to all the scientific data.
Luciani went on to explain the possibilities and moral probabilities. He worried about the scientist unleashing an uncontrollable force, much like Goethe's "sorcerer's apprentice." He saw the specter of a new industry of "baby manufacturing" as he called it, and he questioned the legitimacy of the methodology, now known as in vitro fertilization.
Nothing has changed. Of course the birth of a child is a time for rejoicing. New life! What is troublesome is IVF's continual collision with moral theology. Baby making is reduced to solitary activity in clinics, with petri dishes and sterile conditions replacing wine and roses.
And the conundrum only begins there. You can't blame the baby -- or babies -- resulting from these scientific advances. You can't really blame the parents -- assuming an infertile married couple is trying to create a family. The first are completely innocent. The latter are possibly invincibly ignorant -- they don't know the implications of what they are doing.
But there is too much too awfully wrong with IVF to ignore what our disposable culture has grown to accept.
I am not crazy about the baby manufacturing industry Luciani predicted, which has grown to multi-million dollar proportions. These days, "designer children" cost as much as $80,000. The cost includes egg and sperm collection, creation of embryos, and implantation into and support of surrogate mothers.
Independent of that, to me at least, is the real underlying difficulty of IVF: the automatic disposal of unused fertilized embryos, whether immediately after their brothers and sisters survive implantation, or at some time in the future when they are no longer stored in clinic freezers. There may be as many as a million frozen embryos in the United States alone, each individually waiting for adoption or destruction. While the old-fashioned method of destroying embryos is now rarely used -- just dump the extras down the drain -- many can go for embryonic stem cell research, which is just about the same thing.
Opposition to this implicit destruction of embryos is at the heart of a recently passed amendment to the House's appropriations bill for Labor, Health and Human Services. The amendment bans the destroying of embryos created through federally-funded IVF services, including those provided by the Departments of Defense or Veterans Affairs.* Maryland's Representative Andy Harris argues, along with longstanding government policy, that federal tax dollars should not go toward destroying potential citizens.
The fact is only about 10 percent of the frozen embryos will be "adopted" in procedures that cost upwards of $12,000. Some are the result of eggs harvested and purchased from donors, who receive on average $8,000 per procedure. But cryogenics can only go so far. The largest number of frozen embryos will eventually be destroyed.
How have we become a culture that so disregards the value of human life?
*This story has been updated to clarify a sentence.
[Phyllis Zagano is senior research associate-in-residence at Hofstra University in Hempstead, N.Y. She is scheduled to speak Sept. 24, 2016, at The Catholic University of America, Washington, D.C. and October 19, 2016 at Sacred Heart University, Fairfield, Conn. Her books include Women Deacons: Past, Present, Future, Women Deacons? Essays with Answers and In the Image of Christ: Essays on Being Catholic and Female.]
Editor's note: We can send you an email alert every time Phyllis Zagano's column, Just Catholic, is posted. Go to this page and follow directions: Email alert sign-up.