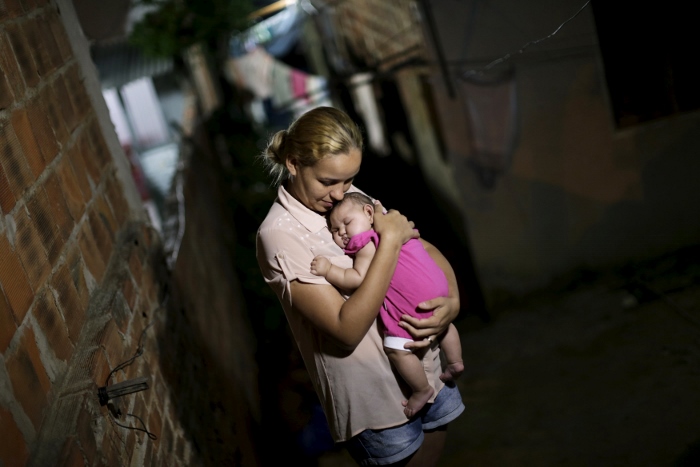 Gleyse Kelly da Silva poses for a photo Jan. 25 with her daughter, Maria Giovanna, who has microcephaly, in Recife, Brazil. (CNS photo/Ueslei Marcelino, Reuters)
Here are the facts: The Zika virus, named for a tropical African forest, has a 65-year history of human infection. First discovered in Ugandan monkeys, Zika is transmitted both by mosquitos and by sexual contact. It has been linked recently to birth defects in the poorest regions of northern Brazil, where one percent of newborns are microcephalic.
That is why Pope Francis, during his plane ride back from Mexico recently, was talking about raped nuns in Africa and contraception.
The pope's comment about those missionary women religious in the former Belgian Congo was real. Within of week of Congo's June 30, 1960, declaration of independence, the army threatened mutiny. Its officers were white Belgians; its enlisted men were black Congolese. Removing the white officers only made matters worse, and within weeks 25,000 Belgians fled the country.
The missionaries -- men and women -- stayed. They were in grave danger, but they stayed to serve the poor.
Here is what the Belgian Government Information Center wrote about some mid-July 1960 attacks: " ... the nuns ... were put in jail ... Negro soldiers attacked one nun and after a fierce struggle, raped her. Later, they attacked the second nun. Two men trampled her under foot."
And it continued for years.
The current dust up is over whether some or all of the remaining women religious were appropriately given contraceptives.
They were.
Why?
No woman can be forced to become pregnant. Any woman can protect herself from rape and its consequences. In his definitive study, Rape Within Marriage: A Moral Analysis Delayed, Edward J. Bayer affirms that physicians in early 1960s Congo gave women religious anovulant drugs and that their actions later found papal approval.
Bayer talks about much more. He states that when a married woman clearly should not bear a child -- whether due to disease or illness or other (presumably temporary) condition -- she may in effect "protect" herself if her husband is unwilling to cooperate.
That is: No woman needs to become pregnant against her will and, especially, women may protect themselves from rape and its possible consequences.
The overall moral analysis is far more refined than cases of raped missionaries or the wives of drunken husbands. The overall moral analysis is one of common sense.
So what about Zika? Governments around the world are urging those infected and those at risk of infection not to begin pregnancies. Pope Francis' spokesman has clarified the papal plane talk, and recalled Pope Benedict XVI's suggestion that AIDS carriers use condoms to prevent disease.
Now, both Francis and the bishops in the affected countries have said abortion is not the answer. But those same bishops in the affected countries have not taught the common sense solution to women whose only means of avoiding pregnancy is contraception.
So, where does all this leave the poor women of Central and South America, now at risk of seriously complicated pregnancies and births? Remember, they are poor. Can missionaries provide these women some protection? Will they? And, what will it be? The so-called "pill" was U.S. Food and Drug Administration-approved for contraceptive use in 1960. To this day its side effects -- blood clots, heart attack, stroke, depression, weight gain -- are downplayed by big pharma.
The final answer is an end to Zika. The intermediate steps are fraught with danger. For women.
[Phyllis Zagano is senior research associate-in-residence at Hofstra University in Hempstead, N.Y., currently a visiting Fulbright Specialist at the Waterford Institute of Technology, Ireland. She will speak May 6, 2016, at the University of St. Michael's College, Toronto and Sept. 24, 2016 at The Catholic University of America, Washington, D.C. Her books include Sacred Silence: Daily Meditations for Lent and In the Image of Christ: Essays on Being Catholic and Female.]
Editor's note: We can send you an email alert every time Phyllis Zagano's column, Just Catholic, is posted. Go to this page and follow directions: Email alert sign-up.