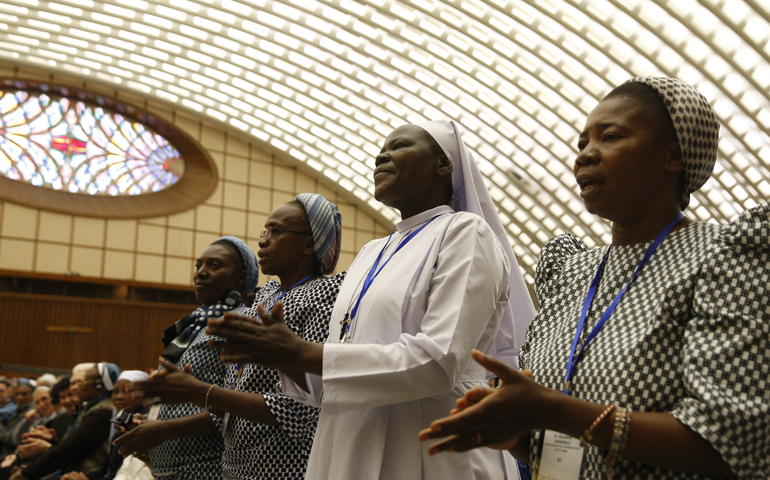 Nuns sing as they wait for Pope Francis' arrival at an audience with the heads of women's religious orders in Paul VI hall at the Vatican May 12. (CNS/Paul Haring)
The only reason to restore women to the diaconate is the needs of the church. So, the question is: does the church need women deacons?
Oh, no, the chorus responds: they were only used for immersion baptism and we don't do that anymore. Well, not exactly. Women deacons did a lot of other things.
For example, at an audience with members of the International Union of Superiors General after their recent meeting, Pope Francis recalled an interesting early diaconal ministry of women: "when there was a judgement on a marriage because a husband hit his wife and she went to the bishop to complain, deaconesses were responsible for inspecting the bruises left on the woman's body from her husband's blows, and for informing the bishop."
Immersion baptism may be gone, but wife-beating -- and annulments -- are still around. To this day women, mainly women religious, care for abused women and their children.
There are women canon lawyers, but only a cleric -- including a deacon -- can make the single judgement allowed under the new annulment procedures.*
Of course, active, or apostolic, women religious do a lot more. In fact, they took up the true diaconal works of the church as the diaconate faded in the West during the Middle Ages.
Women kept on ministering. Catherine of Siena buried the dead in 14th century, plague-ridden Siena, and in various places in various times other women found ways to bring Christian charity to their neighbors. But all along, no matter how they may have wanted to work directly with the poor, nuns lived under papal enclosure and in solemn vows.
However, the need continued and women continued to meet it. In the 16th century, Angela Merici formed a band of women who lived outside the cloister, dedicated to teaching women and girls. In the 17th century, Mary Ward walked from England to Rome to present her plan for apostolic women religious who would live and minister much like the Society of Jesus, except without priest-members. As the centuries rolled by, more institutes of women religious appeared, nearly all in response to a need for ministry to women and children.
They were all self-funded. They still are.
So what would be the difference if women -- including women religious -- were ordained as deacons?
Not much.
After making his now-famous promise to establish a commission to study women deacons, the pope turned to another question from the assembled sisters: "Women religious do not receive a stipend for their services, as priests do. … How can we find the financial resources necessary to fulfil our mission?"
The pope did not answer. How can he? He said to ask the bishop, the superior general, and/or the Congregation for Religious "because religious life is a path of poverty, but it is not suicide!"
News flash: Neither the bishop nor the Curia funds religious institutes, and superiors general have no magic checkbooks. The question was about financing ministry. Parish priests perform "stipendiary" work for the church. They often receive daily "Mass stipends," but the broader definition of "stipend" includes salary, room, board, and other perquisites that differ from country to country and diocese to diocese. They may not get rich, but it is a living.
Francis may not know about the women put out of ministerial work when a man appears on the scene. Sometimes that man is a deacon. When the pastor's choice is between a volunteer deacon, perhaps living on his own salary or retirement, and a women religious who needs a job, the choice can be simple.
Would it help if women were ordained as deacons? Yes, and no. They would need either their own means of support or a professional salary. While "Mass stipends" are ordinary facts of life for diocesan priests, deacons do not say Mass, and deacons cannot generally claim any type of support. Since there is no "stipend" for baptisms and weddings -- diaconal sacramental ministries both -- lacking a salary, the only other source of funds for a deacon is voluntary gifts.
So the problem remains. The deacon is charged to a ministry of the Word, the liturgy, and charity. In too many places, in too many parishes, the church's charity is disconnected from the collection plate. The person -- male or female -- who wants to minister full-time as a deacon either finds a paying ministerial position or self-funds the ministry.
Which brings us back to religious life. The long history of schools, hospitals, social service agencies and the like comprises the charitable works of religious. Their works created professional ministerial positions, which in turn supported their consecrated lives. Not only are their charitable ministries disconnected from the collection plate, except in institutes and orders of priests, it is also disconnected from the liturgy.
When the Gospel is proclaimed, when the Word is preached in the liturgy, too often the person proclaiming and preaching is not the person whose principal ministry is one of charity. So homilies at Mass don't always support the Gospel call to mercy and to charity.
And one more thing. The pope seems to think that the women deacons of history only ministered to other women. Well, who ministers to women now? Who shelters displaced women and their children? Who binds their emotional and physical wounds?
And who makes the single judgement in an annulment proceeding?
*This story was updated to include an additional sentence for clarification.
[Phyllis Zagano is senior research associate-in-residence at Hofstra University in Hempstead, N.Y. She will speak May 18, 2016, at a FutureChurch Teleconference and Sept. 24, 2016, at The Catholic University of America, Washington, D.C. Her books include Women Deacons: Past, Present, Future, Women Deacons? Essays with Answers and In the Image of Christ: Essays on Being Catholic and Female.]
Editor's note: We can send you an email alert every time Phyllis Zagano's column, Just Catholic, is posted. Go to this page and follow directions: Email alert sign-up.