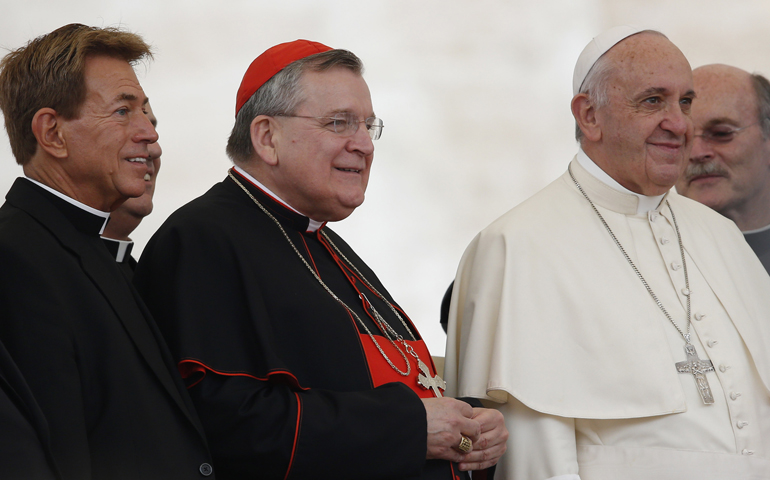 Cardinal Raymond Burke, center left, and a group of priests pose with Pope Francis during his general audience in St. Peter's Square at the Vatican Sept. 2, 2015. (CNS/Paul Haring)
Every seagoing ship flies its colors — its flag — so other vessels can identify friend or foe. Pirates often displayed false flags, only showing their true colors — black and white skull and bones — when they were close enough to attack.
Remind you of the gang of four cardinals stirring a hornet's nest about Amoris Laetitia? The four — Walter Brandmüller, 88, Carlo Caffarra, 78, Joachim Meisner, 83 — seem to be following the scarlet flag of American Raymond Burke, 68, ex-head of the Apostolic Signatura lately attacking again, this time over at the Knights of Malta.
Burke's now showing his true colors: everything is black and white. His concurrent attacks on the pope reduce to two statements: "I'm smarter than you," and "I deny your authority."
Here are the details.
1. Amoris Laetitia. The March 19, 2016 apostolic exhortation on family life and marriage is a detailed walk through the joys and troubles of family life. Its Chapter 8 addresses questions surrounding divorced and remarried Catholics, not yet annulled. What does it teach? Well, basically: talk with your pastor. Francis reminds us that everything is not always black and white. All situations reflect the complexities of human frailty. Marriages fail. Spouses are abandoned. Addictions to drugs, alcohol or gambling, as well as hidden inability or unwillingness to have children, can cause one or both spouses to leave. The closest thing the Catholic church has to no-fault divorce is annulment, and any of the above conditions can support such a judgement. The new December 2015 annulment procedures make things a little easier: less cost, less time, less heartache for the hurting spouses of broken marriages. What Amoris Laetitia teaches is how to recognize and accept a null marriage, even before the paperwork is finished. That's where the four cardinals get themselves into a swivet, with Burke even threatening to produce a "formal correction." The exhortation focuses on pastoral discernment and good conscience, before someone (that would be a canon lawyer) says it's OK for people in second marriages to go to Communion. Some bishops' conferences, notably in Argentina, Germany and Malta, have already explained Chapter 8, even as small-circulation "orthodox" bloggers display their ignorance of moral theology and outright disdain for the pope by continually arguing for the black and white.
2. Knights of Malta. The contemporary group, descended from the 11th-century knights who helped the crusaders, has as its motto: "Tuitio Fidei et Obsequium Pauperum" (Defense of the Faith and Assistance to the Poor). Oddly enough, they seem to think this means arguing with the pope. Egged on by the same echoing "orthodox" bloggers and under their own red flag, they are distancing themselves from the chair of Peter. Their cardinal patron, who is supposed to manage their relations with the Holy See, is Burke. Just before Christmas, Burke looked on as the No. 1 knight — falsely claiming he followed the wishes of the Holy See — fired the No. 2 knight. The alleged reason? Three years ago No. 2 knight ended only two of three aid programs in desperately poor areas of predominantly Buddhist Myanmar (Burma), programs that somehow included distribution of condoms, some reportedly to sex workers. No. 2 knight put the third program before the Knights' ethics committee, which ruled: let it be. Maybe they remembered Pope Benedict's condom comments, the part about how condoms could help male prostitutes avoid spreading disease. The real story? No. 2 knight probably agrees with the pope in many matters; Burke and his followers do not. The pope appointed a commission to investigate, but the Knights have raised their own black and white colors and refuse to cooperate with the pope's commission. It is all so very tacky.
Burke and the Knights sailed flying cardinal red. They are now showing their true colors: everything is black and white.
Meanwhile, the suffering followers of the white and yellow papal flag are turning black and blue. Like Jesus.
[Phyllis Zagano is senior research associate-in-residence at Hofstra University in Hempstead, N.Y. Her most recent books include The Light of the World: Daily Meditations for Advent and Christmas, Women Deacons?: Essays with Answers and In the Image of Christ: Essays on Being Catholic and Female.]
Editor's note: We can send you an email alert every time Phyllis Zagano's column, Just Catholic, is posted. Go to this page and follow directions: Email alert sign-up.