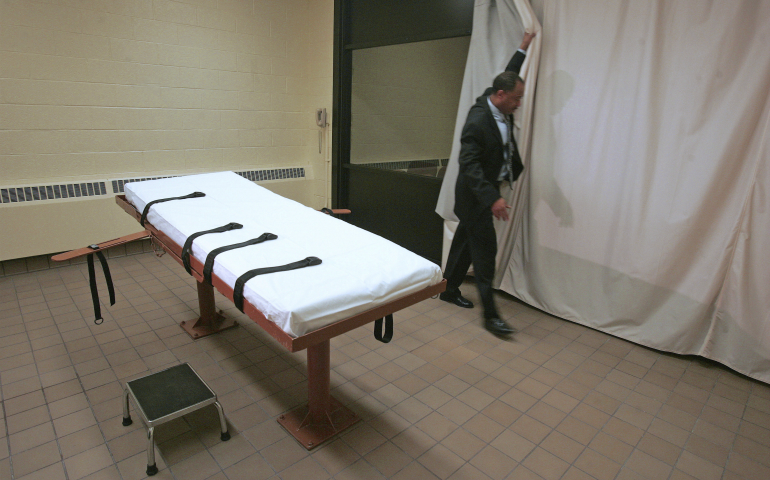 In this November 2005 file photo, Larry Greene, public information director of the Southern Ohio Correctional Facility, demonstrates how a curtain is pulled between the death chamber and witness room at the prison in Lucasville, Ohio. (AP photo/Kiichiro Sato)
Brittany Wilmes discusses the Arkansas executions with NCR Bertelsen intern Kristen Daniels. Catholic Mobilizing Network Executive Director Karen Clifton explains why her organization advocates for an end to the death penalty. Later, Brittany talks to NCR's Michael Sean Winters and Tracy Abeln about Trump's first 100 days in office.​

Show notes
We're on iTunes! Listen and subscribe from your iPhone or iPad now.
You can click the link above or, from your iPhone or iPad, open the preloaded app called "Podcasts." It has a purple icon. If you're reading this from your phone, tap this link, which will take you straight there. (You can also use the magnifying glass icon to search; type "NCR in Conversation.") Once you're on the series page, you can tap on an episode title to play it. Tap on the "subscribe" button to have new episodes sent to your phone.
If you prefer another podcast player, you can find "NCR in Conversation" there. (Here's the RSS feed.) You can also simply press the play button above to listen on this page. Make sure to keep this window open on your browser, or the audio will stop. You can find the latest episode of NCR in Conversation at NCRonline.org/podcast.