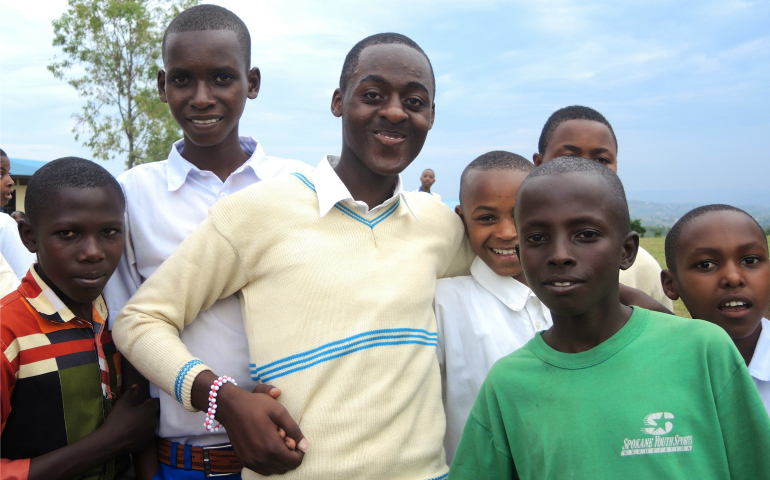 Boys at the Bernadine Sisters School in Kamonyi, Rwanda. Children are on vacation for a month from late March to mid-April, a time when emotions run high as the country observes the national memorial day on April 7. (GSR photo/Melanie Lidman)
We're on iTunes! Listen and subscribe from your iPhone or iPad now.
In this episode, editors Gail DeGeorge and Dennis Coday join Brittany Wilmes in studio to talk about the anniversary of the Rwanda genocide and Pope Francis' recent apology on behalf of the Catholic Church. Later, Brittany talks to GSR Africa correspondent Melanie Lidman* about her visit to Rwanda and how the country is healing. Celebration editor Denise Simeone stops in for a quick chat about Holy Week.

Show Notes
If you are an Apple user who wants to subscribe to NCR in Conversation for free, follow the instructions below.
From your iPhone or iPad: Open the preloaded app called "Podcasts." It has a purple icon. If you're reading this from your phone, tap this link, which will take you straight there. (You can also use the magnifying glass icon to search; type "NCR in Conversation.") Once you're on the series page, you can tap on an episode title to play it. Tap on the "subscribe" button to have new episodes sent to your phone. If you prefer another podcast player, you can find "NCR in Conversation" there. (Here's the RSS feed.)
You can also simply press the play button above to listen on this page. Make sure to keep this window open on your browser, or the audio will stop. You can find the latest episode of NCR in Conversation at NCRonline.org/podcast.
*The percentage of Catholics in Ethiopia is stated as 90% in the podcast. The statistic should be 60%. The sisters sentenced to prison in the International Criminal Tribunal were Benedictines, not Franciscans.