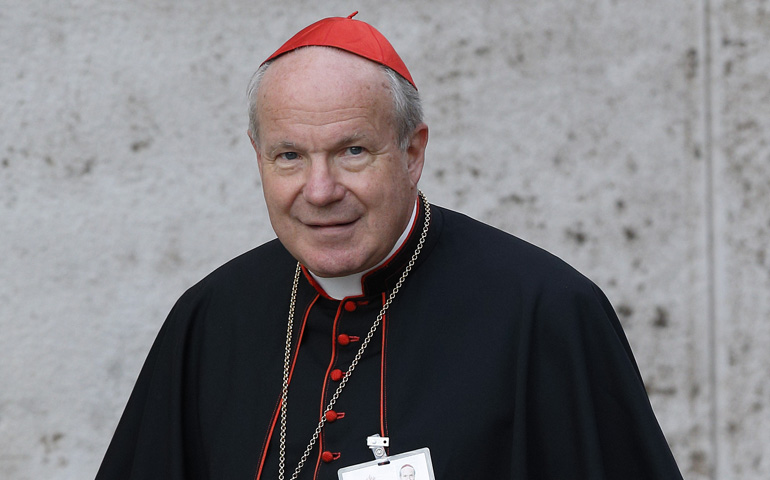 Austrian Cardinal Christoph Schonborn of Vienna in a 2014 CNS file photo. (CNS/Paul Haring)
In a 50-minute interview as "Guest of the Week" on Austrian state television, Austrian Cardinal Christoph Schönborn spoke of the mounting refugee crisis in Europe as well Pope Francis' work in his third anniversary of his pontificate.
The flood of refugees struggling to flee to Europe from the Near East had been foreseeable, Schönborn said. The moment international financial aid to refugee camps was drastically cut, conditions in camps in countries like Lebanon and Jordan became increasingly unbearable and refugees there have lost hope. The King of Jordan explained the situation to Schönborn on a visit to Vienna and said that Jordan, which is a small country, had taken in more than a million refugees.
He still thinks highly of German Chancellor Angela Markel's "Open Doors" policy on the refugee issue, but could understand Austria's decision to close its borders, the cardinal said. This was an emergency measure and he hopes a provisional one, but a limit had been reached.
As far as the delicate problem of integration was concerned, Muslims who come to Austria must accept that religious freedom and freedom of conscience are "non-negotiable key values" in a democracy, Schönborn said. Islam has not experienced the Enlightenment in the way Christianity and Judaism had in Europe, which meant that it therefore had a "certain amount of catching up to do." He said he personally experienced how differently Muslims perceived women on a visit to Iran, despite the fact that many women went to university there.
"And in Saudi Arabia, for example, there is no religious freedom," the cardinal said. "That is quite out of the question here. We must make these differences quite clear to Muslims when they come. They must understand and accept that."
Schönborn said he understood the fear that there might be a number of Jihadists among the large number of young refugees who fled to Europe, especially among the young males who make up the majority.
The best solution to the refugee problem was the UNHCR Resettlement Programme, which brings particularly vulnerable refugee families directly to Europe from the camps in the Near East.
Converts from Islam had increased considerably in the Vienna archdiocese, the cardinal said and more than 50% of adult converts in the past two years had converted from Islam. "I myself have baptized many Muslims," he said.
The archdiocese is, however, particularly careful to make sure that the conversions are genuine and that they are not only converting in the hope to receive asylum status more easily. All adult would-be converts re prepared in a special catechumenate course which lasts at least one year, Schönborn said.
Schönborn also said he hopes that Austria would hold a nationwide service of repentance for the victims of sexual abuse in which the whole of society would take part, hopefully before the year was out. The Austrian church's commission for dealing with priestly sexual abuse has served as an example to the municipal authorities who have now coped with the sexual abuse of minors in state homes and orphanages. He said that a nationwide service in which "everyone shouldered and showed their repentance" would be an important signal and do a great deal towards preventing sexual abuse in the future.
"Who am I to judge?", said by Pope Francis on a plane back from his visit to Brazil in July 2013, has best characterized the first three years of the pope's pontificate, Schönborn added.
While there is "genuine opposition to Francis' policy, not only in the Curia but also in certain parts of the church," the pope is excellent at coping with his opponents and has wisely included them instead of isolating them, Schönborn said. Those who fear that Francis is "among wolves" need have no fear, as the pope is a "very courageous man."
Francis is "hugely popular the world over" and has "whipped the Vatican into shape" as far as its international role is concerned. This was made very clear in the mediating role the Vatican played in the negotiations between the U.S. and Cuba, Schönborn said.
[Christa Pongratz-Lippitt is the Austrian correspondent for the London-based weekly Catholic magazine The Tablet.]