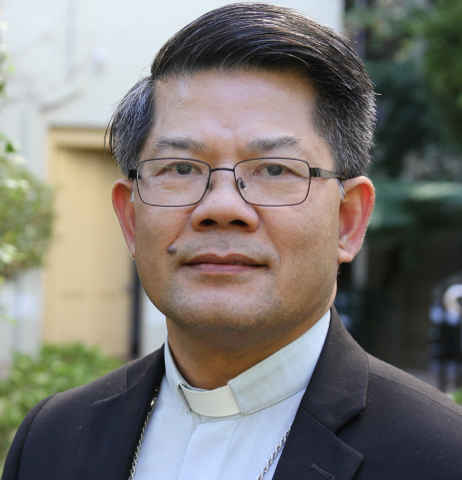 Bishop Vincent Long Van Nguyen of Parramatta, Australia (CNS)
Yesterday in my Morning Briefing, I pointed readers to a story out of Australia that highlighted testimony by Bishop Vincent Long Van Nguyen of Parramatta, Australia, before the Australia's Royal Commission into Institutional Responses to Child Sexual Abuse.
The commission is sitting for its 50th session and has been focused most of February on the Catholic church.
I wanted to make sure that NCR readers saw what Long said, so I thought I should point you back to that story today.
Long, 55, arrived in Australia as a refugee in 1981 and was ordained an auxiliary bishop in 2011 and made bishop of Parramatta last year. He made headlines Feb. 21 when he revealed that he was sexually abused by a clergyman shortly after being offered sanctuary in Australia.
Long notes that he was not a minor then, being about 18, but as a refugee, he most certainly was a vulnerable adult. Long testified that the experience "had a powerful impact on me and I want to walk in the shoes of other victims and endeavor to attain justice and dignity for them."
That revelation was startling enough, but the conclusions he has drawn will be no less startling to many of his confreres.
Long told the commission that ordained ministers have too much power in the church and too little accountability. The hierarchal culture of the institution needs to be dismantled, he said.
"The marginalization of women and the laity is part of this culture of clericalism that contributes not insignificantly to the abuse, sexual abuse crisis," he said.
"If we are serious about reform, this is one of the areas that we need to look at."
That reform could include giving lay people more power over their parish priest, he said.
"The laity have no meaningful or direct participation in the appointment, supervision and even removal of the parish priest," Long said, adding. "I think that needs to change."
My goodness, I thought to myself. Is this public testimony by a sitting Catholic bishop, or an NCR editorial?
It is a sitting bishop. Wow.
He said titles, privileges and the church's institutional dynamics "breed clerical superiority and elitism, and that he cringes when parishioners call him "your lordship." The church needs to review mandatory celibacy, which, he said, he thinks separates the clergy from parishioners.
You can read a bit more of Long's background here: New bishop shows changing face of Australian church.
Last September, Long got into a bit of hot water for a lecture he gave at a Catholic education conference in his diocese. Media picked up on comments he made about the church being more open to our gay and lesbian brothers and sisters. But the talk really focused on his challenges to the local church to rediscover its core values. This is a link to the full talk. I'll paste below the conclusion of his talk:
I believe we are living in a time of grace and hope precisely because this fallow time allows us to rid ourselves of what is unworthy of Christ and to grow more deeply in our identity and mission as his disciples. Hence, it is the time to reclaim for the Church:

Less a role of power, dominance and privilege but more a position of vulnerability and powerlessness;
Less an enclosure for the virtuous but more an oasis for the weary and downtrodden;
Less an experience of exclusion and elitism but more an encounter of radical love, inclusiveness and solidarity;
Less of an attitude of 'we are right and you are wrong' and more of an attitude of openness to truth wherever and whoever it is to be found;
Less a leadership of control and clericalism but more a diakonia of a humble servant exemplified by Christ at the Last Supper;
Less a language of condemnation but more a language of affirmation and compassion; and
Less a preoccupation for its own maintenance but more a concern for the Kingdom of God

In the end, though, I firmly believe that we're on the threshold of renewal and transformation. The Second Vatican Council set in motion a new paradigm that cannot be thwarted by fear and paralysis. Once the genie is out of the bottle, it cannot be put back. That new paradigm is one that is based on mutuality not exclusion, love not fear, service not clericalism, engagement with the world not flight from or hostility against it, incarnate grace not dualism. The Holy Spirit is at work even at a time of great anguish. ...
How much is airfare from Kansas City, Mo., to Parramatta, Australia?
A version of this story appeared in the March 10-23, 2017 print issue under the headline: New paradigm of service is here.