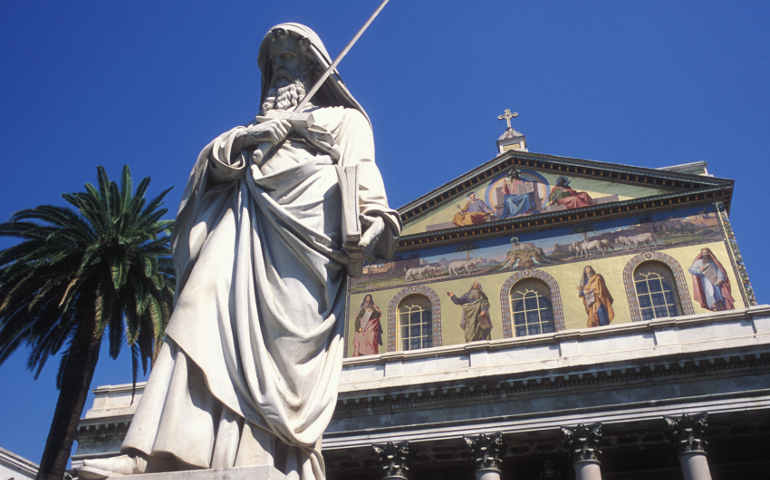 A statue of St. Paul with Rome's Basilica of St. Paul Outside the Walls in the background. (CNS/Paul Haring)
Introduction
Blacks in Catholic Christianity have a long and vibrant history.
Much of that history is generally unknown to Black Catholics as well as to the rest of the faithful. On July 24, 1990, the National Black Catholic Clergy Caucus of the United States designated November as Black Catholic History Month to celebrate this long history and proud heritage of Black Catholics. During this month we celebrate the presence of our ancestors who kept the faith and are models of living the Gospel life.
Nov. 6 Saint Paul
Did you know that the New Testament of the Bible speaks of "Simon from Cyrene," which is located in Africa, carrying the cross of Jesus, in the Gospel according to Luke?
And did you know that in the Book of Acts, Apostles and Deacon, Phillip, Help convert an official from the African kingdom of Ethiopia to follow Jesus, even before the conversion of St. Paul? Some scholars say this event marked the very moment when the Church changed from a primarily Hebrew and Greek community to the truly universal and Catholic Church.
November is Black Catholic History Month, read more about it.
This is copyrighted material, used with the permission of the Archdiocese of Washington, Office of Black Catholics.