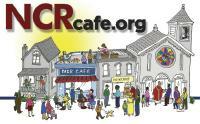 Show of hands: How many of you remember NCR Café? I know some of you do, because I still recognize your handles. NCR Café was launched in 2006 as a platform to engage NCR readers by opening forums for discussion. (Yes, some of the commenting community have been with us since 2006 – and, incidentally, that's how long I've been moderating comments. I should get some kind of Catholic Press Association award for that!)
Back then we had commenting boards divided into topic areas and not focused on individual stories posted to NCRonline. We've come a long way since. The journey has not always been smooth, but you all know that story; I'm writing today to introduce a new chapter in the life of NCR's online community.
Starting Monday, Oct. 3, at noon CST, we will switch our commenting system to Civil Comments. Civil Comments combines peer-to-peer moderation and a set of behavioral algorithms that according to Civil's website, "looks for problematic behavior, automatically warning bad actors and limiting their participation."
Over the last couple of weeks, we at NCR have looked over this system and tested it out. We really like it, and we think you will too.
Visit the Civil Comments website to learn more about it and prepare for the launch next Monday.
In simple terms, here's how Civil Comments works:
First, starting at a page on the NCR website, set up a Civil Comments account using an email address or a Facebook or Twitter login.
If you want to comment on a story, after writing your comment, you have to review three comments by other readers, rating each as useful or not and civil or not. Then you have to review your own comment and rate it.
Meanwhile, others are reading your comment. If five people rate a comment as uncivil, it won't be published and goes instead to a moderation queue where NCR staff makes the final decision. Even after something is posted, it can be flagged for NCR staff to review.
The backbone of this system is peer-to-peer moderation, which is something many of you have asked for, and that is one reason we like it so much. Success depends on how well the commenting community uses the system. That is, success depends on you.
Some things you may be wondering about: 
Commenting will be turned off completely until Monday so that we can work on behind-the-scenes fixes. 
After today, Disqus will not be our commenting system. Our goal is to keep the Disqus comments on the old stories, and our tech person thinks she can do that with some coding tricks. That's a goal, but it is not a promise.
Starting Monday, stories posted to the website will take comments only through Civil Comments.
From Monday on, comments will again be open 24 hours a day, seven days a week.
Advertisement