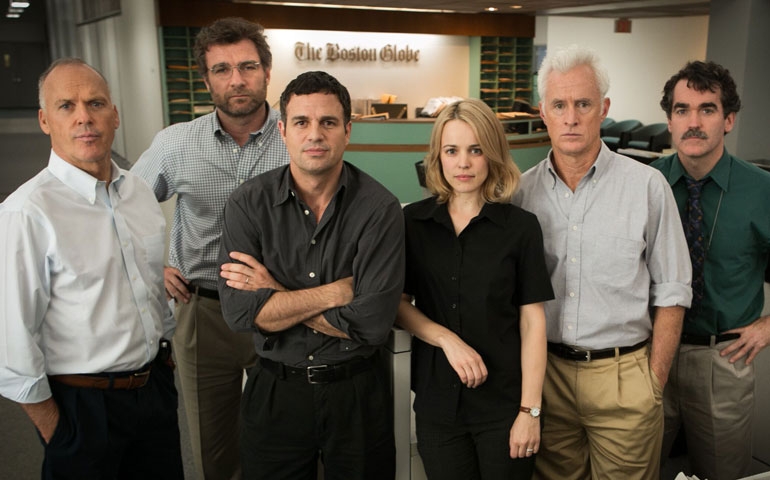 From left: Michael Keaton, Liev Schreiber, Mark Ruffalo, Rachel McAdams, John Slattery and Brian d'Arcy James star in "Spotlight." (Entertainment One)
January 6, 2002, a date that will live in the hearts and minds of the hierarchy of the Roman Catholic Archdiocese of Boston, the universal Catholic church, the survivors of clergy sexual abuse and their supporters, and the and the citizens of planet Earth for a long time to come. For this is the date on which The Boston Globe published the first in a series of some 200 stories detailing the sexual abuse of children in this archdiocese by almost 100 of its priests and the carefully concealed cover-up, over decades, of that abuse.

It is the story behind those stories that is told in the recently released film "Spotlight." It is the story of a city newspaper editor and a dedicated investigative reporting team who, through months of hard work, and unceasing determination, against seemingly insurmountable odds, brought into the public light a scandal of immense proportion and told a truth that needed to be told to a world that needed to hear it.

This is film that needs to be seen, not only by people who are directly or marginally involved, but by people of all walks of life in all walks of life, so they may know that a small group of dedicated journalists, can bring the truth into the open and through that effort bring about changes that have universal effect.

It is not a story of self-aggrandizement, as the failings, not only of the hierarchy and the public at large, but of the Spotlight team itself, allowed this story lay unnoticed in archived file cabinets for years before it came to the surface.

It is, its entirety the truth, which no longer can be hidden from view.
[Stephen P. Sheenan is a member of the National Survivors Advocates Coalition and publisher of the electronic newsletter "NSAC News."]