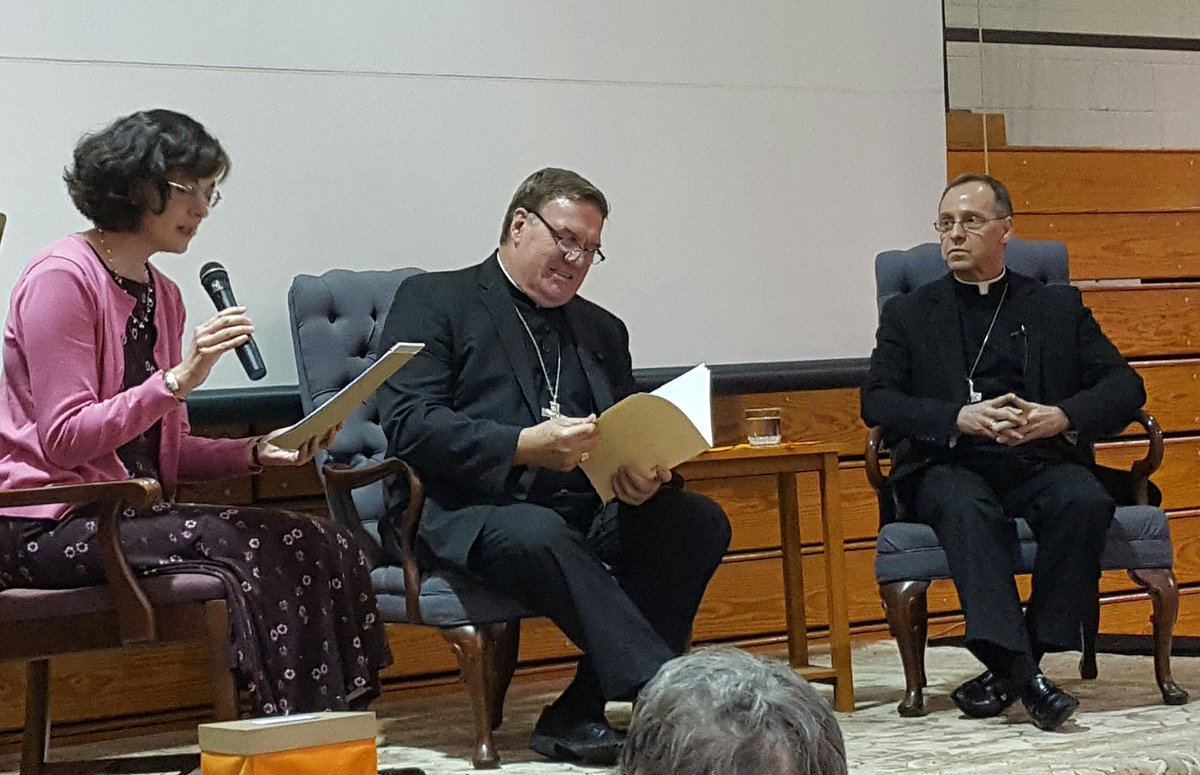 Dr. Kimberly Baker of St. Meinrad Seminary moderates the conversation with Archbishop Joseph Tobin, CSsrR, of Indianpolis (center) and Bishop Charles Thompson of Evansville, Indiana (right).
All the major speakers at "Women of the Church: A Catholic Leadership Conference" this weekend were women -- except for two. Archbishop Joseph Tobin, CSsR, of Indianapolis and Bishop Charles Thompson of Evansville, Ind., were part of a moderated conversation during the three-day conference in southern Indiana.
Answering questions from attendees that had been collected in advance, the bishops expressed support for women deacons, the possibility for women preaching and a desire to dialogue with younger "millennial" women.
"I'm hopeful," said Tobin about the possibility of women deacons. As co-chair of the North American Orthodox Catholic Theological Consultation, Tobin said he was encouraged by the fact that the Orthodox recognize the tradition of women deacons.
Thompson, a canon lawyer, noted that the Canon Law Society of America released a document supporting women deacons in 1995.
Responding to an earlier question about making women's leadership more visible, Thompson also drew on his expertise in canon law to point out that while church law reserves the homily to priests and deacons, exceptions could be made when another speaker can talk to the "particular needs of that group."
Another question asked for their opinions about data that show that younger "millennial" women disagree with church teaching more and attend Mass less than their male counterparts. In response, both bishops said they would be open to dialogue with younger women. "I need wisdom from that group," said Thompson.
Tobin noted that addressing younger women's concerns is "not simply up to the bishops." Women should share their stories of why they stay in the church with younger women, he said, and should avoid turning off younger women with "unmitigated anger."
"I'm praying Pope Francis can make good on his promise to find more incisive and visible roles for women in the church," Tobin said. "But I also think it's important for that women help young women understand why this is home for them, despite the spots and wrinkles and, yes, injustice. That's a message that will not be as credible if it comes from me."
At least one younger Catholic woman attendee was encouraged both by the bishops' comments and the conference in general.
Admitting that "there's a huge distance" between younger women and the hierarchy, Laura Taylor, a 26-year-old doctoral student at the University of Notre Dame, said she would welcome any attempts by clergy and bishops to dialogue with young Catholic women.
The conference, by bringing together diverse voices from the academy and parish ministry, was already giving her hope, Taylor said. "It's bringing issues to the fore," she said. "The conversation is happening."