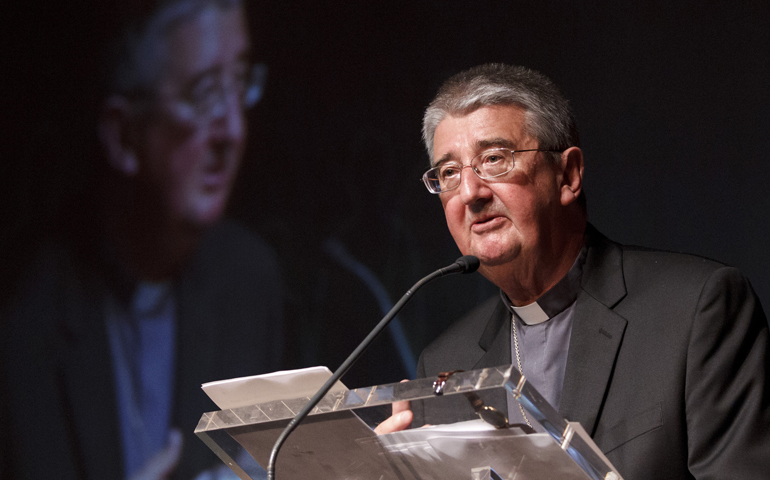 Archbishop Diarmuid Martin of Dublin, in a 2012 CNS file photo (CNS/Paul Haring)
Archbishop Diarmuid Martin of Dublin has said recent comments by Cardinal Raymond Burke on Islam's desire to govern the world are unhelpful at a time when Europe reels in the aftermath of a spate of terror attacks.
The archbishop decried the murder of elderly French priest, Fr. Jacques Hamel, in Normandy as "something that no religion would stand over," adding that the atrocity in the small parish church of Saint Etienne du Rouvray has been "horrifying to everyone" and that people have been "absolutely stunned by the brutality" of it.
Speaking from Poland where he is attending World Youth Day, Martin stressed that education is the basis for real tolerance as well as knowledge and respect for other religions.
---
Related: Cardinal Burke says 'Christian nations' in West must counter Islamic influx (July 22, 2016)
---
RTE, the Irish state broadcaster, asked Martin about the potential for such attacks to create divisions among Christians and Muslims, to which the archbishop answered that the only way to combat evil is "by bringing a similar force of goodness into our society." He added that in the long term, people have to be convinced that "goodness will always win in a combat with evil."
In a recent interview on his new book, Burke said that Islam seeks to govern the world and that the only way to save Western civilization is to return it to its Christian roots. "I don't think that helps at all," Martin rebuked.
"Does Islam want to rule the world? There may be some people of the Islamic faith who do, but Islam itself has another side within it -- a caring and a tolerant side," he added.
Interreligious tensions, he suggested, are caused by inequalities, people feeling excluded, and the Israeli-Palestinian crisis, which he warned would be used to justify violence the longer it was allowed to continue. "Long term solutions will come from education," he said.
Burke's new book is titled Hope For The World: To Unite All Things In Christ.
Burke's book takes the form of an extended interview with Guillaume d'Alançon. In the course of the interview, the cardinal, who is patron of the Sovereign Order of Malta, states, "Islam is a religion that, according to its own interpretation, must also become the State. The Koran, and the authentic interpretations of it given by various experts in Koranic law, is destined to govern the world.
"In reality, there is no place for other religions, even though they may be tolerated, as long as Islam has not succeeded in establishing its sovereignty over the nations and over the world."
A spokesman for the Association of Catholic Priests in Ireland, which represents over 1,000 Irish clerics, warned that the cardinal's comments "will be interpreted as dangerously provocative in the light of the gruesome death of 84-year-old Fr. Jacques Hamel."
Writing in the Irish Times, Fr. Brendan Hoban warned that placing the Christian faith and tradition in direct competition with Islam is not just sending all the wrong messages, "it's fueling a version of Islam at odds with the fundamentals of that faith and creating a 'Them and Us' divide that places at risk public representatives of Christian Churches, like Fr. Hamel."
Separately, one of Pope Francis' closest advisors, Cardinal Reinhard Marx, who is president of the Commission of the Bishops' Conferences of the European Community, the body representing Catholic bishops across Europe, said on Wednesday that the intention of the act of terror was to stir up hatred between religions.
"We will resist and will not let ourselves be led into an atmosphere of hatred and violence. The answer cannot be an intensification of hatred and conflict," the German prelate said.
[Sarah Mac Donald is a freelance journalist based in Dublin.]