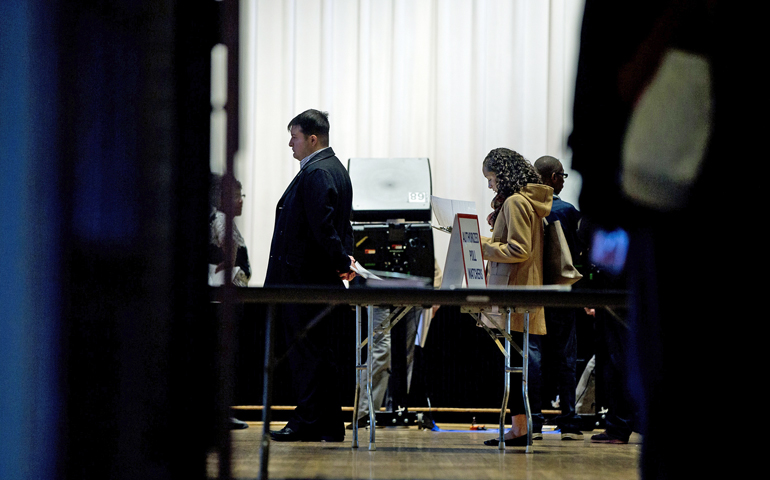 Voters are seen inside St. Francis Hall in Washington Nov. 8. (CNS/Tyler Orsburn)
I was talking to a Muslim woman who is a friend of mine the day after the election. She told me she is both uncertain of the future and a bit frightened, especially for her children. But she said something that all citizens who voted for Clinton can learn: she has resolved to get to know people who voted for Trump, to learn about their life circumstances, what motivated them, and why they see Trump as the one to lead them to a new future.
I need to do the same thing. I don't know anyone who voted for Donald Trump. But after his unexpected victory on Tuesday evening, and all the grieving that followed, I'd like to understand what voters saw or heard in his message, his candidacy. I'd like to know what was attractive to them. I'd like to hear about their life circumstances, and whether they think the last eight years with Obama have impacted them in some negative way. I want to ask what issues they regard as important. And I'd like to ask them to explain what the phrase "make America great again" means to them. What "past" would they like to resurrect?
I'd especially like to hear Catholics who voted for Trump because we are a politically divided church. The Catholic vote on Tuesday was polarized, as is often the case in presidential elections. According to Crux, "preliminary results indicate Trump decisively won a majority of those self-identifying as Catholics, by 52 to 45 percent," and "by contrast, President Barack Obama won Catholics narrowly, by a margin of 50 to 48 percent, in 2012."
So, I would like to ask Catholics what issues they took into account. If they are anti-abortion, was that the only issue for them, or did they consider others? I would wonder if they had pondered the messages of Pope Francis about welcoming strangers and refugees, concern for the needy, rescuing Planet Earth from climate change. Had they taken a measure of both candidates using these criteria? (Pope Francis' messages on all these issues are vastly different from those of Donald Trump.)
So, if election night proved anything, it is that we are not only two Americas, but two different American Catholic churches. And I'm not sure we know each other very well … at least to the extent that we should.
I hear pollsters say that many Trump supporters are largely "working-class white men." And they have economic grievances: loss of jobs or insecure employment, lower pay scales. If so, this is a group that has escaped the "social justice lens" of the church and needs to come back into focus.
But it is also possible that many of these working-class white voters have heard candidates blame minorities and immigrants for their plight and are thus susceptible to racist and xenophobic rhetoric. If so, it would be good if the bishops, as well as other Catholics, addressed it directly. In any event, we need serious conversations on the diversity of America, and why it's a cause of fear, not celebration.
And finally, I'm sure some minority of men secretly liked the misogynist rhetoric and behavior of Donald Trump. And here, the way women are treated in the church plays a role, however subtle, in reinforcing the idea that females are inferior and can be treated that way.
I think it will take months for me to recover from this election, if it ever happens. But at least, I can try to understand the other.