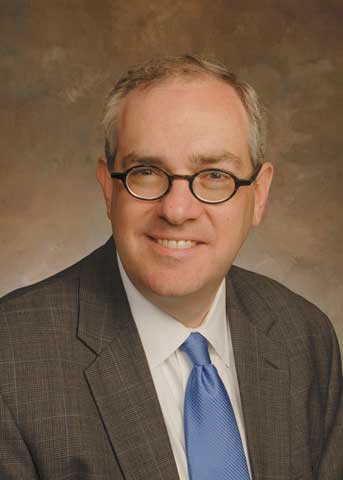 Michael Warsaw (EWTN)
Napa Valley, Calif. — December 15, 2014
The Napa Institute seems to have in the Eternal Word Television Network, the broadcasting venture started by Mother Angelica in 1980, a media partner attuned to its mission and the ambition to match.
EWTN's chief executive officer, Michael Warsaw, and Bishop Kevin Vann of Orange, Calif., chose the July Napa gathering to jointly announce that the Alabama-based global Catholic television operation had begun construction of a West Coast facility on the campus of Christ Cathedral Church in Garden Grove, near Orange.
Set to become the seat of the Orange diocese, Christ Cathedral is the former Crystal Cathedral, built in the 1980s by television evangelist Robert Schuller. The Orange diocese purchased the striking, 3,000-seat glass and metal structure and its 34-acre campus in early 2012. Schuller's Crystal Cathedral Ministries had filed for bankruptcy in late 2010.
Featuring a conservative Catholic focus, EWTN has grown into an international Catholic media force. Its 24/7 programming reaches more than 230 million households in "more than 140 countries and territories," reports its website.
In 2011, EWTN purchased the National Catholic Register newspaper.
The month before the Napa assembly, ETWN announced acquisition of both the Catholic News Agency and the Spanish-language news service ACI Prensa, the world's largest Spanish-language Catholic news organization, with headquarters in Lima, Peru.
The Catholic News Agency is provided free to clients and seems poised to directly compete with the U.S. bishops' Catholic News Service, which charges for its materials.
EWTN "also operates multiple radio services including a network of hundreds of AM and FM stations, a SiriusXM satellite radio channel, an iHeart radio channel and a global shortwave radio service," it states in news releases.
At the Napa Institute, Vann said, "As we transform the Christ Cathedral campus into a dynamic and inspirational center of Catholic worship and outreach, we are blessed to partner with EWTN to share our community's energy and faithful witness with the world." Vann is on the board of Napa Institute ecclesiastical advisers.
A version of this story appeared in the Dec 19, 2014-Jan 1, 2015 print issue under the headline: EWTN an ambitious media partner.