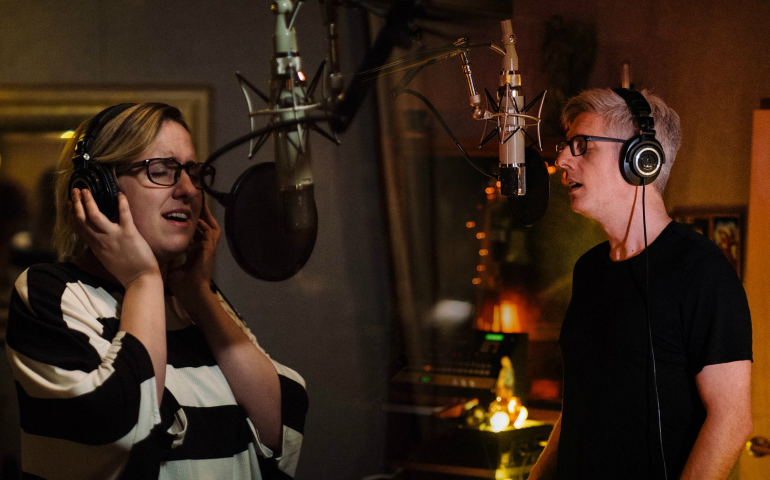 Catholic musicians Matt Maher and Audrey Assad record "Oh Mercy" at The Smoakstack recording studio in Nashville. (Courtesy of Hoganson Media Relations)
In what is an NCR first, today we present the exclusive world premiere of "Oh Mercy" by Catholic recording artists Matt Maher and Audrey Assad. The song is one of 18 on "Beatitudes," an album that will be available to the public April 21.
The album is part of The Beatitudes Project, a venture from Stu Garrard, a musician, producer and author who is a Grammy nominee and Dove Award winner. Garrard started the project as a means "to be a reset button in a world plagued with violence and division," according to a press release from Hoganson Media Relations about the album.
In addition to Maher and Assad, the full-length album features other well-known Christian recording artists: Hillsong United, Amy Grant, John Mark McMillan, and Michael W. Smith.
"Oh Mercy," written by Garrard, Maher and Ian Cron, is inspired by Matthew 5, specifically, "Blessed are those who hunger and thirst for righteousness, for they will be filled." The song also "reflects on the ache for justice and wholeness; the wrestle with addiction and the longing for global and communal wrongs to be made right," according to the press release.
Garrard writes about this idea further in his book, Words From the Hill: An Invitation to the Unexpected, another part of The Beatitudes Project to be released April 18.
"I think what we've done is tried to combine the American dream with Christianity," Garrard writes in his book. "I'm not sure those two things mix well. We need to be set free from that. And maybe the way we get set free is to hunger and thirst for righteousness and justice, and let the ache disrupt us into action until we become part of the solution."
According to a news release about the Beatitudes Project, every song on the album, including "Oh Mercy," was inspired by real people "who personify the beatitudes today."
"Oh Mercy" finds its inspiration from Nashville's Thistle Farms, started by Becca Stevens, an Episcopal priest and one of CNN's Heroes of 2016. Thistle Farms aims to "heal, empower and employ women survivors of trafficking, prostitution, and addiction," according to its website.
The song speaks freely of forgiveness:
When you took your broken heart

and fed the world with it

You gave us all a brand new start

I can't get over it

and under my skin

forgiveness sets in

and your kindness leads me now.

Lyrics and artwork for "Oh Mercy" (Courtesy of Hoganson Media Relations)
Part of Maher's inspiration surrounding the beatitudes came from a 2002 World Youth Day event in Toronto.
"It was 300,000 young people from all around the world, and the pope at the time, John Paul II, was there," Maher said in the album's press release. "In his opening address, he talked about the Beatitudes. He talked about how the church needed to be a place where we fostered and encouraged the Beatitudes so much that we actually became a people known by those Beatitudes. I think that's a challenging commission."
---
​Related: Audrey Assad serves as a musician and an advocate for refugees (April 7, 2017)
---
Assad told NCR that she loves the project because she no longer wanted to be a Christian if she wasn't "living an upside-down kingdom the way that Jesus sort of talked about, where the poor are preferred and the last shall be first, where the people that are often considered to be sort of less desirable are the most beautiful. They're blessed because they're basically left behind by all these people on Earth."
"I grew up in a country where to be Christian was to be in power. And frankly, I have left behind that being a virtue," Assad said. "I just don't think that is what I'm aiming for anymore. And so I love this project because it really does lift up those who are often overlooked, and I think it's going to be a great way to use art for that purpose."
Assad's other song on the album is "I Will Be Your Home," which she co-wrote with Garrard. The song, which has a distinct Middle Eastern flair, draws upon Assad's heritage — her father was a Syrian refugee in the 1970s. Accompanying her on the track is Hassan Al Zoubi, a Syrian refugee who recently came to the United States.
"Oh Mercy" will be available for download on iTunes on Friday, April 7. An additional three songs — "The View from Here," featuring Hillsong United; "Morning Light," by Grant; and McMillan's "Heaven Is Around Us" — will be also be available April 7.
Coming April 7 on NCR: an exclusive story with Assad about her journey as the daughter of a Syrian refugee.
[Kristen Whitney Daniels is an NCR Bertelsen intern. Her email address is kdaniels@ncronline.org. Follow her on Twitter: @KWhitneyDaniels.]