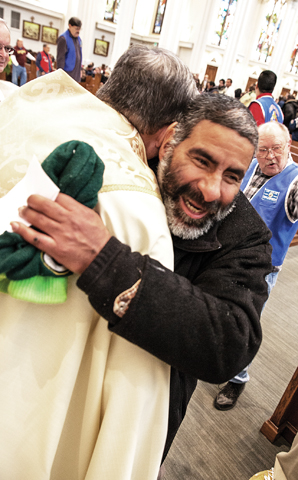 Father Ron Cattany, pastor of Denver's Cathedral Basilica of the Immaculate Conception, shares an embrace with a homeless friend. (Andrew Wright/Courtesy Denver Catholic)
Following Pope Francis' exhortation to accompany the poor and those in need, several Catholic-based outreach efforts for the homeless are underway in Denver, Colo.
In a Denver Catholic feature, the pastor of Denver's Cathedral Basilica of the Immaculate Conception describes the challenges of keeping an inner-city church safe and welcoming to its wide demographic -- from urban professionals to persons living on the street. "I think the big difference I've seen ... is that life on the streets has changed. It's become more risky -- the drug traffic and the lack of permanent shelters have increased exposure to the natural and human elements -- people wear out … and they become victims of crime."
Other Denver parishes support the Cathedral. Parishioners at St. Vincent de Paul, for example, help make the 15,600 breakfast sandwiches the Cathedral distributes annually. Mother of God Parish and Holy Ghost Parish offer lunch sites.
In addition, more distant parishes pledge food and funds that now allow the Cathedral to offer afternoon snacks -- Centennial's St. Thomas More Parish, and Littleton's St. Francis of Cabrini Parish and Light of the World Parish. Light of the World also has an active social ministries group and sponsors Holy Family Center Food Pantry. St. Francis Cabrini Parish operates Cabrini's Cupboard.
The additional assistance also makes it possible for the Cathedral to lend a hand to Christ in the City, a Catholic Faith-based street ministry, launched in 2010. Living in community and studying a traditional Catholic formation curriculum, its mostly young "missionaries" make direct contact with persons living on the streets of Denver, befriend them and often act as ombudsmen to secure food, housing, clothing and other help. And play an occasional hand of cards with their friends on hard times.
Young as well as seasoned Catholics backbone three Catholic Worker communities in Denver who work with the marginalized -- Denver Catholic Worker House, recently established Little Flower Catholic Worker House, and Denver Catholic Worker Soup Kitchen. The all-volunteer ecumenical soup kitchen has operated for 30 years, and currently serves about 30,000 meals per year.
Denver Catholic Worker House suffered a devastating fire on Jan. 28 and is currently fighting to keep a residential foothold in Denver's heated real estate and economic environment, said Anna Koop*, one of the group's founders 38 years ago.
Little Flower's focus will be homeless women. The group will no doubt dovetail efforts with Denver's four-year-old Women's Homeless Initiative, an interreligious ministry supported by 13 congregations including the lay-led 10:30 Catholic Community and Denver's Jesuit parish, St. Ignatius of Loyola. The umbrella sponsor for the WHI is Capitol Hill United Ministries which brings together about 30 churches and faith-based agencies to address social and justice issues.
*An earlier version of this story misspelled Koop's last name.
[Dan Morris-Young is NCR's West Coast correspondent. His email is dmyoung@ncronline.org.]
---
Editor's note: "The Field Hospital" blog series covers life in U.S. and Canadian Catholic parishes. The title comes from Pope Francis' words: "I see the church as a field hospital after battle. It is useless to ask a seriously injured person if he has high cholesterol and about the level of his blood sugars! You have to heal his wounds. Then we can talk about everything else. …"
If you have a story suggestion, send it to Dan Morris-Young (dmyoung@ncronline.org) or Peter Feuerherd (pfeuerherd@ncronline.org).