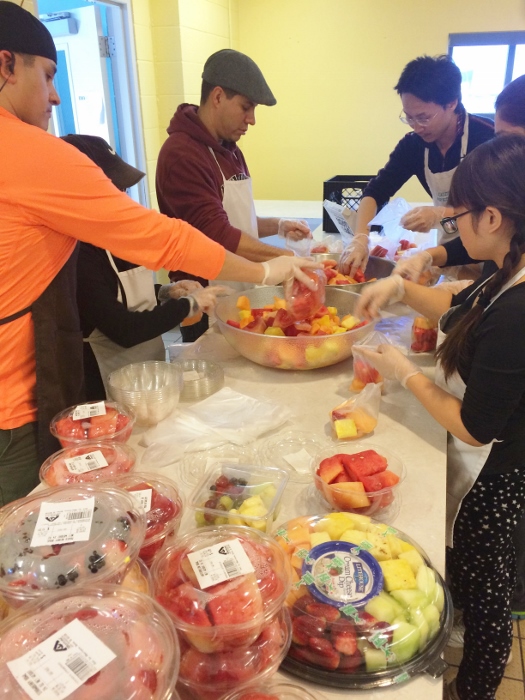 Members of the City of the Crosses Young Adult Ministry work Jan. 16 at El Caldito Soup Kitchen in Las Cruces, N.M. for their "Feeding the Hungry Saturday." (Meghan Sanchez, courtesy Holy Cross Parish, Las Cruces, N.M.
Editor's note: "The Field Hospital" blog series covers life in U.S. and Canadian Catholic parishes. The title comes from Pope Francis' words: "I see the church as a field hospital after battle. It is useless to ask a seriously injured person if he has high cholesterol and about the level of his blood sugars! You have to heal his wounds. Then we can talk about everything else. …"
If you have a story suggestion, send it to Dan Morris-Young (dmyoung@ncronline.org) or Peter Feuerherd (pfeuerherd@ncronline.org).
---
The past, present and future of Hispanic ministry in the Boise Diocese will be the topic of a day-long gathering March 12 at Boise's St. Mary Parish which itself has a history of solid Latino/Hispanic participation. About 150 participants are expected, including Bishop Peter Christensen, diocesan staff, and various pastors and Hispanic leaders. More than half of the diocese's Catholics speak Spanish as their first language. NCR recently profiled the inter-cultural emphasis at St. Jerome Parish in Jerome, Idaho.
Parishioners in the Seattle Archdiocese are being encouraged to subsidize pastors' participation in a two-year curriculum of 29 one-day sessions to bolster their administrative and leadership skill sets. A program of the Pennsylvania-based Catholic Leadership Institute, "Good Leaders, Good Shepherds" has trained some 2,500 priests in about 90 arch/dioceses over the past decade. In a letter to parishioners of St. Mary Parish in Anacortes, Wash., Fr. Mel Strazicich, who is pastor, asks for help with the $12,000 tuition and confides that seminaries do not devote much time on training future pastors "to act much like a CEO of a small to medium sized business." Archbishop J. Peter Sartain says he "strongly supports this program." So do St. Mary's finance and pastoral councils. "My brother priest participants and I have found this program to be both relevant and practical," wrote Strazicich.
Angela and Jon Howdeshell, parishioners of St. Paul's Newman Center in Laramie, Wyoming, say they learned much about faith, camaraderie and themselves when they recently walked the famous Camino de Santiago (Way of St. James) in Spain. That happens when you walk about 500 miles in 35 days. Msgr. Kevin Codd knows, too. Pastor of Spokane, Wash., Sacred Heart Parish, the priest wrote a book describing his own Camino journey, To the Field of Stars: A Pilgrim's Journey to Santiago de Compostela. Actor Martin Sheen read Codd's book in advance of making "The Way," a film about a young man undertaking the Camino de Santiago.
Incorporating Pope Francis' Year of Mercy theme, the City of the Crosses Young Adult Ministry based at Holy Cross Parish in Las Cruces, N.M., launched a year-long project focused on the Corporal Works of Mercy. On the third Saturday of the month (they call them "Mercy Saturdays") the group of "young working professionals, graduate students, married and single people in our mid-20s through late 30s" volunteers at locales from soup kitchens to jails. "Our hope is that through these Saturdays, people are able to find a ministry in which they can continue to serve," says parish young adult minister Kiley Giacomelli.
Parishioners of St. Elizabeth University Parish in Lubbock, Texas, led by the parish's Knights of Columbus Council 12803, recently raised enough funds to purchase 100 new coats for The Children's Home of Lubbock. For many of the home's residents, it was their first new coat.
St. Elizabeth parishioners also join Catholics of Lubbock's other parishes participating in demonstrations and prayer vigils calling for an end to the death penalty. Organized by the interdenominational group People of Faith Against the Death Penalty, the gatherings take place in front of Lubbock's St. John's United Methodist Church on the evenings of scheduled executions. The executions take place at Huntsville, about 500 miles southeast of Lubbock. On Feb. 21, Pope Francis made an appeal for a global ban on capital punishment.
[Dan Morris-Young is NCR's West Coast correspondent. His email is dmyoung@ncronline.org.]
Editor's note: We can send you an email alert every time The Field Hospital is posted. Go to this page and follow directions: Email alert sign-up.