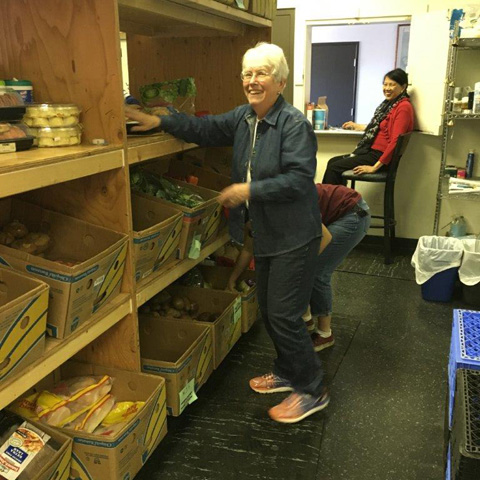 St. Margaret's Center food pantry volunteers Diane Dumond, left, and Marcellana Cojuangco stock shelves. (Photo courtesy of St. Margaret's Center)
Editor's note: "The Field Hospital" blog series covers life in U.S. and Canadian Catholic parishes. The title comes from Pope Francis' words: "I see the church as a field hospital after battle. It is useless to ask a seriously injured person if he has high cholesterol and about the level of his blood sugars! You have to heal his wounds. Then we can talk about everything else. …"
If you have a story suggestion, send it to Dan Morris-Young (dmyoung@ncronline.org) or Peter Feuerherd (pfeuerherd@ncronline.org).
---
St. Margaret's Center in Lennox, Calif., was founded in 1987 as a collaborative project between two parishes -- St. John Chrysostom in Inglewood and St. Joseph Parish in Hawthorne -- and Catholic Charities of Los Angeles to serve the low-income and homeless. Still supported by those two congregations, St. Margaret's today helps some 12,000 individuals annually on a myriad of fronts -- nutrition, health care, immigration counseling, English tutoring, housing and just providing a mailing address. Other parishes also support the center with funding and volunteers as well, including St. Anastasia and Visitation in Westchester, American Martyrs in Manhattan Beach, and St. John Fisher in Palos Verdes, according to Mary Agnes Erlandson, center director.
Visitation parishioners recently donated more than 500 "mercy bags" with hygiene items for homeless persons.
"Most of our volunteers -- 60 on a weekly basis, and 14,000 hours annually -- are parish-based," Erlandson emailed, adding, "Several of these volunteers teach our citizenship and English as a Second Language classes, and provide tutoring. Our food program is run by volunteers, and they help out in practically every area of our programs."
Erlandson said the Westchester and Inglewood Knights of Columbus councils have arranged for transport of "all of the food for our pantry, between 25,000 and 40,000 lbs. per month, for the past 25 years" and also help with fuel costs.
More than 300 seventh and eighth grade Catholic school students in the Honolulu Diocese were challenged to join their Lenten prayers, fasting and almsgiving in a concrete way to the world's marginalized by in effect writing messages to them employing modern digital technology .
Two permanent deacons of the Spokane Diocese direct Nightwalk Ministry, a "parish-based ministry of presence to the homeless," in the words of Deacon Kelly Stewart of St. John Vianney Parish, Spokane. He and Deacon Chalo Martinez of St. Joseph Parish, Otis Orchards, Wash., along with a dozen or so parishioners, visit homeless enclaves on Monday evenings with food, clothing and toiletries. "Just being present is the big thing, and listening," Stewart told NCR. He and Martinez describe the ministry and answer questions such as, "Why don't these people just get jobs?" during a radio interview on the diocese's Sacred Heart Radio program "The Joyful Catholic," hosted by Eric Meisfjord. (Scroll to the bottom of the archived broadcasts list.)
Nearly 60 volunteers from 10 parishes in the East Los Angeles area and adjacent Montebello gathered April 16 for a "build day" to mark commencement of construction of four Habitat for Humanity of Greater Los Angeles (Habitat LA) homes over the next year in Montebello. One of the four is being sponsored by the Habitat LA Catholic Coalition, a cooperative of several Catholic organizations and parishes, according to Habitat LA spokesman Ali Mullin. Los Angeles Auxiliary Bishop David G. O'Connell blessed the site and the volunteers.
The Habitat LA Catholic Coalition sponsored its first home last year in Lynwood, Cal., one of seven Habitat LA homes there blessed by Los Angeles Archbishop José Gomez in a ceremony last July.
Other Catholic groups have also allied with Habitat for Humanity including one under the auspices of Raleigh, N.C.'s Sacred Heart Cathedral social justice outreach. "Our local affiliate, Habitat for Humanity of Wake County, has built more than 300 homes since 1985 for deserving, low-income families," posted Denise Gonzalez, the cathedral's Habitat ministry coordinator.
"We are starting to see more and more Catholic involvement with Habitat, especially since Pope Francis became pope," said Chris Untiet, Habitat LA's associate director of faith.
"Washington, D.C., and Philadelphia completed Pope Francis Habitat Houses during his visit last fall," Untiet said. "San Antonio has been active for a while as well. New York City and the San Francisco Bay Area have had individual parishes involved for years, but we are looking to start building coalitions soon."
Habitat for Humanity has grown from a grassroots effort on a Georgia community farm in 1976 to a global nonprofit active in nearly 1,400 U.S. communities and in more than 70 countries. Habitat homeowners help build their own homes alongside volunteers, and pay an affordable mortgage.
[Dan Morris-Young is NCR's West Coast correspondent. His email is dmyoung@ncronline.org.]
Editor's note: We can send you an email alert every time The Field Hospital is posted. Go to this page and follow directions: Email alert sign-up.