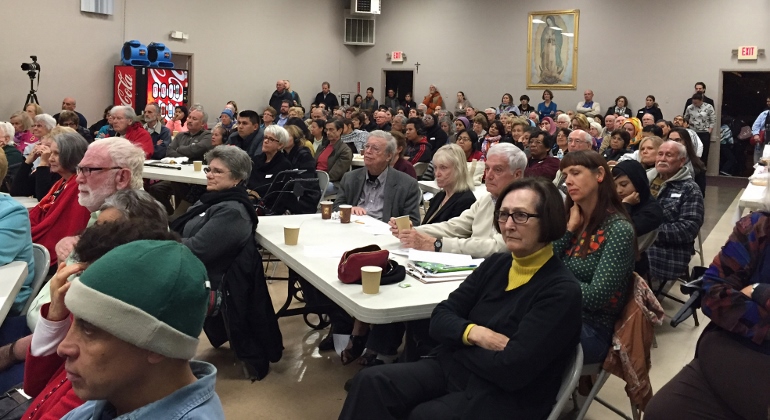 The monthly A Faith That Does Justice meetings on social justice issues are filling the parish hall of San Diego's Our Lady of Guadalupe Parish. (Courtesy of Our Lady of Guadalupe Parish)
Editor's note: "The Field Hospital" blog series covers life in U.S. and Canadian Catholic parishes. The title comes from Pope Francis' words: "I see the church as a field hospital after battle. It is useless to ask a seriously injured person if he has high cholesterol and about the level of his blood sugars! You have to heal his wounds. Then we can talk about everything else. …"
If you have a story suggestion, send it to Dan Morris-Young (dmyoung@ncronline.org) or Peter Feuerherd (pfeuerherd@ncronline.org).
---
Based on articulating the Society of Jesus' Ignatian spirituality, A Faith That Does Justice breaks down cultural, ethnic, religious, lingual, educational and economic walls and helps participants "acknowledge that we are all children of God and that we have a responsibility to take care of one another," according to Jesuit Fr. Peter W. Gyves, the program's founder.
Rolled out early last year at Our Lady of Guadalupe Parish in San Diego, A Faith That Does Justice started with small attendance but now consistently fills the parish hall with its monthly programs on topics that have included wage and time theft by employers, citizenship advocacy, sex and labor trafficking, fair trade, immigration, and the 1989 murders of six Jesuits and two women at the University of Central America in El Salvador.
A pediatrician by training and fluent in Spanish, Gyves resides at Our Lady of Guadalupe, which is located in Barrio Logan, a heavily Hispanic neighborhood of San Diego.
Gyves told NCR that San Diego Bishop Robert McElroy has accepted an invitation to address a program gathering. (No date has yet been set.)
At the programs, people can use headphones provided by the parish to listen to simultaneous translation of talks and proceedings, conducted by a volunteer professional translator.
The Guatemala Mission Committee (GMC) at Our Lady of Fatima Parish in Spokane, Wash., recently finished funds distribution for the current school year -- 70 percent of it going to Our Lady of Help Catholic Girls School in San Andres Semetabaj, Guatemala.
About 180 Mayan girls live on campus and are able to earn the rough equivalent of a high school education. The Spokane parish group also donated $2,000 to the minor seminary for the Diocese of Sololá which provides a high school education for about 45 young men.
The Spokane Diocese has had a sister diocese relationship with the Diocese of Sololá in Guatemala since 1959.
To jump-start funding for future mission assistance, the Our Lady of Fatima committee is holding a silent auction concluding at the end of this month. Auction items, including three framed pieces by Guatemalan artists, will be on display after weekend Masses starting May 8.
At least two dozen parishes and schools actively support various activities at the Guatemala mission.
Pullman's Sacred Heart, for example, helps fund the radio station serving the mission's territory, Radio Nawal Estéreo.
Colbert's St. Joseph supports the Ixtahuacan youth and student programs as well as the seminary there.
Do employees of Catholic institution such as a school qualify for unemployment if there are lay-offs due to down-sizing or reorganization? It might depend on where you live. Here is what happened in St. Louis.
A person of interest remains in custody following the April 21 arson that destroyed of St. Ann Parish church in Bonners Ferry, Idaho. Federal authorities indicate that hate crime charges could be filed.
[Dan Morris-Young is NCR's West Coast correspondent. His email is dmyoung@ncronline.org.]
Editor's note: We can send you an email alert every time The Field Hospital is posted. Go to this page and follow directions: Email alert sign-up.