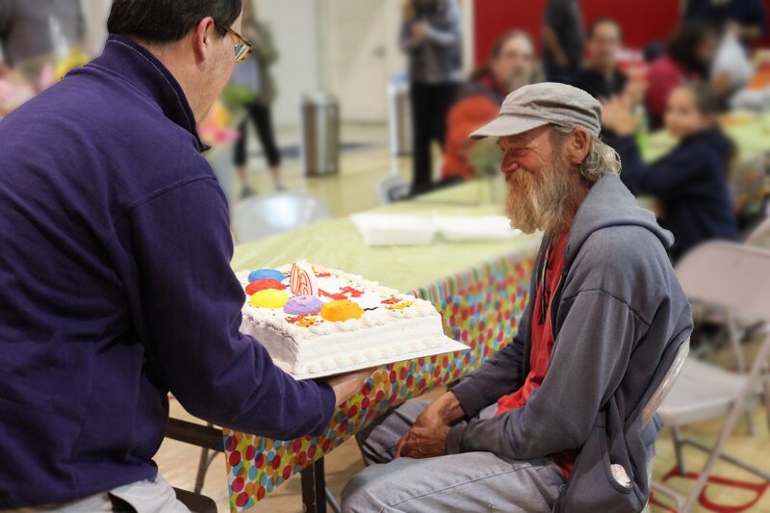 A volunteer James Silva presents an Our Father's Table guest with a birthday gift. (Courtesy of Our Father's Table)
Editor's note: "The Field Hospital" blog series covers life in U.S. and Canadian Catholic parishes. The title comes from Pope Francis' words: "I see the church as a field hospital after battle. It is useless to ask a seriously injured person if he has high cholesterol and about the level of his blood sugars! You have to heal his wounds. Then we can talk about everything else. …"
If you have a story suggestion, send it to Dan Morris-Young (dmyoung@ncronline.org) or Peter Feuerherd (pfeuerherd@ncronline.org).
---
The working motto of a ministry to the chronically homeless in South Orange County, Calif., is "We give a hand up, not a hand out." Established in 2014 on the "principles of the spiritual and corporal works of mercy," Our Father's Table has "no paid staff, consultants or expensive office space," organizers note in its website. "We come together as friends and family," emphasizes founder and CEO Gina Seriel, a member of Mission Basilica Parish in San Juan Capistrano. The group has helped many "of our homeless brothers and sisters" into long-term housing, Seriel told NCR, noting that Pope Francis' call to minister to the marginalized has greatly inspired the organization.
Is there money to be made on Catholic values? A New York-based provider of exchange-traded funds (ETFs) has rolled out the "Global X S&P 500 Catholic Values" index (Nasdaq: CATH), which claims to feature companies that embrace the Socially Responsible Investment Guidelines issued by the U.S. bishops' conference in 2003.
Ministering to youth, taking Communion to the home-bound, befriending inmates, visiting hospitals and repairing parish facilities are among field placement experiences for men working toward becoming Glenmary brothers and priests. They find inspiration as well as education in their "mission placements" in primarily the South and Appalachian regions of the U.S.
A veteran of several mission placements,Jose Carlos Miguel Lopez shares: "Being at the missions fuels us in our formation, because we forget about school for a while and get to spend time with and have an impact on the mission-area residents."
His most recent stint was at Holy Family Church in Lafayette, Tenn., during last Christmas season: "One of my best experiences there happened when I worked with the mission youth group. I accompanied them to a local nursing home to sing Christmas carols to the elderly residents. Afterward, we stayed and visited with the people and gave them hugs as we left. One of the residents told me that the last time he received a hug from anyone was 20 years ago. That is something I will never forget."
If the Catholic church in North America "holds any aspirations of remaining relevant in the lives of millions of young adults," the effectiveness and strength of small faith-sharing communities -- of any name -- "constitute a grass-roots effort whose success" should not be ignored, posits Maryknoll Fr. Joseph Graham Healey in America magazine. The role of what are sometimes called Basic Ecclesial Communities could become all the more important as the number of priests plummets and a "steady and alarming drift" away from the institutional church continues, argues the scholar.
A sculpture titled "Homeless Jesus" was unveiled April 30 at St. Ann Parish in Coppell, Texas, in honor of three occasions -- the parish's 30th anniversary, and pastor Msgr. Henry Petter's 70th birthday (April 5) and 40th anniversary of his ordination (May 1) .
"The statue represents what Jesus says: 'when you see a homeless person, you see me,'" said Petter in a news story by Jacqueline Burkepile. "It's supposed to represent anyone who finds themselves in vulnerable positions," the priest added. The bronze casting by Timothy Schmalz depicts Jesus lying on a park bench under a blanket, only his feet visible. Similar pieces by Schmalz were unveiled two years ago outside St. Alban's Episcopal Church in Davidson, N.C., and St. Mark's United Methodist Church in Charleston, N.C.
Hispanic leaders from the Catholic, Mormon and Ecumenical communities gathered May 14 at the state capitol grounds in Phoenix, Ariz., to sign a "Declaration of Values" calling on Hispanics to embrace traditional Hispanic/Latino values. Fr. Charles Goraieb, pastor of St. Timothy Catholic Church, spoke on behalf of the Catholic contingent. Cristofer Pereyra, director of the Office of Hispanic Missions for the Diocese of Phoenix, also attended. The declaration states signers reject abortion, redefining marriage, and promotion of a narcoculture in the media.
[Dan Morris-Young is NCR's West Coast correspondent. His email is dmyoung@ncronline.org.]