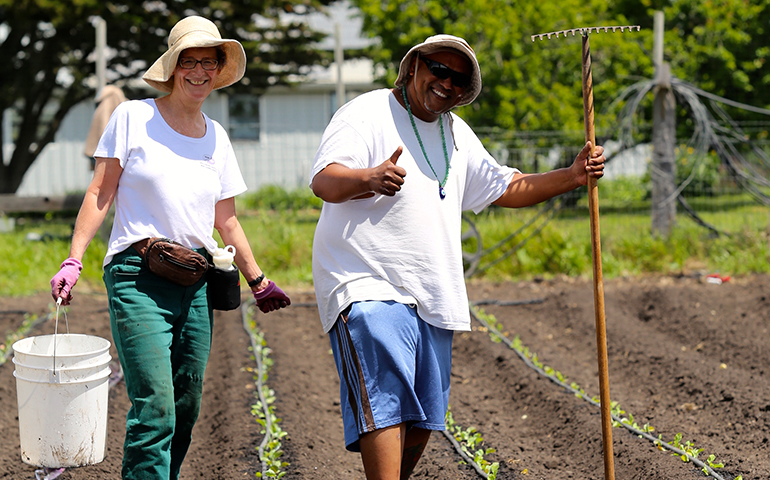 Abundant Grace Coastside Worker volunteer Karen and agricultural worker Don plant cabbage and cauliflower at Potrero Nuevo Farm. (Photo courtesy Abundant Grace)
Editor's note: "The Field Hospital" blog series covers life in U.S. and Canadian Catholic parishes. The title comes from Pope Francis' words: "I see the church as a field hospital after battle. It is useless to ask a seriously injured person if he has high cholesterol and about the level of his blood sugars! You have to heal his wounds. Then we can talk about everything else. …"
If you have a story suggestion, send it to Dan Morris-Young (dmyoung@ncronline.org) or Peter Feuerherd (pfeuerherd@ncronline.org).
---
The NCR family extends deepest sympathies and prayers to the families of five bicyclists killed June 7 when a pickup crashed into a group of nine riders nearing Kalamazoo, Mich. Two of the men -- Fred Anton "Tony" Nelson, 73, and Lorenz John "Larry" Paulik, 74 -- were active members of St. Thomas More Parish in Kalamazoo. A parish Mass was celebrated June 8 in memory of the accident victims, and a community memorial prayer service was held there June 9. Bishop Paul Bradley was scheduled to attend.
Here is an interesting dovetailing of traditionalist Catholic media outlets, Catholic Worker principles, Catholic teaching on labor and guilds, entrepreneurial conviction, and the organic food movement: NanoFarms USA. The fledgling organization's goal, states its website, is "a network of individual workers' cooperatives or guilds that provide organic gardening services to private landowners and grow organic produce for local sale." The co-ops also provide business training, job skills and a living wage, supporters say.
One of its first NanoFarm guilds has generated good results using surplus land of St. Patrick's Seminary and University in Menlo Park, Calif. The co-op is affiliated with St. Francis of Assisi Parish in nearby East Palo Alto, a largely low-income, Latino community. Another guild is in its early stages at St. Rita of Cascia Parish in Aurora, Ill. One of the NanoFarm USA founders, Jesuit Fr. Joseph Fessio, underscores the strength for co-ops found in rootedness (blogger's pun intended) in parish life.
Fessio is also founder of San Francisco-based Ignatius Press which has worked with Illinois-based Lighthouse Catholic Media to provide initial funding (also known as seed money) for the organic farm ventures.
Meanwhile, on the California coast not far away, another group has tapped Catholic Worker insights and energy in a project that has led to annual free distribution of more than 20,000 pounds of fresh, organic produce at five coastal sites. Abundant Grace Coastside Worker in Half Moon Bay collaborates with nearby Potrero Nuevo Farm in the effort. The organic farm donates use of land, equipment, harvest expertise, seed and other help to Abundant Grace.
The Half Moon Bay project also acts as "an employment program," staff member Eric DeBode told NCR in an email. "We raise money to pay homeless and unemployed farm workers who eat at our community breakfasts to work on the farm. I think that's a really great development in our ministry. This summer we are working with the local continuation school to hire a few high schoolers and help them with a summer job."
The Catholic Worker sustainable, organic food ministry has echoes across the country -- including further north at Earth Abides Catholic Worker Farm in Sheep Ranch, Calif., in the foothills of the Sierra Nevada Mountain Range and on the East Coast at the Peter Maurin Farm located on the Hudson River about 50 miles north of New York City. Catholic Worker founders Peter Maurin and Dorothy Day envisioned Catholic Worker farms as a dynamic alternative to industrialized farming generations ago.
While Caitlyn Jenner and North Carolina bathroom debates have put the topic of transgender persons in headlines, the behind the scenes lives of transgender persons are complex and challenging. A Seattle University Law School professor and her students helped one transgender man get the medical help he needed.
The dean of Seattle University's Matteo Ricci College has been put on paid administrative leave following student and faculty complaints -- including discrimination filings -- as well as a lengthy student sit-in. Relevance of the Matteo Ricci curriculum has been debated. The college under the Seattle U. umbrella offers three degrees within a humanities curriculum.
[Dan Morris-Young is NCR's West Coast correspondent. His email is dmyoung@ncronline.org.]