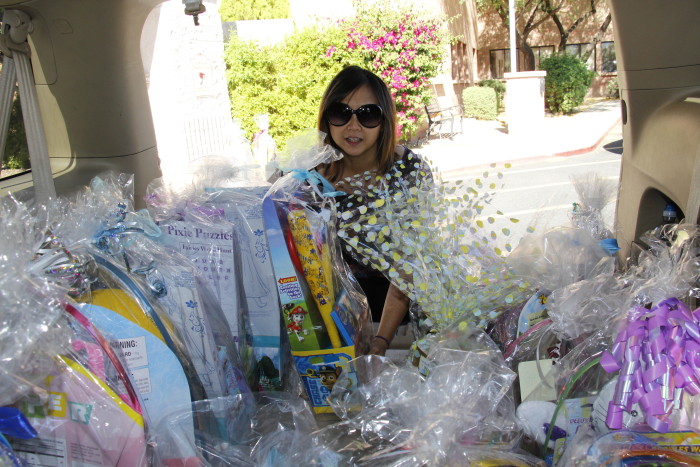 Cecyll LoBue, president of charity efforts for St. Gerard Circle at Corpus Christi Parish in Phoenix, Ariz., loads her vehicle with Easter baskets for Frank Elementary School. (Ambria Hammel/Catholic Sun)
Editor's note: "The Field Hospital" blog series covers life in U.S. and Canadian Catholic parishes. The title comes from Pope Francis' words: "I see the church as a field hospital after battle. It is useless to ask a seriously injured person if he has high cholesterol and about the level of his blood sugars! You have to heal his wounds. Then we can talk about everything else. …"
If you have a story suggestion, send it to Dan Morris-Young (dmyoung@ncronline.org) or Peter Feuerherd (pfeuerherd@ncronline.org).
---
Former student and parishioner of The Madeleine Parish and School in Portland, Ore., and a 2007 graduate of Regis Catholic High School in Stayton, Ore., Carmen Kintz teaches English today in Seoul, South Korea and also volunteers for an overnight shift at a "baby drop box," according to the Portland archdiocese's Catholic Sentinel.
In 2009 Protestant minister Lee Jong-rak launched a ministry to accept babies whose mothers felt unable to care for their newborn. The babies can be set into a secure, warm "box" accessed through an outside door. His "drop box" nonprofit, which can now care for a dozen babies at a time, also offers counseling and aid to mothers and cares for the newborns until they can be taken to orphanages. Kintz's time is spent cuddling, changing and feeding the infants. About three years ago, a documentary on the drop box ministry was released.
Catholic social teaching rests on the conviction that every person is of inherent value, says Helena, Mont., Bishop George Thomas in a nine-minute video produced by Catholic Extension. "The church needs to be living where ordinary people live," says the bishop who likes to think of his diocese as "one large parish" despite the fact it is nearly twice the size of Ireland. The Blackfeet Nation bestowed the name "Holy Warrior" on Thomas for his outreach to Native American communities.
You are walking by a church one evening. A young person approaches you, hands you a candle, and invites you to enter the church to light it and say a prayer. If you want to. No pressure. You do not have to be Catholic. The church is aglow in candlelight and filled with music. The Eucharist is exposed at the altar. Priests are available to chat or hear confessions. Stay as long as you wish. Or walk out. Up to you. Regardless, you have just experienced Nightfever, a gentle evangelization program started in Germany a decade ago by two students. It has spread to more than 90 cities around the world. More than 400 persons accepted the invitation to step inside Sacramento's Cathedral of the Blessed Sacrament one evening last December.
The results were remarkable, reports editor Julie Sly in the March/April issue of Catholic Herald Magazine: "Some lit a candle and left, others stayed for over an hour. Some were not Christian; others received the sacrament of reconciliation for the first time in years. Hearts were touched, healed and transformed, not only in those who were invited in, but also in the young adult volunteers. …" Another Nightfever evening is scheduled Sept. 10 at the cathedral. Other U.S. cities where Nightfever has taken place include New York, Chicago, and Gainseville, Fla. Gainesville's St. Augustine Church and Catholic Student Center has another planned for April 15.
The Saint Gerard Circle Ministry of Corpus Christi Parish in the Ahwatukee area of Phoenix, Ariz., delivered 130 Easter baskets to students at Frank Elementary School in the nearby town of Guadalupe. The annual Easter event provides support for low-income families. At least a fourth of Guadalupe's population lives below the federal poverty line. In addition to Easter sweets, the baskets' contents include toiletries, socks, outdoor activities, puzzles, and art supplies.
Parish support for local Catholic thrift stores is fundamental to their successful efforts to offer low-cost quality items and generate funds for varied ministries. In the Fargo Diocese's magazine, New Earth, Kristina Lahr pulls together a round-up story on the diocese's thrift store operations from Fargo and Grand Forks to Valley City and Devil's Lake, and describes how Pope Francis' message of mercy has inspired them.
From NCR's Eco Catholic blog: Living out their faith has helped Catholics in Maryland make history in their state's commitment to environmental protection, placing it among the leaders in the nation.
[Dan Morris-Young is NCR's West Coast correspondent. His email is dmyoung@ncronline.org.]
Editor's note: We can send you an email alert every time The Field Hospital is posted. Go to this page and follow directions: Email alert sign-up.