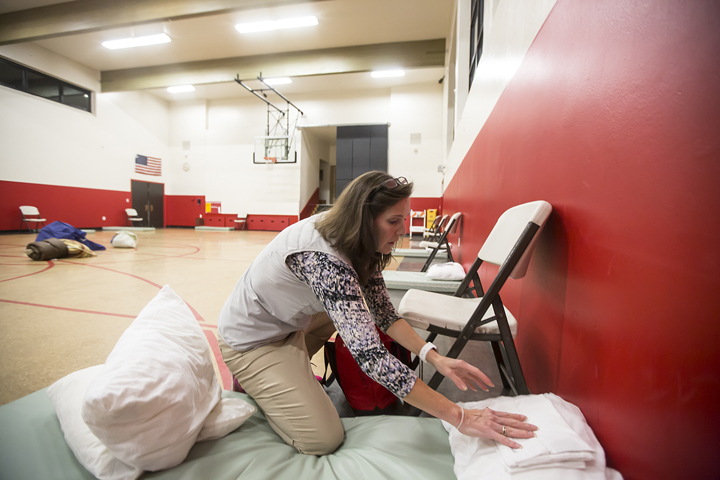 Volunteer Elisa McGee makes up one of the 10 beds that Seattle's St. Therese Parish offers during winter months to homeless men. (Stephen Brashear, courtesy of Northwest Catholic)
Editor's note: "The Field Hospital" is NCRonline's newest blog series, covering life in Catholic parishes across the United States. The title comes from the words of Pope Francis: "I see the church as a field hospital after battle. It is useless to ask a seriously injured person if he has high cholesterol and about the level of his blood sugars! You have to heal his wounds. Then we can talk about everything else. Heal the wounds, heal the wounds. ... And you have to start from the ground up."
"The Field Hospital" blog will run twice weekly on NCRonline.org along with feature stories and news reports about parish life in the U.S. If you have a story suggestion, send it to Dan Morris Young (dmyoung@ncronline.org) or Peter Feuerherd (pfeuerherd@ncronline.org).
---
An historic boys and girls club in one of San Francisco's most historic parishes – Sts. Peter and Paul – was rededicated last month in ceremonies led by Archbishop Salvatore Cordileone. The Salesian Boys' and Girls' Club was founded in 1918 by the Salesians of Don Bosco to address delinquency issues of mostly Italian boys in the North Beach neighborhood. An $11 million renovation will allow the club to continue its work of reaching out to underprivileged youth of the area, says its executive director Russ Gumina. Programs include athletics, the arts and education.
Founded by Father Don Bosco in the late 19th century to minister to poor children, notably those impacted by the industrial revolution, the Salesians (the Society of St. Francis de Sales) still administer Sts. Peter and Paul, which has been featured in several motion pictures and made even more famous by its association with baseball legend Joe DiMaggio who posed on the church steps with Marilyn Monroe after their 1954 civil marriage, and who was buried from the church in 1999.
In outreach that tends toward the other end of the age spectrum, the grief support ministry at Our Lady of the Holy Souls Parish in Little Rock, Ark. is making special holiday season efforts to reach persons isolated by the pain of loss. "Many people want to crawl into a hole the Wednesday before Thanksgiving and not crawl out until Jan. 2," Laura Humphries, the group facilitator, told Arkansas Catholic newspaper. Among activities the group plans is a 6:30 p.m. Dec. 22 "Blue Christmas" service, a simple rite "of remembrance for a loved one during the holidays," Humphries said.
Speaking of Little Rock and reaching out to the hurting, the same edition of Arkansas Catholic reports how a widowed Iraqi mother and her three daughters are now living a safe, healthy and hopeful life there thanks to the refugee resettlement work of Catholic Charities of Arkansas. The mother and children recount the more than three-year odyssey of fleeing Iraq and living in a Syrian refugee camp after their husband and father was shot to death in the family car with two of the girls with him. Arkansas Governor Asa Hutchinson is among about 20 state governors who oppose allowing Syrian refugees into the U.S.
The long, confusing, frustrating and at times dark tunnel that can be the U.S. refugee resettlement process can have a bright light at the end. The Nematullah Sarvary family escaped Afghanistan and a life-threatening situation, and are now living safely in Sacramento through the efforts of the Sacramento Diocese and Sacramento Food Bank and Family Services, a Catholic Charities agency. Even though he had been a translator for the U.S. Army, Nematullah said it took two years before his visa application was acknowledged. He has heard that some of his friends have been tortured and murdered in Afghanistan.
Since 1997, Seattle's St. Therese Parish has offered October-through-March overnight hospitality and shelter to up to 10 homeless men three nights per week. The program runs in linkage with a network of churches that work with St. Martin de Porres Shelter ( a Catholic Community Services program) in downtown Seattle where nightly demand for its 212 beds is often exceeded during winter months. Two parish volunteers also bunk for the three nights in the parish shelter with their guests. In the morning parishioners greet their clients with a hot breakfast and sack lunch. "It's never the best night's sleep ... but it's one of the best mornings," volunteer Elisa McGee told Northwest Catholic magazine. Shelter advocates early on overcame objections and concerns voiced by parishioners and neighbors.
[Dan Morris-Young is NCR's West Coast correspondent. His email is dmyoung@ncronline.org.]