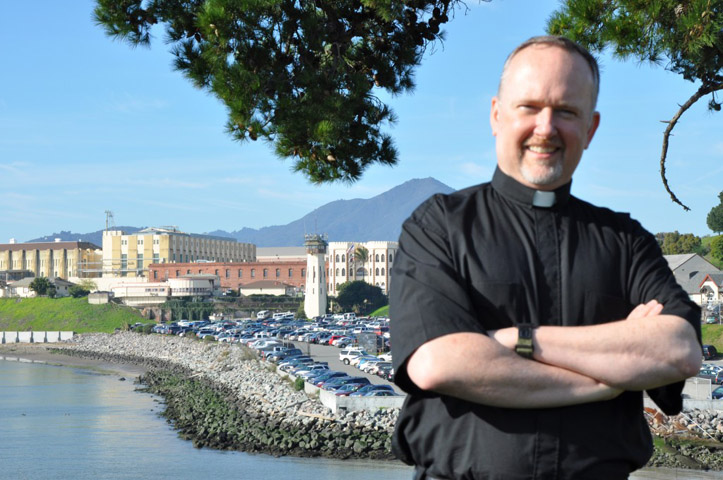 Jesuit Fr. George Williams is the Catholic chaplain serving death row inmates at San Quentin State Prison in California. (Lt. Sam Robinson/San Quentin State Prison)
From Hawaii to Florida, many U.S. parishes and dioceses across the country are reaching out to the incarcerated. Following are some examples.
The U.S. bishops' website carries a moving and informative reflection on prison ministry and the death penalty by Deacon Gary Brooks, former director of advocacy and jail chaplain for Kolbe House, the Archdiocese of Chicago's extensive 33-year prison and jail ministry.
Intentionally based in a parish setting, Chicago's Assumption Parish, Kolbe House produces and distributes Making Choices, a free quarterly publication written by and for inmates, according to Deacon Pablo Perez, associate director. The art found in Making Choices and on the Kolbe House website is moving.
Kolbe House will be one of the organizations sponsoring the Inaugural National Catholic Prison Ministry Conference Nov. 10-11 in Milwaukee. The gathering will feature speakers including Sr. Helen Prejean, author of "Dead Man Walking"; Jesuit Fr. Greg Boyle, founder of Homeboy Industries in Los Angeles; Jesuit Fr. George Williams of San Quentin Prison's death row ministry; and Amalia Molina, director of Get on the Bus.
Williams, who also serves as board president of another of the sponsoring organizations, Dismas Ministry, recently wrote, "... to my knowledge [I am] the only Jesuit in my community who regularly celebrates Mass in a Kevlar vest."
In addition to Dismas and Kolbe House, national conference sponsors include Prison Apostolate of the Order of Malta-American Association; Correctional Ministry, the Archdiocese of Galveston-Houston; Center for Restorative Justice Works in Los Angeles; I Was In Prison Outreach Ministry, Tallahassee, Fla.; Pastoral Ministry & Peace Studies, Lewis University, Romeoville, Ill.; and Justice & Peace, and Restorative Justice & Prison Ministries, Diocese of Joliet, Ill.
About three dozen members of San Francisco's St. Dominic Parish young adult ministry group, for example, gathered in the parish hall Feb. 17 "to write letters and purchase Catholic books for men and women incarcerated in state and federal prisons," reported Catholic San Francisco. The group will be focusing on a different corporal work of mercy each month during the current Jubilee Year of Mercy. The parish itself sponsors an outreach ministry to San Francisco County Jail. Directed by Deacon Chuck McNeil, the volunteers visit the jail on a twice-a-week schedule.

Audrey Amort, left, and Dave Rivers wrote letters to incarcerated men and women seeking spiritual support during a service project organized by San Francisco's St. Dominic Parish's young adult group last month. (Christina Gray/courtesy Catholic San Francisco)
A decade ago when parishioners of Holy Family Parish in Orlando, Fla., pitched in to help the local St. Vincent de Paul Society launch an outreach to persons behind bars, they probably did not envision how that effort would flower. Today St. Peter Claver Prison Ministry is backed in various ways by nearly 20 parishes of the Orlando Diocese and its success has generated national attention.
Volunteers work with about 200 prisoners a month. A signature initiative is Father Ennis Village in Apopka, Fla., about 20 miles northwest of Orlando. Named after Holy Family's pastor emeritus Fr. William Ennis, it houses about 30 "returning citizens" in a mobile home community and boasts extraordinary success in overcoming recidivism. According to SPCPM administrator Jim Wade, Eternal World Television Network plans a feature on their work and has shared a rough-cut video available on YouTube.

Flyer created to synthesize work of St. Peter Claver Prison Ministry based in the Orlando Diocese.
YouTube also carries a number of videos on prison ministry including the work being done by Capuchin Franciscan Friars.
Parishioners in the diocese of Honolulu are strongly behind the "Star Light, Star Bright" program which has helped mend "damaged or strained relationships between incarcerated mothers, their minor children and their children's caregivers" since its launch in 2000. The program has touched the lives of nearly 2,800 children. Star Light, Star Bright operates under the umbrella of the diocese's Prison Ministry Office.
The Boise diocese's Office of Prison Ministry website articulates a clear direction for ministry to those in jails and prisons. It also provides substantial background information and many links to resources, including the deep involvement of St. Vincent de Paul members.
An article in the Wyoming Catholic Register by Matthew Potter describes the intertwined relationship of St. Joseph Parish in Rawlins, Wyo., Fr. Sam Hayes, its pastor; and Wyoming State Penetentiary located nearby. Interestingly, Hayes was not only born in Rawlins, but he worked as a prison guard and his father was warden.
Just over a year ago, America magazine ran a commentary on changes it and others advocate in incarceration policies.
In 2000 the U.S. bishops issued a statement that remains germane: "Responsibility, Rehabiliation and Restoration: A Catholic Perspective on Crime and Criminal Justice."
---
Editor's note: "The Field Hospital" blog series covers life in U.S. and Canadian Catholic parishes. The title comes from Pope Francis' words: "I see the church as a field hospital after battle. It is useless to ask a seriously injured person if he has high cholesterol and about the level of his blood sugars! You have to heal his wounds. Then we can talk about everything else. …"
If you have a story suggestion, send it to Dan Morris-Young (dmyoung@ncronline.org) or Peter Feuerherd (pfeuerherd@ncronline.org).
[Dan Morris-Young is NCR's West Coast correspondent. His email is dmyoung@ncronline.org.]
We can send you an email alert every time The Field Hospital is posted. Go to this page and follow directions: Email alert sign-up.