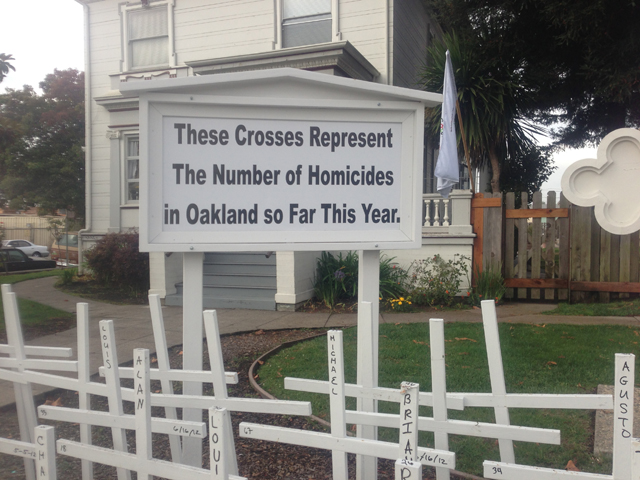 The sign in front of the St. Columba Parish rectory explains the crosses erected for every Oakland, Calif., homicide victim during a given year. (Courtesy of Rich Laufenberg)
"What the pope has done makes our hearts sing, gives us strength, and even a sense of more freedom" to address issues of inner-city violence, poverty and powerlessness said the pastor of a California parish.
"If he were here he would be right in the middle of this with us. He is in the trenches with us," said Fr. Aidan McAleenan of St. Columba Parish located in the heart of Oakland.
"I cannot emphasize enough what he has done for us -- who he is, his emphasis on mercy, his actions," said the leader of this predominantly African-American congregation.
"Our own bishops are so often irrelevant," the Northern Ireland native added, "but we are trying to be as real and relevant as we can be, and that is what the pope has talked about, embracing the smell of the sheep" while standing in solidarity with the marginalized.
McAleenan made the comments Friday, prior to the parish providing a site for the eighth annual PURPLE Gala sponsored by 1000 Mothers to Prevent Violence.
Based in nearby Hayward, the 1000 Mothers organization ministers to persons suffering "the indescribable belief" of losing loved ones to gun violence, explained founder and CEO Lorrain Taylor.
Taylor, 57, lost her twin sons, Albade and Obadiah, in 2000 when they were "senselessly gunned down on the streets of Oakland's Dimond District by a serial killer angry about a perceived slight in a barbershop argument earlier that day," she said. The brothers had been repairing a car together.
Suffering debilitating grief, she started the group in 2006 as part of her own healing process. Today, 1000 Mothers works with an average of 30 families per month, according to its website.
Attended by more than 200, the PURPLE (Prayer, Unity, Restoration, Peace, Love, Empowerment) Gala coincided with events across the country marking the annual National Gun Violence Prevention Sabbath Weekend.
Interestingly, a separate "peace walk" had scheduled its termination for the steps of St. Columba Church the evening of the Purple Gala. Its participants were invited to walk through the event in the parish hall "carrying probably 50 flags," Taylor said. "Fr. Aidan had invited them, and arranged that."
Oakland Police Chief Sean Whent was keynote speaker. Whent also helped hand out ornaments to family members or friends of gun-violence victims who then spoke the name of their loved one and placed the ornament on a "tree of remembrance."
"At least 50 people stood in line to hang an ornament," Taylor told NCR. "A lot of them broke down. Holidays for many of us are very, very difficult. We want to help our families get through this with a message of hope, healing and remembrance."
Like McAleenan, the 1000 Mothers leader praised what she called Francis' message of "unconditional love."
"He wants our lives to be a mirror of God's goodness," she said. "He wants us to walk toward the image of God."
Although not Catholic, Taylor said she feels "like family" in her interactions with St. Columba.
"There is one God," she said, "and we are all His people. If we look at our hands, we are fearfully and wonderfully made. No one shares the same thumbprint, and no one has in the past, nor will in the future. We have different roles in God's kingdom, but we are all in the same garden. We are all special flowers, and it does not matter what denomination you are if you have love. That is what I feel among my Catholic friends."
Related: Oakland parish spans racial and cultural divides in week of grief
McAleenan lauded Taylor. "What can you do for a mother who has lost two sons?" he asked. "All you can do is shut up and hold onto her, and cry. That is all you can do. And then to see someone like her flip the script and turn it into something terribly powerful, to take her pain and turn it into something wonderful."
St. Columba parishioner Rich Laufenberg was honored as 1000 Mothers' volunteer of the year during the Friday program.
Laufenberg spearheads the parish's Memorial Cross Ministry program begun in 2004, one of the parish's more than three dozen ministries. He fabricates and paints four-foot tall white wooden crosses bearing the first name and age of every Oakland homicide victim during a given year. The crosses are erected in the rectory garden facing a busy thoroughfare. A predominant sign explains to passersby what the crosses represent.
As of Friday, 88 stood; the youngest victim 14, the oldest 60, the average age 31. In the past, nearly 150 have been placed in a year.
Oakland consistently rates among U.S. cities with the highest per capita homicide rate.
"The objective is two-fold," Laufenberg told NCR. "The crosses draw attention to the magnitude of violence in our streets. And, hopefully, they offer some level of support to the families in grief. It is a very difficult process to lose a loved one this way."
The initiative "has become a kind of signature statement for St. Columba," he said.
Laufenberg also extolled Pope Francis. "I could go on and on about him -- his humble manner, his special attention to the marginalized, washing prisoners' feet, riding in a Fiat, paying his own hotel bill, saying. 'Who am I to judge?' These are random examples of a man who is a breath of fresh air to our church."
"Pope Francis is an incredible inspiration" for him in the Memorial Cross Ministry as well as food distribution efforts in which he is involved, he added.
The memorial crosses serve as a frequent media go-to image when reporting on gun issues, street violence, and homicides, McAleenan said, adding, "I often see people standing there and praying. It is a focal point of our community, and a constant reminder of what is going on in the city, how violence destroys people's lives."
On the last day of the year, an inter-religious ceremony is held at St. Columba during which the crosses are removed and the victims remembered. The service begins within the church. Participants process to the cross garden. Each cross is removed and the name of the deceased is called out as the cross is handed to a family or community member. The rite concludes in the church with prayer, story sharing, and remembrances.
This year's ceremony is scheduled for 3 p.m. on Dec. 31.
"It can be highly emotional, very intense," McAleenan said.
The priest drew parallels between Oakland's inner-city situation and that of the Northern Ireland of his youth where "the norm was the constant threat of war, the constant sense of instability."
"Certain aspects of this feel the same here," he explained.
"As a presider on Sunday at an Afro-American parish" in Oakland, McAleenan at times notices "someone coming in with a bag, or a stranger coming in" and "it goes through your head, 'Oh no, is this person going to open up' " with gunfire?
Related: Members of St. Columba Parish hope Francis apologizes to African-Americans for the church's role in the enslavement of people of color
Keys to addressing inner-city violence, he said, include addressing poverty, providing a good education "for every child regardless of zip code or tax area," good community policing, effective drug treatment and prevention efforts, employment opportunities, and re-evaluating sentencing and incarceration laws and practices.
"A big one, of course, is gun control," he continued. "Who needs AK47s on the streets of Oakland?"
(West Coast correspondent Monica Clark contributed to this story.)
[Dan Morris-Young is NCR's West Coast correspondent. His email is dmyoung@ncronline.org.]
---
Editor's note: "The Field Hospital" is NCRonline's newest blog series, covering life in Catholic parishes across the United States. The title comes from the words of Pope Francis: "I see the church as a field hospital after battle. It is useless to ask a seriously injured person if he has high cholesterol and about the level of his blood sugars! You have to heal his wounds. Then we can talk about everything else. Heal the wounds, heal the wounds. ... And you have to start from the ground up."
"The Field Hospital" blog will run twice weekly on NCRonline.org along with feature stories and news reports about parish life in the U.S. If you have a story suggestion, send it to Dan Morris Young (dmyoung@ncronline.org) or Peter Feuerherd (pfeuerherd@ncronline.org).