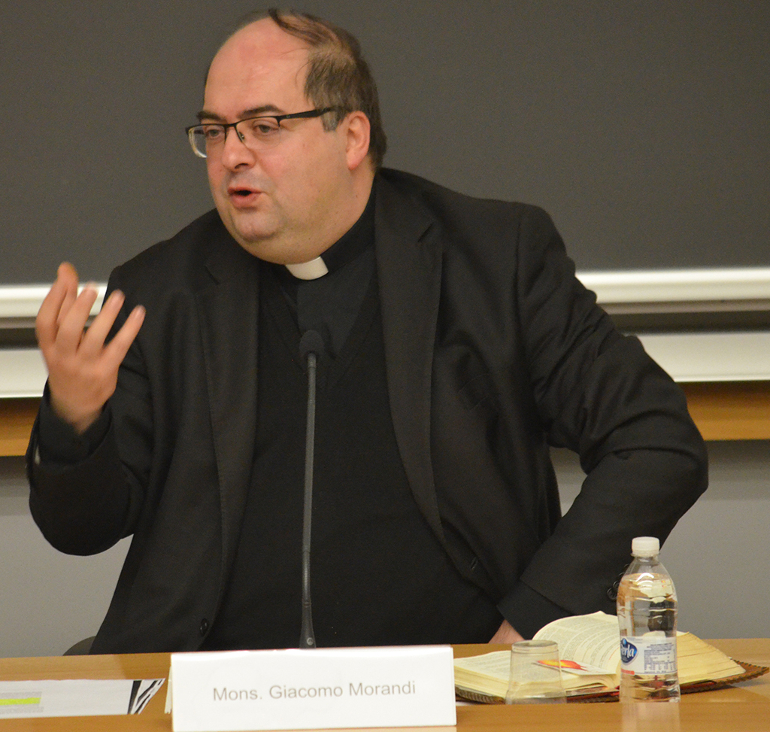 Msgr. Giacomo Morandi speaks at a conference at the Pontifical Gregorian University in December 2016 (Photo courtesy of the Pontifical Gregorian University)
Vatican City — July 18, 2017
Pope Francis has appointed a relatively young Italian priest and theologian as the second-in-command of the Vatican's doctrinal congregation. And like the office's new leader, Jesuit Archbishop Luis Ladaria, the new deputy has a connection with the Jesuit-run Pontifical Gregorian University.
The Vatican announced July 18 that Francis has chosen Msgr. Giacomo Morandi as the new secretary of the Congregation for the Doctrine of the Faith and has also elevated him to the level of archbishop.
Morandi, a priest of the northern Italian diocese of Modena-Nonantola, had been serving as an undersecretary of the congregation since 2015. Aged 51, Morandi earned his doctorate in missiology at the Gregorian in 2008.
Ladaria had been serving as secretary at the doctrinal congregation before being appointed by Francis July 1 to replace German Cardinal Gerhard Muller as the head of the office. Ladaria came to the congregation in 2012 and has previously served as a professor and vice rector at the Gregorian.
Like Ladaria's appointment as prefect, Morandi's appointment as secretary seems to signify that Francis does not want a radical shake-up at the Vatican office tasked with promoting correct interpretations of Catholic doctrine and theology.
Francis' choice of Morandi as secretary comes as a bit of a surprise as rumors in recent days had speculated that the pope would instead choose for the role U.S. Archbishop J. Augustine Di Noia, who is currently an adjunct secretary at the congregation.
Before coming to the Vatican in 2015, Morandi had served as the vicar general of the Modena-Nonantola archdiocese and had also been its episcopal vicar for catechesis, evangelization, and culture.
The new archbishop has also been a lecturer in sacred scripture at the Institute of Religious Sciences in Modena and in patristics at an academy named for deceased Czech Cardinal Tomáš Špidlík that is a part of the Pontifical Oriental Institute.
[Joshua J. McElwee is NCR Vatican correspondent. His email address is jmcelwee@ncronline.org. Follow him on Twitter: @joshjmac.]
A version of this story appeared in the July 28-August 10, 2017 print issue.