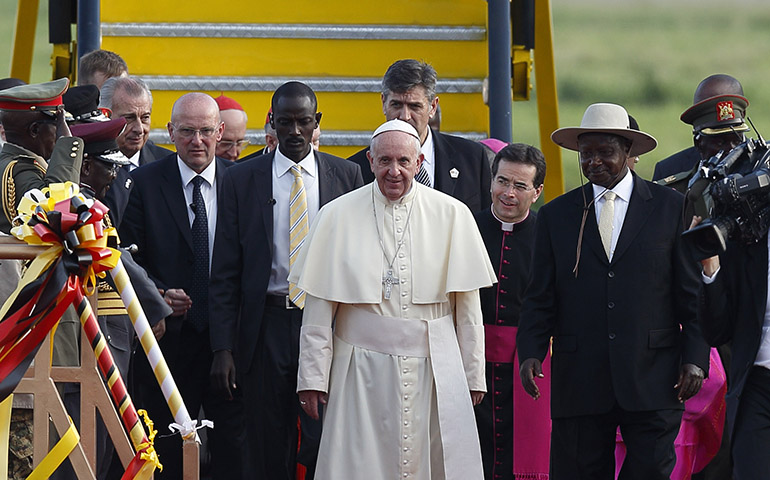 Pope Francis is welcomed by Ugandan President Yoweri Museveni, right, at the international airport in Entebbe, Uganda, Nov. 27. (CNS/Paul Haring)
KAMPALA, Uganda — November 27, 2015
Pope Francis kicked off the second part of his three-country Africa tour Friday night, landing here amidst a festive atmosphere of dancing, song and crowds lining some 25 miles of roads to chance a sighting of the pontiff.
In his first address in the country, the pontiff told Ugandan president Yoweri Museveni and the country's political leaders that he has come "to draw attention to Africa as a whole, its promise, its hopes, its struggles and its achievements."
"The world looks to Africa as a continent of hope," he said, praising Uganda as an example for how other countries can welcome refugees and offer them a new opportunity for life.
"Uganda has shown outstanding concern for welcoming refugees, enabling them to rebuild their lives in security and to sense the dignity which comes from earning one's livelihood through honest labor," said Francis.
The pope was speaking Friday in formal remarks at Uganda's State House, located in the city of Entebbe, where his plane landed after about an hour flight from Nairobi, Kenya.
As the pontiff descended onto the tarmac at the airport he was greeted by energetic dancers, some in native dress and some blowing animal horns. After walking through the formal receiving line of bishops and political leaders, Francis briefly said hello to the dancers, who erupted in screams and applause.
Francis will be in Uganda through Sunday as part of a Nov. 25-30 trip to Africa that saw him first visit Kenya and will see him continue on to the Central African Republic.
Before leaving for Entebbe Friday, Francis made two powerful statements in Nairobi that morning in in separate meetings, first with residents of a slum neighborhood and then with thousands of young Kenyans.
In Nairobi's Kangemi slum, the pope cried out against a global economic system that he said gives a wealthy minority license to let the majority suffer poverty.
As Francis drove from Entebbe to Kampala in Uganda in the early evening, crowds lined the some two-dozen miles of the route to greet him, standing rows deep in some parts in front of simple homes and stores, and waving enthusiastically.
In Kampala, the pontiff spoke to a meeting of Ugandan catechists outside the Munyonyo Martyrs shrine, a location which commemorates the 19th century martyrdom of four Christians under then-Ugandan King Mwanga.
Twenty-three Anglicans and 22 Catholics were killed in that persecution. Francis will be celebrating those martyrs by visiting separate Anglican and Catholic shrines dedicated to them in nearby Namugongo on Saturday.
In his remarks to the catechists Friday, the pontiff thanked them for their work and asked them to persevere even when it is difficult.
Besides his trip to the shrines on Saturday, Francis will also celebrate a Mass expected to attract tens of thousands from the country and from around east Africa, and will meet with young people.
The pope is scheduled to leave for the Central African Republic on Sunday.
[Joshua J. McElwee is NCR Vatican correspondent. His email address is jmcelwee@ncronline.org. Follow him on Twitter: @joshjmac.]
See below for video of Pope Francis greeting dancers and musicians upon landing in Uganda Friday: