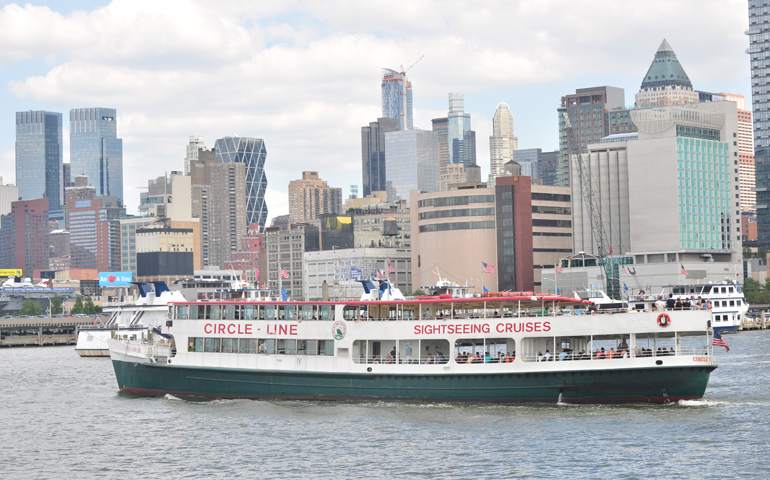 Circle Line ship seen from New York Water Taxi on the Hudson River, July 2013 (Wikimedia Commons/Joe Mabel)
The Circle Line Manhattan sailed eastward through the cold, choppy waters between Governors Island and Battery Park. Seagulls hovered over the whitecaps, and the late afternoon sun glinted like golden spangles on the windows of the distant skyscrapers clustered at the southern tip of Manhattan. Evening shadows had already begun to envelop the East River, and the Brooklyn Bridge loomed ahead, stretched across the water like a brown, broken harp cast aside on the horizon.
Most tourists clustered on the open stern of the three-decker boat and huddled against the frigid gusts of wind from the west. Saltwater spray stung their faces as they tried to ignore the cold and to savor the last sweeping views of Manhattan.
As the boat sailed against the current and headed for the dock, a small boy noticed a shadowy outline moving across the surface of the water in the Upper Bay. "What is that?" he asked the man who was holding his hand. "I'm not sure," said a woman who appeared to be with them.
"It looks like the Loch Ness Monster," laughed an old man standing behind them. A crowd soon gathered along the rail and stared at the barely discernible figure moving swiftly southward in the gathering darkness.
"Maybe it's a submarine," said a woman with a New Jersey accent.
"With moving parts?" asked a young woman in a sailor's uniform.
Finally an old woman wrapped in a warm woolen coat and a black knitted scarf spoke up. "My husband and I came to this country from Poland in 1946. I know what that is."
"What is it?" asked a tour guide.
"It's the Statue of Liberty swimming towards open water."
[Isaac McDaniel is a Catholic priest who teaches at Bellarmine University and Spalding University in Louisville, Ky.]