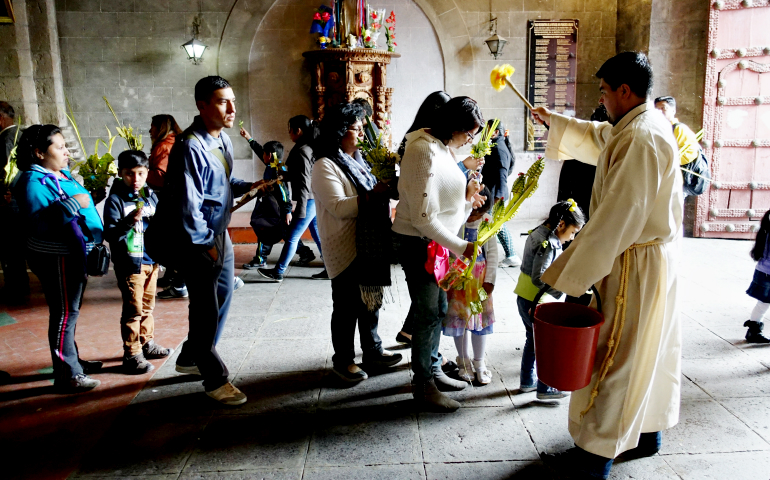 A priest blesses worshipers after Palm Sunday Mass April 9 in La Paz, Bolivia. (CNS/Reuters/David Mercado)
"How to cope with Holy Week when you feel less than inspired" was the title of a column that I published two years ago. If you like, you can read the entire column.
Here are some quotes:
The truth is that I hate Holy Week because it makes me feel guilty. I know I should be getting more out of it, but I find myself daydreaming or dozing off during the services.

The Holy Week services put us on a spiritual roller coaster. Sunday, Monday, Tuesday and Wednesday warn us that bad things are coming. Then on Thursday, we are suddenly supposed to rejoice in the gift of the Eucharist. Then back downhill at the end of the service and on to Good Friday, until we are once again rejoicing on Saturday evening.

When I was a child, we were taught that Jesus had to die for our sins because sin is an infinite insult to God that requires an infinite sacrifice as reparation.

While I might be grateful to Jesus for taking the blame for my sins, this theology turned God the Father into a legalistic ogre concerned about balancing the scales of justice, not mercy. The Father in this theology sounds nothing like the Father described by Jesus.

The father does not need the death of Jesus to make him forgive. He already wants to forgive us.

The crucifixion is God's way of getting our attention, God's way of saying, "Despite all the evidence to the contrary, I am with you. I love you."
For more, see "How to cope with Holy Week when you feel less than inspired."
[Jesuit Fr. Thomas Reese is a senior analyst for NCR and author of Inside the Vatican: The Politics and Organization of the Catholic Church. His email address is treesesj@ncronline.org.]
Editor's note: We can send you an email alert every time Thomas Reese's column, Faith and Justice, is posted. Go to this page and follow directions: Email alert sign-up.