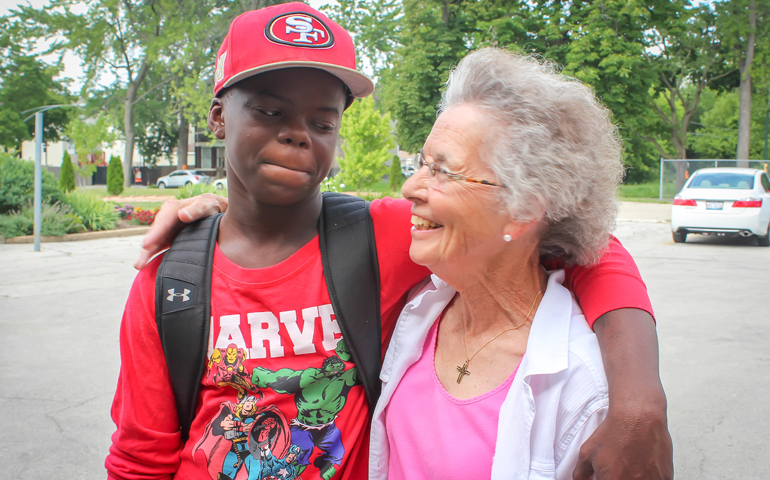 Precious Blood Sr. Donna Liette and Alontae, one of the youth in summer program
Editor's note: "Reconciliation in Chicago" is NCRonline's newest blog series, a weekly blog from the Precious Blood Ministry of Reconciliation, a ministry of the Missionaries of the Precious Blood based in Chicago's Back of the Yards neighborhood. Each post will feature hopeful reflections from the ministry's staff and volunteers, as they share their stories about working with youth and families affected by violence and incarceration.
"Reconciliation in Chicago" is published Mondays at the feature series page Reconciliation in Chicago.
---
"And that I make it through the summer," he interrupted. "Pray that me and my family don't have no violence done to us." Even though he was locked up in Cook County Juvenile Temporary Detention Center, he was aware of the dangers that seem to increase during the summer months. "My neighborhood is messed up," he said. "My best friend was killed a month ago, and I saw what that did to his family. I don't want my momma to go through that."
As youth (13-18 years of age) await trial, they are held at times for months or longer in Cook County Juvenile Temporary Detention Center. One young man who was waiting for his day in court, stopped me as I made my rounds on his living pod. As chaplain, I try to get onto the living pods of the detention center. This 16-year-old young man asked to speak with me so we could say a prayer for his family.
At our Precious Blood Center in Chicago, we are toward the end of our summer program. This year's program has had two tracks in which youth in two separate cohorts gather four times a week, five hours a day. The program has had an educational track that supports and motivates youth toward a stronger participation in school, and a vocational track that exposes and prepares those that are not necessarily college bound, in the skilled trades. Both have included team-building activities and outings that exposed them to careers.
Both our groups began with a values exercise: "What is important to you? What do you hope for this summer?" Without exception each said that they wanted to be safe, that they wanted to make it through the summer, and that none of their family or friends be killed or hurt.
The constant preoccupation, even subconsciously, with violence and safety is exhausting; you can see the stress and strain on their faces. Too many of the youth that come regularly to our center have themselves been harmed or had a loved one killed because of violence. At a far too early age, kids realize that they are vulnerable, that they are at risk. They understand, too, that just walking to school or through the park can be dangerous. They live their lives constantly on guard and hyper-vigilant. And the most troubling to me is that they feel that adults will not protect them. Too often, their experience is one of isolation and abandonment.
Miroslav Volf, a Croatian theologian and survivor of the Bosnian wars, writes from experience about violence and reconciliation. In his book Exclusion & Embrace: A Theological Exploration of Identity, Otherness, and Reconciliation, he points out that the very core of our faith is the scandal of the cross. He goes on to say that Jesus' greatest agony was not that he suffered. Suffering can be endured, even embraced, if it brings forth the desired fruits, as does the experience of giving birth. What turned the pain of suffering into agony was the abandonment; Jesus felt abandoned, by the disciples, by the people, even by his Father.
The violence and trauma in the lives of people, whether it be from war, family violence or the streets of inner-city Chicago, is the experience of isolation and dislocation -- you feel as though you do not belong and that no one really understands you. If it is true that trauma causes isolation, it makes sense that the response to trauma should be to enable people to connect their experiences and stories to the stories and experiences of others -- to find a place in which they feel as though they belong.
The ministry of reconciliation calls us to create safe and welcoming places (radical hospitality) for those who sometimes do not come to the door ready to be embraced. Too often, the hurt and pain in their lives causes frustration and confusion and they project a sense of anger and resentment. Just today a visitor came to Precious Blood Ministry of Reconciliation. He noted that one of the young men standing outside seemed have a chip on his shoulder. He went on to say, in a dismissive tone, "He is never going to get anywhere in life with that attitude." I knew the young man whom he was talking about. Sammy can sometime carry a distant or uninterested, even angry, look. However, once you engage him, his smile overwhelms his initial scowl. Most people never get to the smile because they can't see beyond the scowl. Hospitality demands patience and persistence -- waiting for the returned embrace.
Volf offers an interesting metaphor for the work of reconciliation. He asks us to consider the human embrace. He says that there are four structural elements in the movement of embrace: opening the arms, waiting, closing the arms, and opening them again. For embrace to happen, all four must be there and they must follow one another on an unbroken timeline; stopping with the first two (opening arms and waiting) without the willingness to embrace causes further harm, and stopping with the third (closing the arms) would pervert it from the act of love to an act of oppression.
Those four elements are crucial to the work of reconciliation. We must be willing to open our arms in hospitality, which, at times, must be done so with patience. To complete the embrace we must also be willing to close our arms in an embrace as we commit ourselves to one another. Ultimately, we open our arms again as we acknowledge and respect one another as individuals.
Volf goes on to say that "embrace is grace, and grace is always a gamble." One has to be willing to put oneself out there and risk being rejected, made a fool of, or, perhaps, even victimized.
Together may we be willing to take the risk of embracing the abandoned, the isolated, and know the gift of grace!
[Precious Blood Fr. David Kelly is executive director of Precious Blood Ministry of Reconciliation.]
A version of this blog previously appeared on the website of Precious Blood Ministry of Reconciliation on July 14, 2015. NCRonline presents the blog in collaboration with Precious Blood Ministry of Reconciliation.