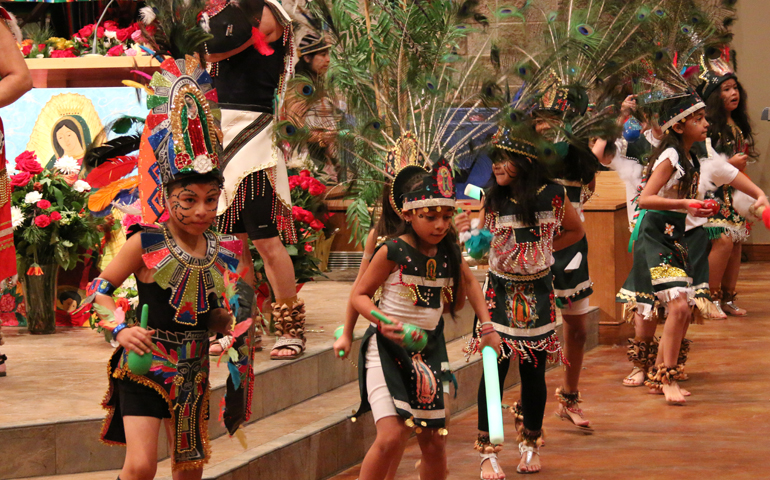 The junior troupe of St. Jerome Parish Aztec dancers perform at the church. Instructor-choreographer Claudia Gonzalez feels strongly about passing on such traditions to youngsters. (Courtesy of St. Jerome Parish)
St. Jerome Parish in Jerome, Idaho might be the poster child for rural U.S. parishes seeking ways to deal with the collisions between a long-established, European-heritage parishioner base and the influx of Hispanic/Latino Catholics seeking work, security and a better life.
Located southeast of Boise, Jerome sits nearly equidistant between the state's capital and the Utah and Nevada borders.
"The minute I arrived, I knew there was something really different here," said Benedictine Sr. Barbara Glodowski who arrived in Jerome six years ago to assume duties as mission and spiritual care director at the town's St. Luke's Hospital.
Strongly drawn to the parish, she told NCR that liturgies, homilies and Mass participation are "phenomenal."
Glodowski and others point to the nearly 250 recent First Communions, and take hope and satisfaction from a high school youth group numbering about 160.
Two of the weekend Masses are in English, two in Spanish. All are well attended. The noon Sunday Spanish-language liturgy is often standing-room only, exceeding the building's 1,200 seating capacity in a municipality of only about 11,000.
"You just want to be included, to take part," Glodowski said. And, she has. She became a lector and Eucharistic minister, and she now teaches "Second Half of Life Spirituality" at the parish.
Staff, parishioners and local community members repeatedly underscore the parish's emphasis on welcome and inclusion.
Twenty years a priest, pastor Fr. Rob Irwin says he has been impressed, challenged and inspired since being assigned to Jerome's only Catholic parish in 2013.
"Faith here is palpable," Irwin said. "You can see it. You can hear it. You can touch it."
"The parish is really vibrant, and excellent at welcoming everyone -- even persons who might not be welcome in other places," the priest said. "It is our strength -- reaching out to people of all backgrounds and making a home for them."
"Little things" can make a difference, he pointed out -- greeters at the parish doors, regular signing of Masses for the hearing impaired, wheelchair access.
"We love to express our cultural backgrounds. We love to have people express their faith in different ways; for example, the Filipino harvest dance in November."
"We do not have a Mass in Tagalog," he added, alluding to the primary Filipino dialect, but "we very much reach out to them and welcome them."
The parish was bustling as it prepared for its recent annual St. Valentine's Day "Noche Romantica" dinner dance that would draw 500 participants and feature three bands as well as "male parishioners serenading during dinner," said Janey Miller, the parish business manager. Irwin only half-jokingly calls Miller "keeper of the vision."
"All kinds of couples" take part in the Valentine celebration, Irwin said, "married, engaged, not engaged, and others as well." Sexual orientation is a non-issue, he indicated. "We do not make a big deal of it."
The tectonic shift over much of the last generation, however, has been the burgeoning Latino/Hispanic numbers in the parish, now clearly outnumbering founding families of European descent, predominantly Irish, German and Portuguese.
Irwin, Miller and others estimate that Latino/Hispanic parishioners now make up about 70% of the congregation, and 70% of that group are of Mexican descent. Of the Latin/Hispanic demographic, some are relatively new arrivals while others have been there for years or have even grown up in and around Jerome.
Establishing an exact household figure or head-count has been set aside as any kind of priority, said Miller.
"We have a little more than 300 officially registered households who receive mailings," she said. "We tend to rely more on bulletin inserts and hand-outs after Mass" as a mode of communication, along with an active Facebook presence.
"The Spanish-speaking parishioners tend to be less likely to officially register, for a variety of reasons," Miller explained. "That is why we rely more on in-person or from-the-pulpit styles of delivering information."
Social media also play a critical role.
"Most of the contact with youth is through texting, and most of the general announcements for the Spanish-speaking parishioners are on our Facebook page. We post in English, too, but fewer people 'like' those postings," Miller said.
At one time the parish had a "phone tree" to share word, for example, that Immigration and Customs Enforcement operatives were in the area. That has been supplanted by text and Twitter and Instagram, where "green lime" connotes detection of lime-colored ICE vehicles.
"Moving from a culturally homogeneous parish to a shared parish is not an easy journey," admits Irwin who is fluent in Spanish and English.
One valuable road map, the pastor said, has been the U.S. bishops' manual released in 2014, "Best Practices for Shared Parishes: So That They May All Be One."
Among other things, the document reports that between 2000 and 2010 the percentage of U.S. parishes "shared by culturally diverse communities grew dramatically" from about one in five parishes to one in three.
"Our job is not to change other cultures, but to welcome people as they are -- and celebrate their culture and differences which helps them feel welcome and part of the community as a whole," Irwin said.
That core value was in place long before his arrival, he added.
Indicatory of parish leadership's keen interest in Mexican and Latino culture and peoples, Irwin's predecessor, Fr. Ron Wekerle (who served as pastor from 1999 to 2013) obtained special permission to leave St. Jerome's to take an assignment as pastor of Divino Niño Jesus Parish in Morelia, Mexico, which is the capital city of the state of Michoacán in central Mexico. Many St. Jerome parishioners originated from there.
Pope Francis visited Morelia, a city victimized by drug violence, on Feb. 16 during his week-long pilgrimage to Mexico.
How intercultural cooperation has played out at St. Jerome has been bumpy, joyous, confusing, but at all times a goal, according to most interviewed.
A "pivotal event," underscored by Miller and others, was the vote by the parish in 2000 to build a new church in response to the dramatic increase in Spanish-speaking parishioners.
"We were doing alright with the English-speaking Masses. The church was comfortably full," recalled Miller, but Spanish-language Sunday liturgies were spilling into the streets.
The parish commissioned a feasibility study, which included several interviews with longtime parishioners.
"I admit I thought the old guard would basically say, 'We are just fine. We don't need a new church.' But the comments turned out to be almost 100 percent in favor of" the expansion project, Miller said. "What a wonderful surprise."
The parish needed to raise $1.8 million to launch the undertaking. So, leaders set a $2.2 million pledge campaign goal.
$3.2 million was achieved.
Describing the facility expansion as key in the community's history of unity, Irwin said parishioners across the board "really saw the need and gave a lot of resources."
"It's more than just money," the pastor added. "People gave as they were able. Some people personally paid for food stuffs, and then made great food for sale. Others were able to make donations from their savings. Still many others made long-term pledges."
"At the end of the campaign we had a dinner near Christmas" to bring together the campaign teams, English and Spanish speakers alike, Miller remembers. "Everyone was just hugging and crying."
"We have found that nothing beats working together as a way to build community," Miller said, then laughed, "And, anything we do involves food and all that goes along with that."
Take the county fair for example, she said. "Every year we man a booth selling hamburgers, fries and pies made by parishioners. It goes for seven days from 11 a.m. to midnight with a crew of at least a dozen at all times -- more than that in busy times like dinner or right after the rodeo. The crews tend to be a great mix of young and not-so-young, Anglos and Latinos. It is a huge community builder."
The plant enlargement program -- which included purchasing more property, removing houses, and extensive planning -- weighed in at about $7.8 million. Only about $1.3 million remains on the mortgage.
Today the parish bristles with programs and outreach efforts in addition to sacramental preparation: a food bank, access to free clothing (St. Joseph's Closet), a community kitchen, immigration counseling and services, citizenship classes, parenting classes, English-as-a-second-language instruction, nutrition classes, Glodowski's "Second Half of Life Spirituality" course, and more.
Miller stressed that much effort goes into "making our classes fit people's lives, their work schedules as best we can."
Childcare is provided during classes.
In addition, local public entities such as the fire department, schools and hospital at times stage informational or community-input meetings at the parish.
That is because the site is considered safe and welcoming, asserts Benjamin Reed, a local Spanish-language radio talk show host who knows the city and county of Jerome well.
"St. Jerome is doing a fantastic job for all sectors of the community," said Reed, a Lutheran convert from Mormonism.
Noting that Jerome's majority is now Hispanic, he said, "St. Jerome is one of the few organizations that really understand that. They get it."
Pope Francis has been an added bonus, Reed said, noting that years ago he worked as a Mormon missionary in Argentina "close to where the pope served in Buenos Aires" before being elected pope.
"On a pastoral level, Pope Francis has really reached out to a lot of people, and he clearly understands the Latin American mindset," he said.
Like others, Reed called attention to the parish's annual St. Jerome feast day celebration.
Held at a municipal park, the event draws about 3,500 participants from the town and surrounding area. Featured are dozens of food booths, Aztec dance troupes, soccer tournaments, volleyball, children's games, basketball, musicians, a balloon rosary, comedy and a carnival-like atmosphere.
The center piece is Mass celebrated in the park.
"The St. Jerome feast day is a big deal" for the entire community, confirmed Miller. "People schedule their vacations for it and around it."
Devotions leading up to celebration of Our Lady of Guadalupe's feast day, Dec. 12 mirror the parish namesake feast day's intensity.
Every year novenas are held every evening from Nov. 2 until Dec. 11 which draw 50 to 150 participants -- with coffee and sweet breads afterward.
Then comes Las Mañanitas a' la Virgen de Gualalupe ("little morning prayers"), a special devotion on Dec. 11.
Las Mañanitas has always been overflowing, and this past feast day drew more than 3,000 devotees between 9:30 p.m. and 2:30 a.m.
Deep devotional spirituality has also been nurtured by sustained parishioner participation in what is now called the Come and See program in the parish which is based largely on the Cursillo Movement structure.
Irwin said parish leaders moved away from the official Cursillo organization in recent years after it seemed to restrict its welcome "to Catholics who had all their ducks in a row" and exclude others -- the divorced or persons remarried without an annulment.
"That's not the way we do things at St. Jerome," Irwin continued. "So we do something very similar, but to which all people are welcome."
"It is a real life line of the parish," Irwin said.
Another, it seems, is the parish youth group, notably the 160 high schoolers. Under the leadership of youth minister America Ortiz, the group perhaps foreshadows the parish future -- nearly 90 percent Hispanic, but all meetings held in English.
"We are one youth group," she said, and "do not allow ourselves to be Anglo or Hispanic. We do not separate."
She notes that for most of the young people the choice of attending the 9:30 a.m. English-language Mass or the noon Spanish liturgy has as much to do with time of day as culture or language.
Cultural friction, Ortiz went on, "has never really been a problem. We are celebrating, not clashing. We are one faith, one Catholic faith."
Her biggest challenge? "Finding enough volunteers" to help with the group, she quipped.
The mother of three sons ages 5, 7 and 13 added, "The young people have so many things, so many issues. Many of them do not know very much about their faith in general, and they are growing up in a culture where everything is electronic, and they focus on that so much. There is so much information. Some just feel they do not need God."
Ortiz says, however, that it is made clear to her Monday evening charges that they are not there "because you are forced to be here."
"I tell them you are here to learn more about God, to learn more about your faith. You are not here because you are white or you are Mexican."
[Dan Morris-Young is NCR's West Coast correspondent. His email is dmyoung@ncronline.org.]
---
Editor's note: "The Field Hospital" blog series covers life in U.S. and Canadian Catholic parishes. The title comes from Pope Francis' words: "I see the church as a field hospital after battle. It is useless to ask a seriously injured person if he has high cholesterol and about the level of his blood sugars! You have to heal his wounds. Then we can talk about everything else. …"
If you have a story suggestion, send it to Dan Morris-Young (dmyoung@ncronline.org) or Peter Feuerherd (pfeuerherd@ncronline.org).