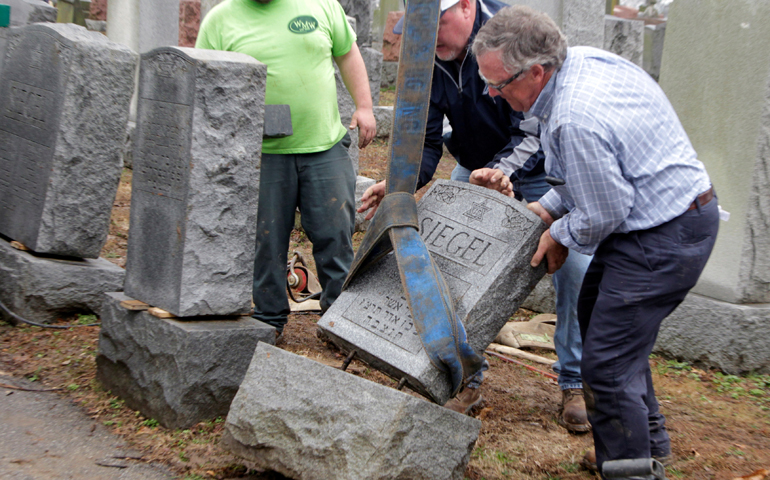 Men work to right toppled Jewish headstones Feb. 21 after a vandalism attack on Chesed Shel Emeth Cemetery in University City, Mo. (CNS/Tom Gannam, Reuters)
Anti-Semitism is not a new phenomenon in the United States. What is presently unique, however, is the enabling by the Trump administration of a political environment that is unprecedentedly encouraging of and conducive to the various anti-Semitic elements, movements and individuals in American society.
This enabling environment is fueled by several factors. During the presidential race, the Trump campaign promoted xenophobic anti-immigrant and anti-Muslim themes. He even re-tweeted an image of Hillary Clinton with dollar bills next to a Jewish star. Mic.com reported that the image was "previously featured previously featured on 8chan's /pol/ — an Internet message board for the alt-right."
Trump has also appointed as his chief strategist and top advisor Steve Bannon — former chair of Breitbart News, widely recognized as a mouthpiece for white nationalism and anti-Semitism — while at the same time adopting an ardent pro-Israel line. Breitbart has posted articles referring to Washington Post columnist Anne Applebaum as a "Polish, Jewish, American elitist." Another article labeled The Weekly Standard's Bill Kristol a "renegade Jew."
Bannon is not alone. On March 21, the Jewish-American weekly The Forward reported on new White House hires tied to Breitbart and another far-right website, World Net Daily. According to The Forward, these hires are not white nationalists or neo-Nazis themselves but rather follow the Trump example of being "gateway figures between the mainstream and extremists," playing what is a far more dangerous role of "normalizing previously extremist views."
This is not to label President Trump an anti-Semite. But Trump views anti-Semitism through a 'transactional' lens, weighing whether it will benefit him or not; truth, facts and principles be damned. As Rep. Mark Sanford, R-S.C., recently told Politico, Trump "has fanned the flames of intolerance." And once you do that, it's hard to put out the fire.
The "fire" is evident in the surge in anti-Semitic incidents across the country. Since the beginning of 2017, there have been at least 100 bomb threats at 81 different Jewish community centers and schools across the country, as of March 13. Over 100 headstones were knocked down or damaged at a Jewish cemetery in Philadelphia. The Southern Poverty Law Center reported over 200 incidents of "hateful intimidation and harassment" from Election Day through the following Friday, Nov. 11, 2016, including attacks on African-Americans, Muslims and Jews.
One would expect universal and vociferous outrage from both the Israeli government and Jewish-American organizations to this anti-Semitic climate.
Yet this is not the case, and the reason is simple — those remaining silent have made the political calculation that ignoring resurgent anti-Semitism in return for unflinching support for Israel is worth the price.
The Zionist Organization of America is a prime example. Morton Klein, ZOA president, has been notably silent about the rise in anti-Semitism and has stated, "Bannon is a champion for Israel and the opposite of an anti-Semite." Klein's statement is particularly revealing about the informal alliance that right-wing Israelis and supporters of Israel have formed with anti-Semites.
True anti-Semites who are ardent supporters of Israel are exempt from condemnation while the label has been hurled at any person, organization or government which has criticized the illegal Israeli occupation of Palestinian lands, effectively silencing serious debate about Israel in the United States.
What is equally shocking is the warm embrace of Trump among many top Israel political figures. An article in the Israeli newspaper Haaretz, titled "The Five Top Jewish Leaders More Concerned With Threats to Trump Than to U.S. Jews," criticized Israeli Prime Minister Benjamin Netanyahu's response that, "There is no greater supporter of the Jewish people and the Jewish state than Donald Trump" when asked about the surge of anti-Semitism in the U.S. This, the article noted, from Netanyahu who "has always prided himself on condemning anti-Semitism wherever and whenever it happens."
Daniel Shek, the former Israeli consul general in San Francisco, correctly interprets Netanyahu's position as a politically calculated move by the Israeli government. Speaking to National Public Radio, Shek noted:
For much less than what has been reported is happening in the U.S., there would have been an uproar here [in Israel], and rightly so. There is so much enthusiasm in the current Israeli government about the election of Donald Trump. And they [the Israeli government] think what he [Trump] stands for — I am not sure they are right — about Israeli settlements and the Palestinian issue, they don't want to ruffle his feathers in any way, even at the cost of not speaking up against anti-Semitism.
To their credit, some Jewish-American groups have spoken up. The Anti-Defamation League has opposed the appointment of Steve Bannon, labeling him a man who "presided over the premier website of the 'alt-right' — a loose-knit group of white nationalists and unabashed anti-Semites and racists."
The Huffington Post reported that Rabbi Jonah Dov Pesner, director of The Religious Action Center of Reform Judaism, "held Bannon responsible for advancing ideologies of 'anti-Semitism, racism, misogyny and xenophobia. … His professed support for Israel doesn't change the fact that he hasn't disavowed the hate-filled work that he published.' "
Jessica Rosenblum, the vice president of communications for J Street, the "pro-Israel, pro-peace" lobby group, also told The Huffington Post, "Steve Bannon's friends on the far right of the Jewish community can make facile claims about his support for Israel, but that does nothing to change the fact that Bannon spreads an ideology of hatred and bigotry that is extremely hostile and dangerous to American Jews."
The Huffington Post also highlighted an opinion piece in The Forward, by editor-in-chief Jane Eisner, reporting:
In an op-ed, Eisner pointed out what she called the "breathtaking hypocrisy" of Jews who are supporting Bannon, and condemned the logic that "as long as you support certain policies of the current Israeli government, it's okay to pal around with people who hate Jews."
Forming unholy alliances with the forces of extremism, bigotry and xenophobia is a strategy bound to backfire in the end, no matter the cause or religion. Instead, moderate and tolerant people of all races and faiths must unite in the struggle to fulfill the words of the U.S. Declaration of Independence, "all men are created equal."
[Ra'fat Al-Dajani is a Palestinian-American businessman and political commentator.]