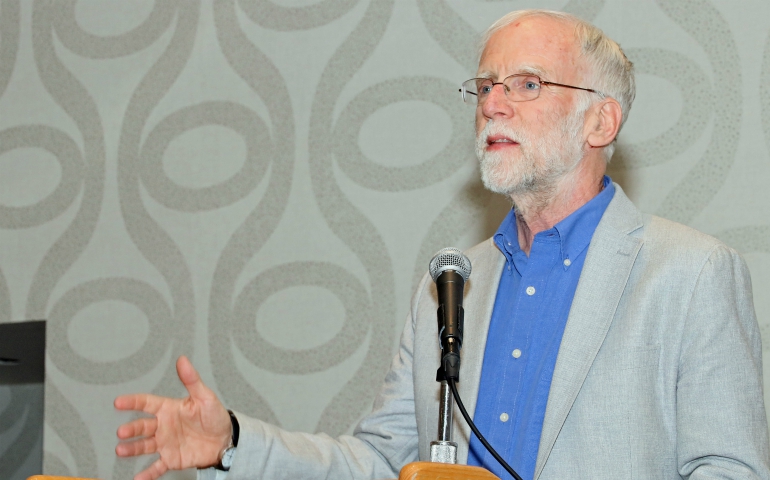 Jesuit Fr. Francis Xavier Clooney at the Catholic Theological Society of America's annual meeting in Albuquerque, New Mexico (Jan Jans)
Albuquerque, N.M. — June 11, 2017
Hailed as a founder of modern comparative theology, Jesuit Fr. Francis Xavier Clooney received the 2017 John Courtney Murray Award for distinguished theological achievement from the Catholic Theological Society of America at its annual convention in Albuquerque.
The choice of Clooney reflects "hope that growth in the depth of our understanding of both the Christian tradition and the reality of God remain possible in our day," said Jesuit Fr. David Hollenbach, president of the society, adding that Clooney's work is "profoundly traditional and creatively original" and has "made contributions to both interreligious understanding and Christian theology."
Clooney is the Parkman Professor of Divinity and Professor of Comparative Theology at Harvard University's Divinity School and formerly director of its Center for the Study of World Religions. He taught at Boston College for 21 years before coming to Harvard.
An expert in Hinduism and religions of South Asia, Clooney was inspired by a decision to teach in Kathmandu, Nepal, after his own college graduation and entrance into the Society of Jesus.
In his remarks, Clooney emphasized the importance of "looking out into a larger world" from the Catholic tradition. "I had to find a way to be a Catholic theologian and take seriously this vast other world of Hinduism," he said. "There was no immediate way of doing this… I've had to invent the field to do the work I wanted to do."
Clooney has a bachelor's degree in philosophy from Fordham University in New York, a master's of divinity from Weston School of Theology and a doctorate in South Asian languages and civilizations from the University of Chicago.
He is the author of 14 books and more than 200 scholarly articles. His books include Hindu Wisdom for All God's Children (1998), Hindu God, Christian God: How Reason Helps Break Down the Boundaries Between Religions (2001) and Divine Mother, Blessed Mother: Hindu Goddesses and the Virgin Mary (2005).
Clooney acknowledged his brothers and sisters who are Protestant, Orthodox, Jewish, Muslim, Buddhist and Hindu. "Somehow theologically we have to be in our tradition and step beyond it all at once," he said. "This idea of finding God in all things, finding God in the world around us, affirming God where God is to be found is something I've always tried to do."
Noting that the idea of lineage is important in India, he recognized past recipients of the John Courtney Murray Award and other theologians who have influenced him, including Precious Blood Sr. Barbara Agnew, who encouraged him early in his career and was remembered earlier in the conference as among members who died in the past year.
"She was always cheering us on," Clooney said of Agnew, remembering a time she told him, "Your work is so important. Do not let anyone stop you from doing it. Never give up."
He also thanked the Catholic Theological Society of America for its work throughout the years. "Being here is to be part of a lineage that goes back to the beginning," he said. "That's a great honor."
[NCR contributor Heidi Schlumpf is in Albuquerque, New Mexico, for the meeting of the Catholic Theological Society of America. Follow her reporting here and on Twitter with the hashtag #CTSA2017. Schlumpf teaches communications at Aurora University and is the author of Elizabeth Johnson: Questing for God.]