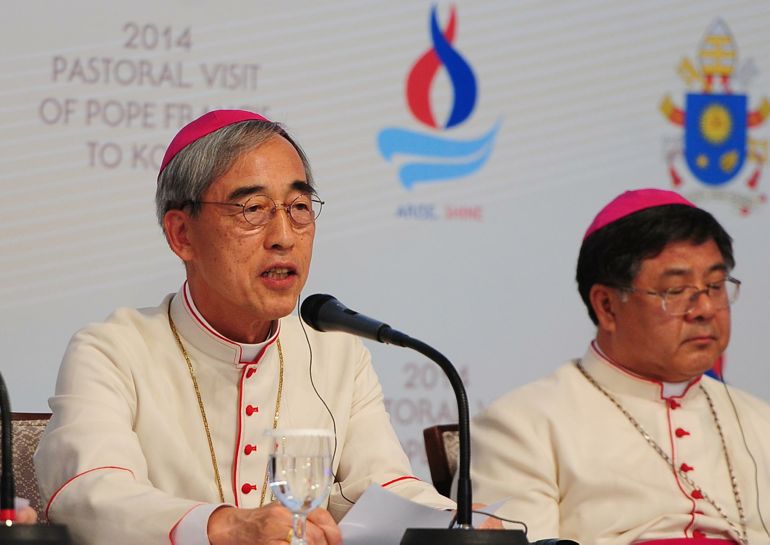 Bishops Kang and Cho (Photo by the Committe for the Papal Visit to Korea)
Following Pope Francis' departure from South Korea at 1.p.m. Aug. 18th, the president of the Catholic Bishops' Conference of Korea and Commissioner of Committee for Papal Visit to Korea, Bishop Peter Kang U-il of Cheju, and Coordinator of Committee for Papal Visit to Korea, Bishop Cho Kyi-man, auxiliary bishop of Seoul, met with reporters in a final press briefing.
Bishop Kang read a statement before taking questions from reporters.
Dear brothers and sisters,
We have been greatly touched by the words and deeds of Pope Francis and driven into excitement and joy for the past several days.
The Holy Father called out all the Asian youths gathered together in Korea to wake up being vigilant. He told them out loud that they should never give up, but rise up, even though the present situation forces them to toil and moil, deriving them into desperation and dead end.
He also urged us to humbly reflect on ourselves and find our way into a search for much higher values, never making an idol of economic development of Korea to be content with the transient comfort resulted from the material wealth.
He asked us to have compassion expressing our solidarity with the poor, migrants, and the marginalized. He proclaimed the 124 Korean martyrs as the Blessed victors, inviting us to ask ourselves to what we can dedicate our life.
Leading us into enlightenment, he has shown us in person to what he has been dedicating himself. In spite of his advanced age, he has walked around the whole nation all day long, from early morning until late evening, to give himself to those who desperately needed him. He has held the hands of those who wanted to see him, and he has approached those who were suffering and mourning and held them in his arms silently. He carefully listened to the complaints of those people who needed someone to listen to their story. He pressed his cheek against that of the handicapped children who were abandoned by their parents as well as by the world, sharing his love and compassion with them.
He taught us that the solidarity with the poor is not meant to be a simple material aid. He said that we must, first of all, welcome them as our brothers and sisters created in the image and likeness of God, and help them stand on their own feet to live a decent life, being respected as the dignified human person just like us all. Pope Francis has been literally running around for 5 days to manifest his own view on human person as well as on the world.
Even though Pope Francis stayed in Korea only a few days, he inspired us fully with the consolation, compassion, and hope that many of us earnestly needed. He made it sure that peace does not mean the absence of war, but the result of justice, expressing his sincere desire for the peace of the Korean Peninsula as well as the peace of the Northeast Asia. In Korea, increasingly many people agonize over the lack of justice, even though the economic indicators show that Korea is one of the most developed countries in the history.
In this sense, I think that the peace of the Korean Peninsula should begin with sharing in the fraternal vision, in which we see each other as the noble beings created in the image and likeness of God. When justice surges like a stream in ourselves it will overflows in every direction like a river, and, at last, it will flow into the open sea of peace. I hope that our society can go forwards to a society of compassion and respect, overcoming the hostility and conflict between social classes, following the example of Pope Francis.
I am very sorry to have brought about inconvenience to our fellow citizens, including traffic controls and congestions during the apostolic visit of the Holy Father in Korea. I sincerely thank you for your cooperation and patience despite the discomfort. I also would like to express my sincere thanks to President Park Geun-hye and related government ministries for their moral and material support. In particular, I would like to express my special thanks to volunteers, and all the people who have served silently with joy. I pray that God's blessing may be with them. The Holy Father has left for Rome, cherishing in his heart the warm welcome of all Koreans in one accord, both Catholics and non-Catholics. I am sure that he will never forget the affectionate sentiment of Koreans for him.
Engraving his words, "Wake up in splendor!" in our heart, let us go forth shedding lights in the darkness, and let us restore justice in our country. Asking the intercession of all the martyrs including 103 saints and the 124 blessed, I impart blessing to you all in the name of our Lord.

The Pope met the Japanese army's comfort women. Has the Pope met people related to this matter before? That moment was not on air very well. Were there any conversations among them? Please explain the situation precisely. Also, we could not recognize in MPC that the Pope met the President ParkGeun-hye. Please explain it in detail, too. According to news on yesterday, the President's visit to the Mass was mentioned long time ago but her visit was decided recently. So please explain this in detail.
Kang: We have no idea how well the Pope perceived the Japanese army's comfort women in advance. We informed Roman Curia that the Japanese army's comfort women issues are repeatedly mentioned and those became a sensitive problem in a relationship with Japan. As many of you did, they strongly hoped to meet the Pope. We requested Roman Curia to meet them in advance. I do not know which conversation was made during the Mass today in detail, as I was not close enough to listen to them. However, the Pope held the Japanese army's comfort women's hands to feel the pain and console them. When we prepared the meeting, we just arranged to meet all in front of them. But the Pope himself got closer and took a long time with them. Secondly, you mentioned the meeting with the President Park, at the end of the Mass, the Pope approached to the President and thanked to her. The president also replied but I could not hear well. Probably the President also expressed her appreciation. The Pope and the president communicated for 5 minutes and said good-bye.
Pope Francis left many messages to Korean society in his words and acts. What do you think the most impressive messages and actions were?
Cho: What the Pope said that we have to approach the poor and the marginalized for helping them by not only physical support but also internal support was impressive.
In addition, I thought he did not just say, he did act by his true heart. Also, I believe that Korean people must share my view. He responded to individual person as children of God. That's what he may want to show us in person and to follow suit. By seeing the way the Pope responded to and approached the individual person, I thought that that was what we and Korean people should follow, and Jesus must have approached people in such a way. I think that Pope Francis planted a small seed in our society. It depends on how well we take care of the fruits that we can reap 30 times, 60times or 100 times more fruits.
Kang: Since the first day in Korea, he surprised us and made us laugh with his very unique humor. He made us laugh not just by making a joke, however, by the most sophisticated humor, which is self-caricature humor. When we gave him a large piece of paper to sign an autograph at the meeting with bishops, he signed an autograph in a very small size on a corner of the large paper so that a magnifying glass is necessary to read. It was so hilarious and made us all laugh. In usual circumstances, he would have written in large size but he wrote in small size to show us that he wants to be seen not as a grand person, but as a small and humble person to others. The Pope was trying to say that he is one of ordinary people like us. Besides, every place Pope Francis visited, the organizer prepared a large chair but the Pope never took a seat in a big chair, rather, he sat on a small chair nearby, and, instead of using a microphone specially prepared for him, the Pope picked up the microphone, which a moderator was using. In Asian Youth Day festival, when Pope Francis expressed gratitude with Asian bishops, I was standing two or three steps below where the Pope was standing. But, he stepped down several stairs to hug me even though he has bad knees. From such as his small gestures, I could see clearly how much he was trying to lower himself.
What effect Pope Francis has on the Koreans and what will be changed? What are the plans from bishops?
Kang: Korean people watched how caring and affectionate Francis Pope was in consoling people who are in a sorrow and mourning. Seeing Pope Francis a global leader, lowering himself, approached the weak, the poor and the marginalized in the most joyful and pleasant way, Korean people must have an expectation for what the leaders of a nation should be like. And that was my opinion. Pope Francis criticized what our country did not do well, and encouraged what we did do well. Although Pope Francis did not criticize directly, I hoped that leaders and all Korean people recognize issues that our country is facing and understand the message that the Pope tried to deliver, moreover, and take this as an opportunity to move towards unity and reconciliation of the country
How exactly will Korean Catholic Church fulfill the Pope's message?
Kang: It is too early to answer this question at this moment. The Pope delivered various words to different social stratum and I believe we should thoroughly think about how to put his words into action. It has already been decided among bishops that there will be discussion about how things should be done on next level after the Pastoral visit. The discussion will take place in general assembly of Catholic Bishops' Conference of Korea in October. I believe the answer to your question will be mentioned after the assembly.
How would you describe the pastoral visit into one word?
Cho: The significance of the pastoral visit has three levels: Pastoral visit, missionary visit and friendship visit. In the case of Pastoral visit, he successfully learned more about his flock of sheep in Korea. It was also successful consideration that visit to Korean Church was one of his duties as the shepherd. In the case of missionary visit, it will require some time to learn the result. Some people anticipate a fruitful achievement right away but it is a hasty attitude. It also takes some time for the fruit to ripe and we should contemplate how to change ourselves before we expect others to change. I should "remodel" myself as well, and my role model should be the Pope. I should make plans and take one step at a time as I see the Pope. In conclusion, I believe his three goals were fully fulfilled.
Kang: His visit urged us to work for peace. Peace doesn't solely mean not putting us into war situation but it is achieved through overflowing justice. His call extends us to produce justice, which stimulates the basis of peace.
[Jesuit Father Federico] Lombardi mentioned, "We are not visiting Korea but visiting the Asian continent". Why does Roman Curia put great importance on Asian continent and what kind of role could Korean Catholic Church take?
Kang: Asian continent makes up huge part both in both population and size. However, its Catholic population is very low. To put in Catholic jargon, it is the continent that has large evangelizing opportunity. Evangelization is being spread very fast in some Asian countries. In light of this achievement, I believe the Pope wanted to urge Korea and Asia as a whole to learn about other cultures and religions by engaging in active communication with other continents.
If you still insist and ask why the Pope chose Korea over other Asian countries, I would say the Europe, especially Roman Curia, appraises Korean Church is very dynamic compared to other Churches. Also, it has been the case that when a country achieves economic development, its evangelization slows down proportionally. However, it was surprising to the Europe that despite Korea's economic growth, its evangelization did not slow down but rather increased in a fast pace. Also, Korean Church has been dynamically responding to social issues. Its words and actions are hardly seen in other countries that the Europe including Vatican highly expects the Korean Church will take the lead to evangelize Asian countries.
Was there anything that the Pope requested to Bishop Kang or other bishops? The Pope said he would bring the cross that bereaved family of Sewol ferry disaster brought during the cross pilgrimage. How was the cross delivered? Do you know the cross that the Pope wore on his neck was made with silver or steel?
Cho: There was nothing particular that the Pope mentioned to bishops. He left saying that he thanked Korean church for welcoming and accompanying with him. The cross from bereaved family would be delivered. I have no idea regarding whereabouts about the cross. As the Pope said he would bring it, then, he brought it. The cross necklace was made with steel and silver-plated. The Pope's cross necklace is as same as mine. I received the same one as the Pope's from a diocese priest. I do not know if it was made with silver or metal, either. The Pope has been wearing it since he had been a bishop.
I presume only Bishop Kang U-il can give answers to the question. You were the Secretary of Cardinal Kim Soo-hwan, when Pope John Paul II visited Korea in 1984 and 1989. Therefore, it could be referred that you were the living witness of the three visits of the Popes to Korea. Were there anything more difficult compared to the last two visits? And how was the atmosphere changed compared to that of the past? And were there any personal thoughts while assisting the popes as a priest yourself?
Kang: The preparation time for the visit of Pope John Paul II took much longer. We were able to prepare diversely and discuss over the events with Roman Curia before the actual visit. However, we only had five months to prepare for the visit at this time and partly thought that we could have done more things better. The actual working group might have some challenges on preparing. Yet, I think there are distinctive characteristics between the two for they have different styles.
Pope John Paul Ⅱ was said to have been involved in drama performances at university and I think because of that the Pope was able to show dramatic actions himself. The Pope knew when and how to show dramatic actions, perform specific manners on stages and speak dramatic words. He was good at performing dramatic effects, such as kissing on the ground as soon as the Pope arrived at the airport. The Pope also had met with diverse people back then. Also, there was enough time for the Pope to learn to speak Korean so the Pope could dedicate the Mass in Korean at that time. He thoroughly prepared in every particular way.
However, Pope Francis was not even given the time for such things. As we all have noticed, although the Pope finds Italian and Spanish easy to speak, he has difficulty in speaking English. When we discussed over the visit with Roman Curia, they have made sure that the Pope would not be speaking any English, even not to anticipate it. However, when we informed them of how rarely Italian was spoken in Korea, the Pope made a decision to speak in English at Asia Youth Day. Although the Pope was not confident on speaking in English, as a result, the Pope spoke in English for a several times.
People who work closely to the Pope were even surprised to see the Pope speaking English so much. The Pope has never spoken English that much, and that they presumed the Pope learned a lot of English over time. Pope John Paul Ⅱ seemed to have received energy from the crowd gathered at Yeo Ui-do. I was worried if the Pope could continue with all the events. Yet, the Pope was so energetic and was meeting with people until late at night that I wondered if he is taking any medications. However, Pope Francis was calmer and more silent than Pope John Paul Ⅱ. Pope John Paul Ⅱ was more outgoing and extroverted, otherwise, Pope Francis is less outgoing and speaks in low voices. Yet, the distinctive characteristic of Pope Francis is that the Pope is always willing to and ready to give the whole heart of love and consolation, and I felt much love when the Pope tried to embrace those who are helpless.
When is the Pope coming to Korea again? We got a huge "Francisco Syndrome" in Korea. How does the Korean Catholic Church evaluate this? Overall, things went smoothly except when the reporters had a difficulty to have an access to the Pope. Some of them were kicked out of the site when they were not formally dressed. Having the Pope to Korea is great in that our people could get consolation from him, but I guess a huge budget must have been set aside for his visit to Korea. I wonder what the budget is like and I would appreciate it if you can explain briefly whether or not the Catholic Church will release the budget report later on.
Father Hur Young-yup, spokesperson for the Papal Planning Committee: I apologize for our support for the press. About 3,000 reporters registered this time and they had to move from one place to another to cover the Pope and the way Roman Curia wanted to be covered by the mass media was somewhat different, which made them even more difficult to report. For our church, it was difficult to handle the massive group of the reporters and that is why we asked the backing from the Korean government. Actually, we had many voluntary supporters from many places but maybe our efforts were not enough to cover such a wide range of events amidst rapidly changing media environment. Once again, I apologize for that. Regarding the budget, I think our bishop will refer to it later, but I believe we will disclose the closing ourselves clearly through our weekly newsletter.
Kang: We cannot ask the Pope to visit Korea once again. We have to consider about other countries. In Asia, there are no countries where the Pope has been invited three times in 25 years like Korea.
Has the Pope ever commented on Korean society or Korean people? If there was not comment, what kind of impression do you think he received during his visit, as you kept following him in a close distance?
Kang: Well, he has not particularly mentioned on how he thought about Koreans himself. I remember, however, what the vice minister of the State Department and the Cardinal, the Chairman of the Committee of the Laymen said, who were accompanying the Pope all along. They said that Koreans are very warm-hearted, that they welcome the guests full heartedly by giving whatever they have for the guests. We are content only when we make our best efforts in extending our hospitality by preparing a dinner table full of Korean cuisine for our guests, as our saying goes. I also heard the young participants for the Asian Youth Day saying that Koreans are incredible in that every Korean they meet, including Korean families and Korean young people, sincerely welcome the visitors with such a bright smile.
Regarding the elderly women, forced sex slaves for the World War Ⅱ by the Japanese Military, they presented a butterfly-shaped badge to the Pope. Was this arranged in advance? It is said that the House of Hope delivered a painting by one of ladies to the Pontiff. Was it delivered to the Preparation Committee for the Papal Visit to Korea?
Cho: I was at the site, but we did not have a plan to arrange the Pope's individual meeting with them. We did not have the plan to exchange the presents between the Pope and the ladies, either. The Pope just found them because they were sitting on the seats in the first row when the Pope was entering for the mass, which was not originally unscheduled. All the gifts for the Pope were first delivered to us in the diocesan curia in advance. Then we delivered those gifts to Apostolic Nuciature in Korea before the Pope arrived in Korea. Therefore, I suppose that all the gifts for the Pope Francis, including the painting and a hand written bible made by another victim, were delivered to him via Apostolic Nunciature in Korea. I am sure that the cross sent by the families of the Sewol ferry victims must have been shipped to the flight this morning in the same manner.
There was a mention about North Korean martyrs. Was persecution due to religious belief in North Korea discussed in depth? Or what are we supposed to consider here according to the Pope's Homily today?
Kang: Nothing mentioned about something like persecution of these days. As you already know, the start of the Pyeongyang diocesan bishop, many clergies were arrested and executed during Korean War in 1950. And the rest of them fled to South Korea. So no clergy is left in North Korea actually since Korean War. So are ascetics. As far as we know, if I may be so bold as to speak, there might be possible for some families to hold and keep religious belief at home. Some North Korean defectors once told me about arresting and interrogating faithful on the spot.
It is not quite common but we are aware that leading a religious life is exposed and arrested. Though, there was almost nothing that South Korean Catholic Church could do concretely. Nevertheless, we tried to clinch a conversation with North Korea, to give positive aid to them when they are in difficult situation economically due to flood since 1995, so we have been carrying on the connection with North Korea. It has been done for the time being.
I heard that the Pope wrote a letter to the bereaved families of the Sewol disaster. Was it scheduled and what made the Pope do that? Did the Pope have time to talk with the North Korean defectors?
Cho: A letter written to the bereaved families? I never heard about that. Something unexpected happened abruptly, a lot so far. It is Pope Francis' distinctive characteristic. Such as a sudden visit priests of Society of Jesus in Sogang University. Entourages had trouble with attending the Pope because he behaves extemporaneously as it comes. The Pope met the bereaved families of the Sewol disaster a couple of times so he might have felt something special and written a letter. I can only assume so.
Kang: One more thing. Someone asked if the Pope left a message to me just before he left. I can recollect in a flash now that the Pope entreated me to pray for him earnestly.
Hur: Despite poor conditions, we tried to prepare in our own way but had lots of shortcomings. We appreciate you all journalists who reported day and night in the press center. Also, we do appreciate volunteers. In addition, we appreciate Ministry of Culture, Sports and Tourism, Prain, Intercom, KBS, etc. who helped us for more than 5 months.
Kang: Once more, I do really appreciate that you reported schedules of the Pope's visit in detail, messages you deemed important among plenty of messages, the parts related to Korean realities, and mirrored the Pope's various personal beautiful aspects.
All of you, I appreciate your hard work for last five days. Thank you.​