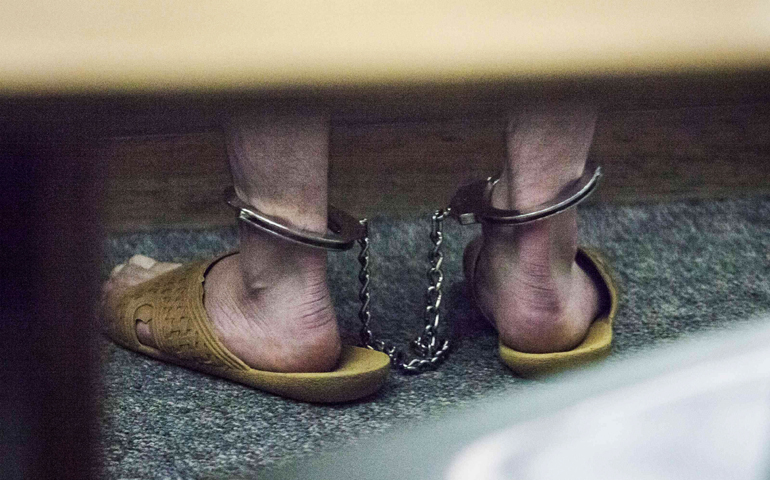 Aaron Ybarra stands with legs shackled together while he appears in court June 6, 2014, at the King County Jail in Seattle. Ybarra is accused of killing one person and wounding two others in a shooting spree at a small Christian college in Seattle. (CNS/Reuters/David Ryder)
The beatification of Archbishop Oscar Romero reminds me of a story a prison chaplain told me in El Salvador.
She spoke of a little girl whose father was murdered by a rival gang member and whose beleaguered mother became too preoccupied to care for her. For years, the girl would spend hours alone at a nearby park, where she eventually befriended a homeless amputee. She brought him food and talked to him every day.
Once, her mother happened to be passing through the park and saw her daughter feeding this man. She took her daughter home and started beating her savagely.
"Don't you know who that is?" she demanded. "That's the man who killed your father!"
"There's one thing you need to remember," the woman continued, between blows, "if you want to survive in this world: Never love."
Never love.
So the girl stopped loving, except when she fell for a neighborhood boy years later, became involved in his gang, bore his child, and did something to wind up in prison. Her anger at the world grew. When she got out at age 16, she went back to the park to find her father's killer. This time, she didn't bring food, but a gun. She put it to his temple, placed her finger on the trigger -- and didn't fire.
"I don't know why," she later recalled. "I just couldn't do it." She spat on him instead and went away. Eventually, she wound up in jail again. That's where the chaplain who told me this story met her.
The jails in El Salvador are overcrowded. In many of them, the prisoners are not fed and must rely on people from outside -- assuming someone loves them -- to bring them something to eat. This girl's prison did not have beds; people slept on the ground. In the rainy season, the prison floods, and nothing is done to dry it out. The inmates must stand in muddy water, day and night, until mold grows up to their ankles.
***
When I was a volunteer chaplain at a juvenile hall in California, I heard another story, this one from a young man who had killed a rival gang member when they were each just 13 years old.
After he shot that child, he told me, in the days he spent hiding from the police, he wasn't afraid, only angry: Angry at the boy he'd killed, angry at the world, angry at everything.
The police caught him and brought him to jail. While waiting to be arraigned, he sat in his cell, fuming and muttering. At the arraignment, he kept glaring at the judge and lawyers, and then on the way out, he looked angrily over at his victim's family and saw the boy's mother staring at him -- staring and staring.
There was something in her eyes, he told me, that he'd never seen before; and that is when, all of a sudden, he became afraid. He went back to his cell and cried all night because he was so scared and so confused. It was only later, after his victim's mother spoke at his sentencing and asked the judge to go easy on him because he was, after all, only a child, just like her own son had been, same age and same gang involvement and same everything -- it was only then that he realized what it was in her eyes that he hadn't recognized or understood. "It was love," he told me.
You don't see love very often in prisons, of course. Your mother -- perhaps the only person left in the world who still loves you -- may only be entitled to visit you for 45 minutes a week. Imagine: All week, your mother is pacing outside the walls with a love that 45 minutes cannot contain, yet the law takes precedence even over the primordial rights of a mother.
At the end of the afternoon, I would leave the prison and walk across the parking lot with stretched legs and an expansive sigh and the freedom to go anywhere on those wide Los Angeles freeways. The boys I'd visited would go back to their narrow cells and slam their fists into concrete walls that would never, not ever, yield. They were buried alive.
***
I've been thinking of those boys since the sentencing of Dzhokhar Tsarnaev in my beloved city of Boston, where my father was five minutes away from completing the marathon when the bombs exploded in 2013. I was so proud when one of our own Catholic sisters, Helen Prejean, testified at Tsarnaev's sentencing this month, saying he had shown signs of remorse.
Yet I wonder whether that testimony was a mistake. Massachusetts jurors may have been willing to spare Tsarnaev because his childhood was screwed up -- because he's a helpless product of his environment, a cog in a vicious machine. But to believe that he could actually repent? This would mean not only pardoning him out of our own magnanimity, but acknowledging that he too could have goodness inside him. I think that may have been too much for those jurors in Boston.
I wish they had read this moving meditation by Jeanne Bishop, who lost three family members in a triple homicide yet is against not only the death penalty, but life in prison without possibility of parole. Her epiphanic moment came when she heard the mysterious words of the Lamb of God in church: "You take away the sins of the world."
"Whatever [that] meant," she reflects, "I knew that it couldn't mean saying to any human being: We are taking the sin you committed and freezing it in time forever. No matter what you do, how much you repent and show remorse, you are forever only one thing -- a killer -- and we will punish you endlessly for it."
"In the very next moment," Bishop continues, "like daylight breaking into darkness, I knew something else. I'd always thought that the only thing big enough to pay for the life of my sister was a life sentence for her killer. Now I understood: The only thing big enough to equal the loss of her life was for him to be found."
The two stories I've told suggest that even hardened hearts can, in fact, be "found." Rarely does it happen through an isolated encounter with divine grace. To expect people to save themselves without anyone's help is like expecting someone trapped in quicksand to pull herself out by her own bootstraps. Bishop's column ends by illustrating how mercy is not a response to repentance, but can create it.
Merciful love failed this month in Boston. Please God, may it triumph somewhere else, some other day; because in this world, the only response adequate to the spirit of "never love" is the equally powerful, equally absurd spirit of "love, always."