Seattle: Personal information security breach stings archdiocese. False tax returns have been filed in the names of as many as 90,000 archdiocesan employees and volunteers. 
Ukraine: Crisis is stirring up some old fears for Ukraine's Jews.
More on Ukraine: The Russian Orthodox church in Ukraine might split.
Opinion: The vote in Crimea may have been awkward to the West, but it isn't unprecedented.
And Catholics in Crimea fear repression under possible Russian rule.
Catholicism in Australia: Tom Roberts looks at how the Catholic church in Australia is going through similar transitions as the church here in America.
Claims by Cardinal George Pell that he knew little about a notorious clergy sex abuse case have been thrown out the window in testimony to Australia's Royal Commission into Institutional Responses to child sex abuse.
Duluth, Minn.: Judge limits two sex abuse lawsuits against the Catholic church.
Catholic and Anglican churches are uniting with an Australian mining magnate to end modern-day slavery, including human trafficking and indentured laborers. 
The archdiocese of New York is getting into the downtown theater scene. The archdiocese is opening a new center, which will include two theaters and four rehearsal studios available for rent.
An Illinois parish shows why Pope Francis can't fix the Catholic church all by himself.
Franklin Graham, son of Billy Graham, says that Putin is better at gay rights than Obama.
A couple that owns a B&B in Wales were turning away unmarried couples. They were told it was illegal but are now taking their case to the European Court of Human Rights.
Same-sex marriage: Officials in three states are banking on the state rights' argument to stop gay marriage from spreading.
Syria: One woman has spent 30 years smuggling Jews out of Syria, saving thousands of people from slaughter.
Column: Heidi Schlumpf says that positive language changes the face of adoption.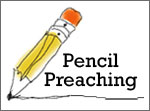 Looking for a little inspiration to begin your day? NCR's sister publication, Celebration, gives you two options, both based on the Scripture readings of the day:
Pencil Preaching is a blog in which Celebration editor Pat Marrin combines Scripture and sketching to reflect on the Word.

Daily Bread is a series of short reflections written by four authors who meet regularly to share the readings. Daily Bread is intended to help daily preachers and others who pray from the assigned Scriptures each day to orient themselves to the Living Word addressed to the church in the world. It's a great way to begin the day.
Advertisement