Evolutionary consciousness points to a Trinitarian order. Michael Crosby writes that the more he investigates conscious evolution, the more helpful it becomes.
The U.S. bishops will be meeting in New Orleans this week. But will the bishops follow Pope Francis while there? 
One singing nun in Italy shows the subtle shift in the view of the church under Francis. The 25-year-old sister became a star on a popular TV show.
NCR Editorial: It's time to end the perpetual war. Sixty words of a resolution have defined our foreign policy and shaped our domestic policy for the last 13 years. It's time to end it.
A Catholic Supreme Court justice in Illinois presides over same-sex weddings. The state began issuing same-sex marriage licenses Sunday.
Syrian crisis splits activists, religious groups over aid. The Syrian civil war is in its fourth year and many are calling it the worst humanitarian situation of this generation.
Egypt is tightening its grip on mosques by putting bans on unlicensed preachers. It's a further step in official efforts to curb Islamist influence. 
Have you been reading NCR's new website devoted to covering the mission and ministry of Catholic women religious? Check it (daily) at 

Global Sisters Report. Here's a great example of the work of GSR: Leadership in challenging times by Dawn Cherie Araujo
Opinion: America's religious literalism. One Gallup report issued last week found that 42 percent of Americans believe "God created humans in their present form 10,000 years ago." 
China detains an underground Catholic administrator: Fr. John Peng Weizhao, apostolic administrator of Yujiang diocese, has been in detention at an unknown location for nearly two weeks.
Japanese bishops report that the laity is indifferent toward church teaching on marriage. Catholics in their country "are more influenced by societal norms" than by church teachings, "especially where birth control is concerned."
Another deposition has been released as part of the Minneapolis lawsuit. This one is of Archbishop Robert Carlson of the archdiocese of St. Louis.
Green Bay, Wis.: A Catholic school is eyeing the city's growing Hispanic population. Next school year, students attending St. Thomas More Catholic School in Green Bay will learn Spanish along with other subjects.
Ireland: The reports of possible mass graves at a former Catholic-run home for unwed mothers is "sickening," says the archbishop of Dublin.
More on the Ireland baby scandal: The priest that was the former head of the adoption agency says, "We were fairly sure nuns weren't obeying laws." 
---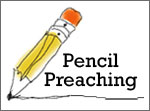 Looking for a little inspiration to begin your day? NCR's sister publication, Celebration, gives you two options, both based on the Scripture readings of the day:
Pencil Preaching is a blog in which Celebration editor Pat Marrin combines Scripture and sketching to reflect on the Word.

Daily Bread is a series of short reflections written by four authors who meet regularly to share the readings. Daily Bread is intended to help daily preachers and others who pray from the assigned Scriptures each day to orient themselves to the Living Word addressed to the church in the world. It's a great way to begin the day.
Advertisement