Family synod: In local newspaper, Maltese Bishop Mario Grech of Gozo, president of the Maltese bishops' conference, calls for a deeper study of the Orthodox practice regarding divorce and remarriage.
Family synod: Fort Wayne-South Bend, Ind. -- Bishop Rhoades attempts to dispel confusion about church report, "a value has been attributed to the document that does not correspond to its nature."
Family synod: Conscience vs. authority at Pope Francis' synod on the family
Family synod: Conservative Catholic bishops push back on Pope Francis' tone on gays. Polish Cardinal Stanislaw Gadecki said the document was "unacceptable."
Family synod: Montana has two bishops, one in Great Falls-Billings and one in Helena. Here's what they said: Helena diocese welcomes new openness toward gays, others and Catholic bishop synod's report a work in progress
Kansas City, Mo. -- Diocese agrees to $10 million settlement in lawsuit filed by former altar boy
Did you see this story yesterday? 'Historic settlement' in Minnesota yields plan to guard against future sex abuse
Bhopal, India -- Jesuits engaged in social action in South Asia concluded a three-day convention Oct. 11 reviewing their work against the needs of the poor in the region and the mandate given by their congregation.
Reader Recommendations:
Apple, Facebook will pay for female employees to freeze their eggs -- "We continue to expand our benefits for women," Apple says.
True respect for life requires us to get out of our comfort zone, Tony Magliano writes
Salt Lake City -- A Canadian-American feminist, media critic and blogger has canceled a speech she was to give at Utah State University after an email threat was sent to the school.
San Francisco -- Ex-offenders need help re-entering society, advocates tell conference
---
Looking for a little inspiration to begin your day? NCR's sister publication, Celebration, gives you two options, both based on the Scripture readings of the day: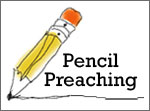 Pencil Preaching is a blog in which Celebration editor Pat Marrin combines Scripture and sketching to reflect on the Word.

Daily Bread is a series of short reflections written by four authors who meet regularly to share the readings. Daily Bread is intended to help daily preachers and others who pray from the assigned Scriptures each day to orient themselves to the Living Word addressed to the church in the world. It's a great way to begin the day.
Advertisement