Fr. Tom Reese says it's time for bishops to imitate Francis on consulting priests and laity
Cardinal Christoph Schönborn says Get rid of 'tunnel view' when it comes to discussion of families
Take a peek at our our 50th anniversary special edition. 50 years and forward (Video featuring yours truly.)
Horizons: Young sisters reflect on their lives, ministries, spirituality and world Heaven and Earth: Lessons learned in Assisi by Sr. Julia Walsh
St.Paul-Minneapolis -- Lawyer's deal with archdiocese arouses skepticism
Kansas City, Mo. -- In sexual abuse lawsuit, neither the Kansas City diocese nor those suing it scored a clear win
Kansas, Montana, South Carolina wage fight to keep same-sex marriage bans
Fury over admissions charges for French churches
Paul Butler, Anglican bishop of Durham and Anglican delegate at the Catholic Synod of Bishops, says Cardinals blocking Pope Francis move on gay and divorced Catholics 'lack of awareness' of real life
On Saturday, Nov. 1, Rockhurst University and National Catholic Reporter will present a day of discussion on the milestones and lessons of Pope Francis' transformative papacy and his call for a renewed commitment to compassion and social justice. "Becoming A Church Of Mercy"Join us!
Hoboken, N.J., priest reflects on family synod and gay Catholics: Catholic church grapples with modern-day issues
Davenport, Iowa -- The Caring Cities Campaign, a grassroots group formed in July in response to the tens of thousands of unaccompanied minors entering the United States from Central America, has shifted focus from relocation to legal representation.
---
Looking for a little inspiration to begin your day? NCR's sister publication, Celebration, gives you two options, both based on the Scripture readings of the day: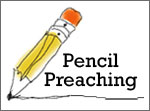 Pencil Preaching is blog in which Celebration editor Pat Marrin combines Scripture and sketching to reflect on the Word.

Daily Bread is a series of short reflections written by four authors who meet regularly to share the readings. Daily Bread is intended to help daily preachers and others who pray from the assigned Scriptures each day to orient themselves to the Living Word addressed to the church in the world. It's a great way to begin the day.
Advertisement