Robert Mickens says that next on the pope's agenda is Curia reforms, personnel moves, and a revamped synod
Philadelphia -- Priest arrested on child pornography charges, put on leave
Vatican -- Monsignor pressured to return valuable church items that went missing on his watch
Global Sisters Report: Springbank Retreat Center part of religious communities' mission in U.S. and Ireland dedicated to teaching young people about conservation, clean energy and respect for the natural world
New Delhi, India -- Christian villagers attacked by Hindu fundamentalists
Vietnam -- Catholics protest for return of church land
El Salvador -- Amid atrocity and martyrdom, a saint. It's just a matter of time before Archbishop Oscar Romero is canonized
Middle East -- ISIS hostages endured torture and dashed hopes, freed cellmates say
Oklahoma City -- Man says devil told him to topple Ten Commandants at Capitol
On Saturday, Nov. 1, Rockhurst University and National Catholic Reporter will present a day of discussion on the milestones and lessons of Pope Francis' transformative papacy and his call for a renewed commitment to compassion and social justice. "Becoming A Church Of Mercy." Join us!
West Warwick, R.I. -- Censored priest Fr. Tony Flannery finds support
Vatican City -- Twelve Iraqi priests, monks suspended for breaking vow of obedience. The group fled Iraq without consulting their superiors.
Central African Republic -- Polish priest kidnapped amid conflict
Washington -- Republican candidate attacked for being Catholic
---
Looking for a little inspiration to begin your day? NCR's sister publication, Celebration, gives you two options, both based on the Scripture readings of the day: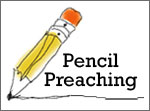 Pencil Preaching is blog in which Celebration editor Pat Marrin combines Scripture and sketching to reflect on the Word.

Daily Bread is a series of short reflections written by four authors who meet regularly to share the readings. Daily Bread is intended to help daily preachers and others who pray from the assigned Scriptures each day to orient themselves to the Living Word addressed to the church in the world. It's a great way to begin the day.
Advertisement